29 Fun Wedding Reception Activities That Go Beyond Dancing
From tarot card readers to drag performers.
There are plenty of ways to make your wedding an unforgettable experience, from trendy decorations to interactive food service. But one of the best ways to leave an impact is with unique wedding reception activities. Hiring another form of entertainment, in addition to a live band or wedding DJ, is important because it keeps your guests occupied. In fact, your wedding playlist is just part of the equation for a fun wedding. Talk to your partner about what elements are most important to you. If hosting an engaging celebration is at the top of the list, entertainment is a worthy investment. So if you're searching for amazing wedding entertainment ideas that'll really impress your guests, we've got you covered. From live painters to ballet dancers, we've listed creative suggestions that go far beyond dancing and are guaranteed to make your wedding day unforgettable.
In this article:
Common Questions About Planning Wedding Reception Activities
Not sure how to start your wedding entertainment search? First, check out these answers to common entertainment-related questions to put you on the right path. Then, you can scroll through a list of our favorite wedding reception activities from real weddings for inspiration.
Do you have to have dancing at a wedding reception?
Simply put, no, you don't have to have dancing and music as your only wedding reception entertainment. You can either have dancing plus your wedding entertainment or skip dancing altogether. There are plenty of unconventional activities you can choose from. Consider having a mechanic bull or a love story presentation as a first dance alternative.
What considerations should be made when sourcing alternative entertainment?
The best way to find fun wedding activities is by thinking about your and your partner's hobbies or, in general, anything that you and your partner enjoy doing together. If you both like going out and seeing comedy, have a comedian perform at your wedding reception. If you enjoy everything Disney, invite some of your favorite characters to make an appearance at your reception. No matter what activity you choose, just make sure your wedding entertainment represents something you and your partner love.
How can couples find and book unique wedding entertainment?
Once you and your partner settle on your entertainment, you can use The Knot Marketplace to find the best vendor in your area. On The Knot Marketplace, you'll find reviews from newlyweds, real wedding photos and all of the vendor's contact information. Another way you can find and book wedding entertainment is by speaking with your wedding planner. Most likely, your wedding planner has dozens of recommendations that'll fit what you and your partner want for your reception.
Fun Things to Do at a Wedding
You don't have to stick to the traditional wedding reception activities, like a first dance or a cake-cutting ceremony. Shake things up at your reception by including one (or more) of these crowd-pleasing ideas.
1. Tarot Card Reader
You don't have to be an astrology expert to enjoy an aura reading. When guests need a break from dancing, invite them to visit an astrologist or tarot card reader as a fun wedding activity. But beware—this wedding entertainment idea may result in lines longer than those at the bar.
2. Vegas-Inspired Performers
Bring the glitz of the Las Vegas Strip to your wedding reception with singers, dancers, acrobats or contortionists. An extravagant production is perfect for couples who want their wedding to leave a lasting impression.
3. Poetry Writer
Wedding entertainment doesn't have to be flashy to make an impact. Hire a poetry writer to capture your special day through poems written on the spot. Custom poetry is a sentimental keepsake that'll preserve the best memories from your wedding.
4. Drag Performance
Liven up your wedding reception with a drag performance. You can even have your favorite queen officiate your ceremony. We have a feeling that guests will be obsessed with this unique wedding reception entertainment idea.
5. Live Painter
You'll get plenty of bang for your buck by hiring a live painter for your wedding day. It's a fun way to keep guests occupied during the reception—they'll want to watch the scene come to life on canvas while on their way to the bar or in between speeches. Plus, you'll get a custom portrait of your wedding at the end of the night.
6. Lion Dancers
Incorporating your culture into your wedding day is one of the best ways to make it feel thoughtfully personalized. If you're searching for a special wedding reception activity, consider hiring cultural dancers as this couple did. Guests were captivated by the lion dancers' performance representing a beautiful Chinese tradition.
7. Interactive Champagne Servers
Champagne is one of the first things people will look for when they arrive at your wedding reception, so consider turning beverage service into a fun wedding activity. Hire servers to creatively pass out prosecco—it'll wow your guests from the start.
8. Second Line
You don't have to get married in New Orleans to incorporate this Mardi Gras-inspired wedding reception entertainment idea. In between the ceremony and reception, invite guests to be a part of this Southern wedding tradition. Your nuptials will literally be the talk of the town.
9. Ballet Dancers
Those with a passion for dance might enjoy a ballet performance on their wedding day. Hire a local troupe to choreograph a dance routine just for you. You can't go wrong with a classic performance either—guests will be delighted to watch a variation from Swan Lake or The Nutcracker (a perfect choice for a winter wedding).
10. Sparkler Exit
Need a wedding activity for your guests during your wedding exit? End your reception on a fiery note with a sparkler exit. Give every guest a sparkler to wave as you and your partner head off into newlywed life.
11. Outdoor Lawn Games
Bring the fun to your outdoor summer wedding with a variety of lawn games. Guests will appreciate having something to do during cocktail hour. Fill an open patch of grass with yard games like corn hole, Bocce ball, giant Jenga, or even a scavenger hunt for younger kids. If you're looking for an easy DIY project, create custom boards or balls with your wedding date for a personal touch.
12. Tea Bar
You've heard about candy bars, s'mores bars, ice cream bars and even mashed potato bars—but what about a tea bar? Give guests something warm to sip at the end of the night with a custom display of flavored tea bags.
13. Aerialist
Looking for wedding entertainment that'll really wow your crowd? Invite an aerialist to perform during cocktail hour. Your family and friends will hardly be able to look away as they enjoy cocktails and hors d'oeuvres.
14. Mariachi Band
No one will want to leave the dance floor with a live mariachi band. Hire a local performance group to support up-and-coming artists. It's a thoughtful way to involve the local community on your wedding day.
15. Caricaturist
Guests will be particularly impressed if your wedding has a caricaturist. A custom portrait is a rare wedding favor that will set your nuptials apart. Plus, it's a memorable wedding activity for guests to enjoy in between wedding party toasts and reception games.
16. Doughnut Wall
Food is the best way to your guests' hearts. Keep them entertained (and well-fed) with an interactive doughnut wall at your reception. We promise they'll keep going back for more.
17. Photo Booth
A photo booth is a fun thing to do at a wedding that provides guests with wedding favors they'll cherish long after the big day. Photo booths come with a variety of cute props and colorful backgrounds that your attendees will love. Plus, if you're having a themed wedding, use your photo booth to carry out your style. We love how this retro Volkswagen photo booth fits a vintage wedding theme.
18. Fireworks Display
Of all the best wedding entertainment ideas, fireworks are always a crowd-pleaser. It's hard to think of something more romantic than watching a sparkling lights display with your spouse and loved ones. The more extravagant, the better—a fireworks display will captivate guests as soon as it begins.
19. Printable Wedding Games
Printable wedding games are great wedding activities for guests since they can be for kids and adults. You can find games that fit just about any wedding color or theme and they are great ice breakers. It's a different way guests can get to know one another or test their knowledge about you and your partner.
20. Fire Dancers
Want a wedding reception entertainment idea that will really amaze your guests? Consider hiring a fire performer. Since fire is involved, this idea is best for outdoor weddings and will most likely require special insurance, so first contact your wedding venue about if you can have a fire dancer and what precautions you must take.
21. Magician
Guests of all ages will love a magic performance at your wedding reception. A magician will definitely elicit some oohs and aahs from you and your guests, but it will as be a great opportunity for your wedding photographer to capture some memorable moments for your wedding photo album.
22. Pop-up Casino
Are you planning on having an extravagant, luxe wedding? Then having a miniature casino for your over-21 guests will fit your theme perfectly. It'll feel like you brought the Las Vegas casino floor right into your wedding venue.
23. Vintage Arcade Games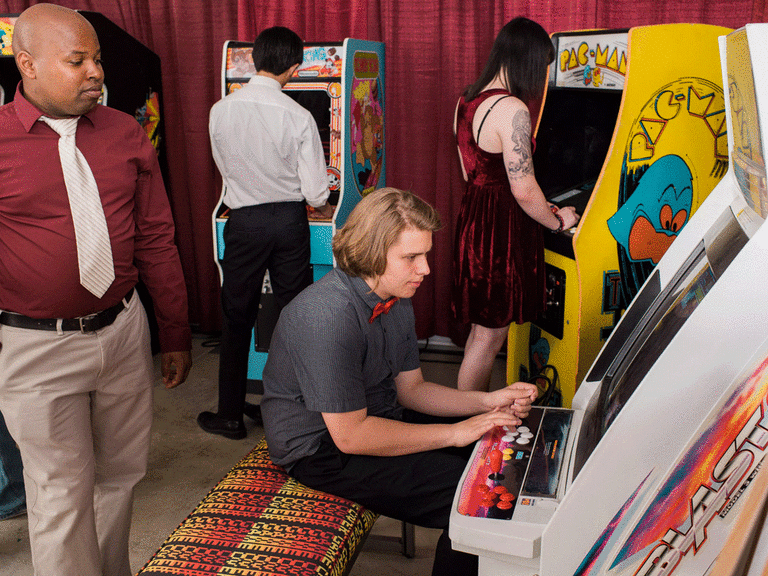 With this unique wedding reception entertainment idea, you don't have to stop playing video games just because you're at a wedding. We're sure renting out your favorite (or the most popular) video games will be a hit with your guests. It'll be so much fun that you might struggle getting your guests to stop playing.
24. Karaoke
Start your wedding reception by serenading your partner with a beautiful wedding love song. Once you sing to your heart's content, invite your guests to sing their favorite songs.
25. Synchronized Swimmers
This fun wedding activity is definitely one of the most eccentric on our list that would, without a doubt, surprise your guests. Gather around the poolside as you and your guests watch a breathtaking performance that will leave you speechless.
26. Tattoo Artist
Do you love getting tattoos and want to share that passion with your loved ones? Then have a tattoo station with your favorite tattoo artist. With some help from the artist, you and your partner can create a couple of tattoos that revolve around your wedding. Once you create your tattoos, your guests can choose a design specific to you and your partner and have a truly unique experience. If you would like to offer a less permanent option, have a temporary tattoo station or a henna artist do henna hand designs for your guests.
27. Amusement Park Ride
Stay in touch with your inner child by having amusement park rides as your wedding reception entertainment. Don't forget: You'll have to discuss what rides are allowed (before renting them) with your wedding venue and wedding planner. If renting the rides doesn't work for your wedding venue, a great alternative is hosting your wedding or wedding welcome party at an amusement park.
28. Bourbon Bar
Show off your favorite tastes in style, as this newlywed couple did at their reception. Guests were invited to create old-fashioneds and enjoy some cigars in this colorful and eye-catching corner. So consider including something that represents you as a couple that you both would love to share with your guests.
29. Phone Check
It's technically not a fun wedding activity, but it's certainly a creative way to help your guests pay attention to any wedding entertainment you have scheduled later. Have your guests stow all their devices before starting your unplugged ceremony so there are no distractions on your special day.