See Lana Del Rey as a Boho Bride in Her 'Ultraviolence' Video (Watch!)
by Ivy Jacobson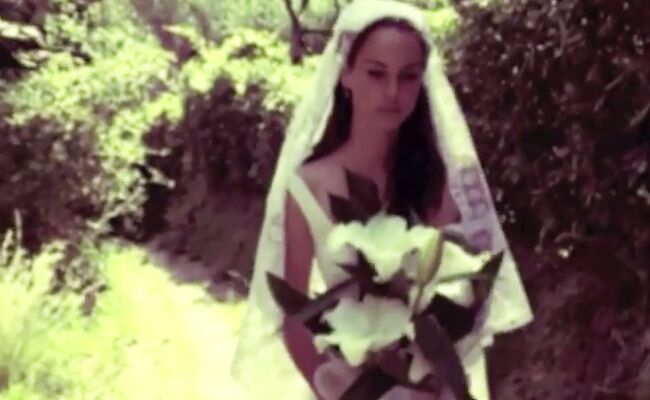 Usually, weddings aren't sad and lonely — unless Lana Del Rey is the bride. The "Young and Beautiful" singer, who's known to give her style and lyrics an eerie, vintage-y twist, just released her new music video for "Ultraviolence," where she plays a groom-less bride on her way to the altar.
That detail is pretty telling, since Lana was rumored to have broken it off with her fiance Barrie-James O'Neill, and well… guess we have the unfortunate answer to that! But on a happier note, she does look gorgeous in a short wedding dress and a long lace veil while she holds a massive bouquet of lilies.
Maybe singing at Kim Kardashian and Kanye West's rehearsal dinner gave her some bridal inspiration!
Her boho-chic bridal style kind of makes up for the weird orange-eating moment at the 3:00 mark, right?
Watch the video here:
Want more? Right here!
> Is 'Orange Is the New Black' star Taryn Manning engaged?
> Hottest wedding dress trends