A Lucite Menu Card
by Simone Hill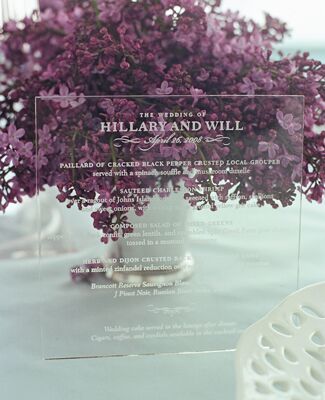 photo by
Photo: Liz Banfield
Love the ghost chair look? Well, these etched lucite menu cards by Tara Guerard take the vanishing act to the table top. The unexpected menu cards not only add a modern elegance to the decor, but also serve as a conversation starter to wow your guests. For these creative pieces, Tara worked with a trophy design company to create these one-of-a-kind menu cards. The key to the look? Bold, monochromatic centerpieces on the table serve as a background for the menu cards making it easy for guests to see and read the clear cards.

> Follow Tara @TaraGuerard
> 115+ Menu Card Ideas You'll Love!