17 Stages of Trying to Self-Tan for Your Wedding
It ain't easy being a glow-getter.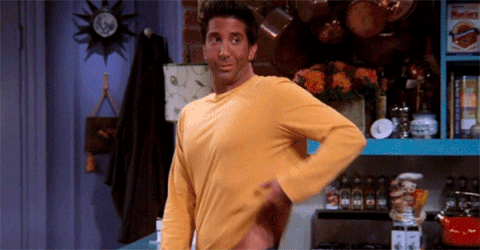 GIPHY

It's a month before your wedding, and you're stocking up on self-tanning lotions and potions. (Kudos to you for choosing to self-tan and avoid all the skin damage that comes with baking under the sun!) But let's be real: Sunless tanning comes with its own challenges—orange palms and elbows and streaks happen to the best of us. Rather than get discouraged, check out these GIFs to remind you these hiccups are all part of the journey to becoming a golden goddess.
1. Trying to choose the right self-tanning shade and formula among the hundreds of options:
2. Getting hyped in the shower as you prep your skin:
3. Struggling to apply an even coat on every inch of your body:
4. Scrubbing your hands like crazy after application to avoid orange palms:
5. Walking around your home with the least amount of clothes possible:
6. When your partner smells the product for the first time:
7. Losing circulation in your lower half because you can't sit down for the next six hours:
8. Only drinking out of straws while it dries in case you spill:
9. Getting butterflies as you go to the mirror the next morning:
10. Yep, you're orange:
11. Trying to avoid colors that will only make you look more orange:
12. Dousing yourself in lemon juice to fix dark spots:
13. Scrubbing it all off and slathering on a new self-tanner:
14. Waking up the next day and realizing—wait—there's hope!
15. But then realizing now you have to maintain your glow:
16. Avoiding water so the color doesn't fade:
17. Nailing your gorgeous glow just in time: