The Sequel Wedding: What Is It and Why You Might See More of It
We define a rising concept in weddings.
Justin Bieber and Hailey Baldwin, Nick Jonas and Priyanka Chopra, Joe Jonas and Sophie Turner. These days, having one wedding simply isn't enough. Increasingly, to-be-weds want to personalize not only their nuptials, but the entire planning experience, which is why sequel weddings are on the rise.
In theory, the sequel wedding has been around for some time, specifically in cultures where multiple wedding celebrations are rooted in tradition. With millennials diversifying and blending backgrounds, however, having multiple soirees is a way for modern couples to distinctly honor their heritages and beliefs. "The millennial generation has seen the most amount of changes in a short period of time throughout their lives," says planner Lindsey Shaktman of Mavinhouse Events. "They increasingly value authentic moments. It's one reason why we see millennial couples often celebrate their marriage on a more intimate scope followed by a larger celebration with family and friends at a later date."
Sequel Weddings: A Definition
Simply defined, a sequel wedding is when a couple has multiple ceremonies. Typically, the first wedding is more intimate in nature (think: a microwedding or an elopement), followed by a larger-scale second wedding, which oftentimes involves a grand reception party. What makes this option so appealing is that there's no need to "cram" traditions, attire and other expectations into one event. Instead, couples can thoughtfully lay out exactly how they marry and at the cadence they so please. "Whether that's for religious reasons, location or convenience, a sequel wedding can allow for more intimacy at different touchpoints of a couple's wedding celebration," Shaktman adds.
"Think of a sequel wedding as part two or a continuation of your wedding ceremony," says Brett Galley, owner and director of special events of the Hollywood Pop Gallery, who believes sequel weddings are a rising trend. "More is more when it comes to celebrating with the millennial generation. Go big or go home."
Finally, the sequel wedding is an option for all generations with Shaktman saying she has seen the format rise in popularity in other age groups. "Whether couples are marrying a second or third time, many are opting for a courthouse ceremony followed by a destination celebration," the planner says.
Find all the vendors you need
Discover top-rated pros for any budget, background and style.
Who's Having a Sequel Wedding?
Golf Channel host Kira Kazantsev, who was crowned Miss America 2015, opted for multiple wedding ceremonies for cultural reasons. "We got married at a private ranch property in Alexander Valley Wine Country in Sonoma," she says. "It's a very special place to us and we knew we wanted our ceremony to be in nature." However, Kazantsev and husband Andrew Dixon had already wed. Three days prior, the couple married in a Russian Orthodox ceremony at the Holy Virgin Cathedral in San Francisco. "It was important for us to have a religious Russian ceremony to honor my Russian heritage," says Kazantsev. "My parents got married in the Soviet Union at a time when you couldn't get married in a church. So for us, it was important to pay tribute to the sacrifices they made in order to come to America—and to give their children a better life."
Both weddings were full-scale events. The first was celebrated with about 50 loved ones consisting largely of immediate family members, which included a church ceremony and a reception at Golden Gate Park, where guests were delighted with a Mariachi band and a Mexican food truck. Kazantsev sought a "retro bride" aesthetic for this wedding and wore a tea-length dress with a fascinator. On Saturday that same week, Kazantsev and Dixon married again in a ranch wedding, this time before 230 guests. Dixon proudly sported his Marine Corps Blues against the bride's Lee Petra Grebenau gown. "The fact that we had two ceremonies was a big break with tradition," reflects Kazantsev. The vendors, let alone the landscapes, were vastly different, making the couple's sequel wedding experience true to its name as they had two independent and unique bespoke events.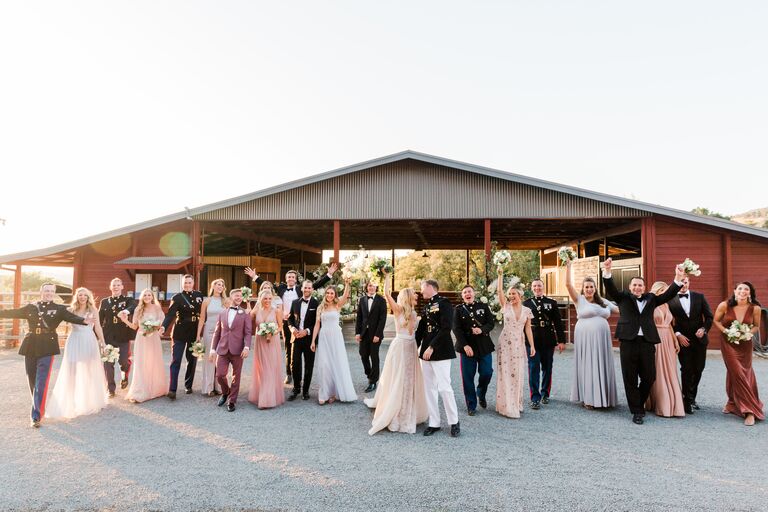 "We've designed quite a few sequel weddings," Galley adds from her end. "We had planned a small 30-person ceremony in New York City with an Italian dining experience for the couple's reception. Two months later, my team designed a full-on wedding weekend for 150 guests in Lake Como, Italy, for the same bride and groom."
Wedding planner Jason Mitchell Kahn has seen couples increasingly request sequel weddings and it's almost always for purposeful reasons. The sentiment is thoughtful and reflective of what the pair wants to share with their love story and journey. "One of the first same-sex weddings I planned was for two women in Atlanta, before it was legal to wed in the U.S.," says Kahn. "They had a beautiful commitment ceremony followed by a splashy reception. The couple then flew to Vancouver, Canada, where they legally married in the country and enjoyed their honeymoon. Four years later, the Supreme Court ruling was enacted in the U.S. "After that, the same couple had their third event to legalize their marriage within the United States."
"Sometimes, the decision to have a sequel wedding is politically motivated," Shaktman adds. "We've worked with clients who've hosted intimate at-home ceremonies in order to begin the lengthy and arduous process of finalizing marriage imigration documents. In this case, having immigration documents finalized before their larger marriage celebration for friends and family—which could place nearly a year after the initial ceremony—allows for a couple to further enjoy their celebration and effortlessly begin their honeymoon travels."
Finally, some couples will have sequel weddings for reasons beyond their control, whether it's the compromised health of a loved one (or they, themselves, are gravely ill) or there's a scenario where timing is of utmost importance. "The couple may want to ensure they can be a part of this milestone through a smaller, more emotional ceremony maybe a few months before another big party," explains Shaktman.
How to Have Two Wedding Ceremonies
If you're wondering how to have two wedding ceremonies, you'll want to start first by creating a distinct vision for both. Since a sequel wedding is comprised of at least two distinct soirees, you have an opportunity to shatter the mold with a range of style options. "Often, a ceremony would happen on a separate day than the reception with a small group of immediate family," explains Shaktman. "Their larger party may incorporate some kind of ceremonial portion, perhaps at the beginning of dinner where a blessing is given."
Even if you're currently wedding planning, having a sequel wedding is still a possible option. For many couples overwhelmed by the tasks at hand, it's a viable alternative if your guest list or the timeline is causing wedding planning anxiety. "I was initially contracted to work with a couple who couldn't figure out how to get their guest list under 350 without offending their hometown," says Kahn. "As we began exploring venues, the wedding guest list size gave them anxiety."
It was then that the planner suggested they change course. "They ended up marrying initially in Hawaii in front of a handful of close friends," he adds. "Three weeks later, the marriage received a blessing in their local church, followed by a reception where they were able to include everyone."
With couples increasingly personalizing the wedding and being thoughtful about their approach from start to finish, maybe a sequel wedding is the solution to-be-weds needed in 2020. And now, it has a name.