This 'Sex and the City' Writer Has the Perfect Wedding Toast Advice (Just Ask Carrie Bradshaw!)
'Sex and the City' writer Cindy Chupack shares her wedding toast advice that served as inspiration for one of the show's most famous episodes.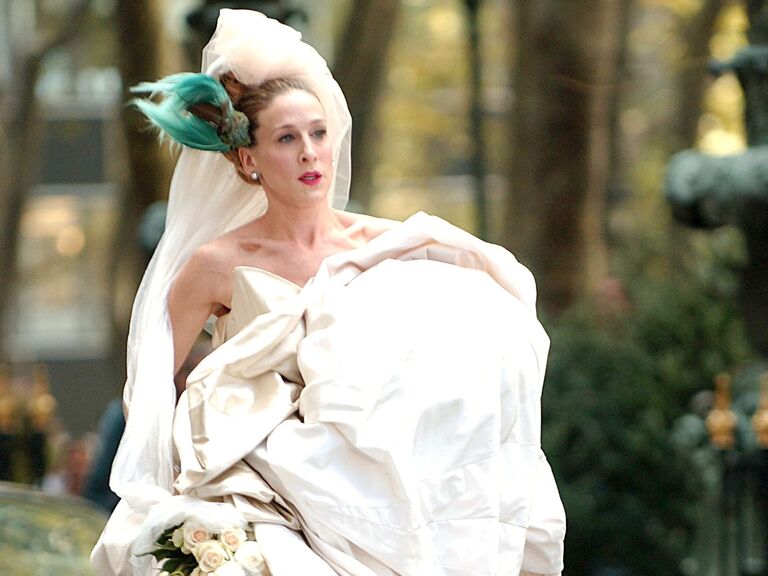 Getty Images
Sex and the City fans can't ever forget the episode entitled "The Chicken Dance," where Miranda's house guest has a whirlwind engagement and Carrie ends up giving the wedding toast at The Plaza Hotel. (Oh, and when Miranda got hit in the head with the bridal bouquet? Classic.) But there was more to Carrie's speech than meets the eye, since one of the show's Emmy award-winning writers, Cindy Chupack, wrote the wedding poem based on one of her own life experiences. She gave Elle.com the backstory -- plus a great tip if you're stuck on writing a wedding toast of your own.
Chupack writes:
"'The Chicken Dance,'" which is the first episode I wrote for Sex and the City, reflected something I'd just gone through. A male friend and his girlfriend house-sat for me one weekend in the house I'd bought myself, and they ended up getting engaged there. (Thus the line, said by me at their wedding, then by Miranda: "Everyone says that as soon as you get a place of your own, someone will propose -- I thought it would be to me!") My friend asked me to write a poem to read at their wedding. I had some conflicted feelings about how to celebrate their love while still selfishly lamenting the state of my own relationship (or lack thereof)."
She continues:
"What amazed me about my friend's courtship, and the one in the episode, was the speed. I wanted to capture something in the poem about the lightning-in-a-bottle magic of love that happens so quickly and effortlessly. It's amazing to me when I hear those stories. I believe relationships can come about in many ways, and it's just as valid when love is years in the making. But when it is truly love at first sight -- I think it's terribly romantic and beautiful and worth noting."
Here's the poem in full:
His hello was the end
of her endings
Her laugh was their first
step down the aisle
His hand would be
hers to hold forever
His forever was as
simple as her smile
He said she was what
was missing
She said instantly she knew
She was a question
to be answered
And his answer was "I do."
Simple, sweet and timeless, don't you think?