Should You Invite Your Mother-in-Law Wedding Dress Shopping?
You may be calling her "mom" soon enough—but that doesn't mean you absolutely have to include her in your shopping entourage.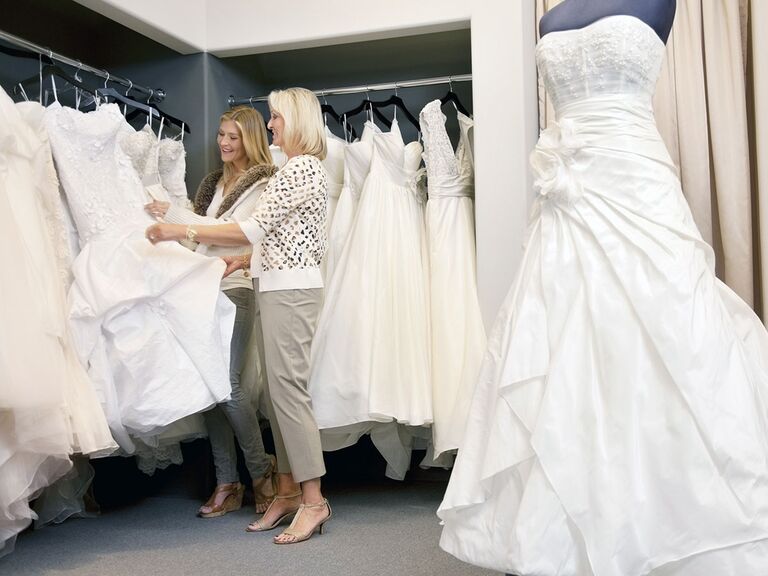 iStock
It's finally here—the day you've been thinking about ever since your fiancé popped the question—you're going shopping to find your dream wedding dress. But then comes a tough question: Who should come with you to help you find the one? While you may be tempted to take a big group (your mom, your sister, your cousin, your roommate from college, your work wife—the list goes on and on!), remember that this special moment is about you—and you should only bring the people who are closest to you and will be supportive in your decision, whether they like the dress or not.
While obviously your mom and siblings are probably on the top of your list, another woman that is an important part of your soon-to-be married life may come up: your mother-in-law. So do you have to invite her along on your wedding dress search? The choice is really up to you.
If you'd rather share this time with just your mom and, say, your sister, then do it. You can have a private moment with your fiancé's mom at the wedding if you want, before the ceremony begins. If you're particularly close with your soon-to-be mother-in-law and would really like her there to join in on all of the excitement, then bring her. But talk to your own mother about this first. Explain to her why you want your mother-in-law there and how important it is for you, your mom and her (and anyone else coming) to have this experience together.
But should your mother-in-law feel that she needs to be there—and she's entitled to be there? Absolutely not. When it comes down to it, your wedding is about you and your fiancé. So if you'd rather go dress shopping with just your family and friends, go for it. If she seems hurt, find other ways to include her in the wedding. Maybe you could take her to meetings with your florist or spend an afternoon together DIYing your escort cards, or you could even go shopping with her to help her find her wedding day attire. Making her feel that she's involved in your wedding planning and a part of your wedding day will start your relationship off on the right foot.
Now It's Your Turn to Weigh In: