Every Bridesmaid Will Relate to This Hilarious Wedding Photo
This is what it looks like when your BFF is the real MVP.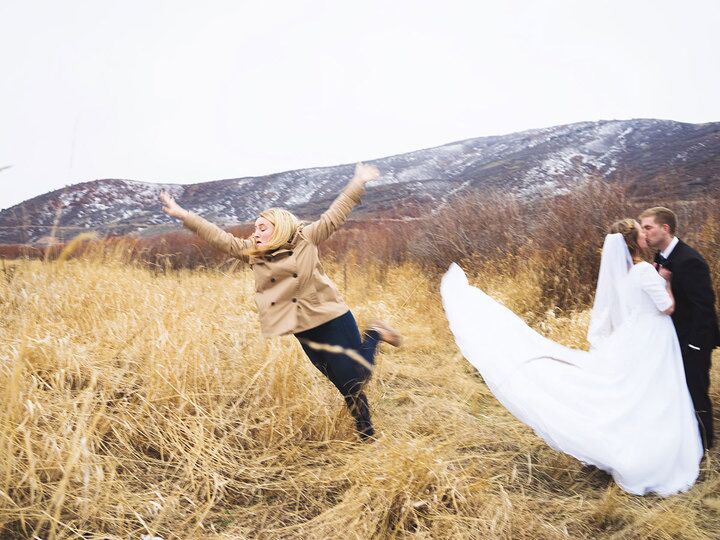 The Copper Creative
Behind every wedding is a dedicated bridesmaid, and this hilarious photo proves it. Virginia-native and veteran bridesmaid Janessa James took her bridemsaid duties to the next level when the photographer needed someone to lift the train of James's best friend's gown for a romantic, blowing-in-the-wind look. After a few takes, it became clear that James had to move out of the way faster—perhaps even dive—to be properly out of the shot. So James obliged, with more gusto and passion than we've seen in a long time.
"[Janessa] is the queen of weddings and always knows how to make things look just right," the bride Amy Freeman Lewis tells The Knot. "So I thought, who better to help with my wedding photos?" James and Lewis have been friends since their sophomore year in high school, so when it was time for Lewis's wedding, there was no doubt James would be there to support her in every way. Though the photographer, Chloe Epperson of The Copper Creative Studio, ultimately photoshopped James out of the photograph, it's the original version that's resonating with brides and bridesmaids everywhere.
When James initially posted the photo to Reddit, the response was overwhelmingly positive, in part because of her sense of humor: "Yes, this is an actual photo of me, extremely single, helping my best friend with her bridals," the caption reads. But the photo also shows how strong the bonds of friendship—and how multifaceted the duties of being a bridesmaid—really are.
"Attending and participating in weddings of so many of my friends has taught me to focus on the couple's happiness and nothing else," James tells The Knot. "Your feet may be bleeding, your dress may be hideous, but you'll have some funny pictures and a day that everyone will remember." James and Lewis's story just goes to show that a gorgeous wedding is as much about the day-of flourishes as it is about the people who surround you—especially when they have a can-do attitude and an awesome sense of humor.
The photo is a funny reminder that behind every billowing gown photo, there was either gusty wind or a best friend like James. "The final picture was phenomenal, but I think I love this version even more," Lewis says. Check out the photo here: