Snapchat Memories Are the New Wedding Hashtag
Remember every epic Snapchat taken at your wedding with this sweet new app feature.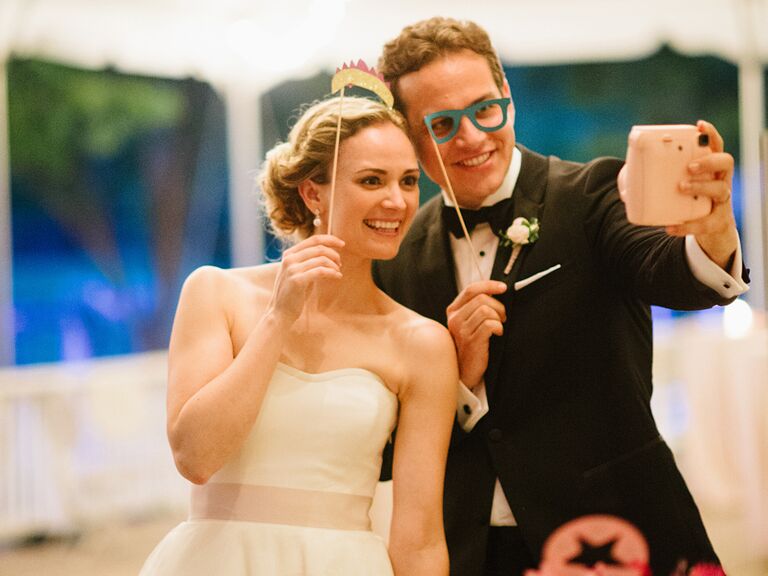 Jen Fariello Photography
Have you ever sent such an amazing Snapchat photo you'd do anything to see and share it just one more time? Well, mourn for lost snaps no more. Snapchat released its new Memories feature, a photo archive within the app where you can easily save, store, organize, edit and share pics with a private group of friends of your choosing—that'll never disappear.
Are you thinking what we're thinking? Bachelor or bachelorette party memories, rehearsal dinner memories, reception memories, after-party memories—yes! Thank goodness this is finally a thing. You no longer have to sit by, helpless, while those epic dancefloor selfies vanish after 10 seconds or 24 hours (and after you spent so much time designing your personalized wedding geofilter—so sad).
Here's how to create your Memories: Tap the "Stories" icon in the bottom left-hand corner of your Snap camera (or simply swipe up on your camera). Once inside Stories, tap the "Create Story" icon in the top right-hand corner (it's a circle with a plus sign inside). Name your new custom Story, select who can add photos and who can view them (e.g. just your Snapchat friends, or broaden the circle to friends of friends) and voilà—a custom, curated album of the best moments from each of your wedding events. And every time you take a photo on Snapchat, instead of saving to your phone's camera roll (AKA taking up storage or risking losing it), save it within your Memories section to see, timestamp, Geofilter and further edit later on.
The new feature also includes the ability to Geofence your Story, meaning only friends within a certain geographical radius can view and add to it. Oh, you also have the option to save snaps to "My Eyes Only," a special place where those NSFW bachelorette party moments can live without your parents knowing a thing. We know, it sounds too good to be true, but we promise it's real!
Check out more details and visuals in the video here.
Read how to create your own custom wedding geofilter here.