Sofia Vergara and Joe Manganiello Are Officially Married! See All the Pics From Their Wedding Weekend
Sofia Vergara and Joe Manganiello's wedding weekend looked seriously incredible, from beginning to end.
by Maggie seaver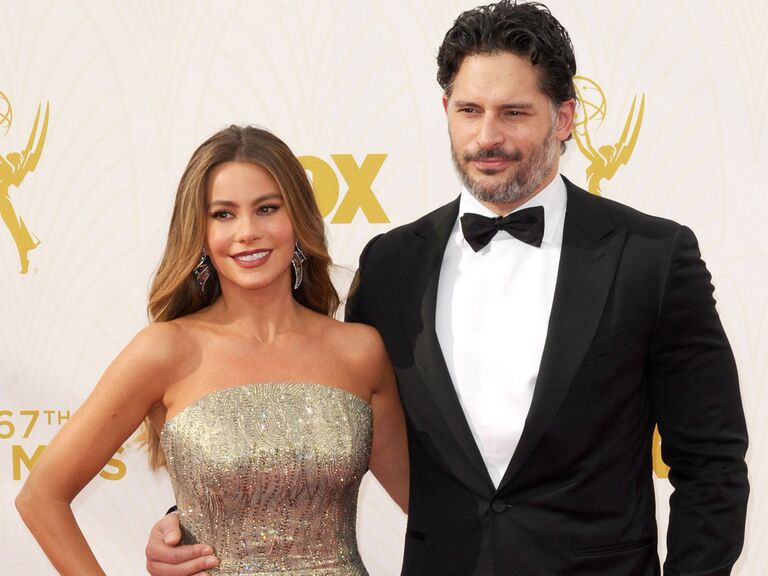 And just like that—Sofia Vergara and Joe Manganiello's magical wedding weekend has come and gone! The A-list couple just threw the most fabulous party-filled weekend in Palm Beach, Florida. Celebrity friends (think Modern Family costar Jesse Tyler Ferguson, Hot Pursuit counterpart Reese Witherspoon and Magic Mike's Channing Tatum, to name a few) and tons of family were present to raise a glass (and the roof!) to the newlyweds. And luckily for all her fans, Mrs. Manganiello's Instagram reveals several swoon-worthy pics of the entire extraordinary affair, planned by Mindy Weiss.
After kicking off the weekend with family at a welcome cocktail party on the beach, Jofia and company spent Saturday lounging by the pool at the The Breakers Palm Beach Resort, with invitees sporting adorable "Jofia" T-shirts.
Saturday night's rehearsal dinner took place at the Brazilian Court Hotel, followed by a cocktails and dessert party at the The Breakers. Tables were decked out with red roses and the cutest cocktail napkins that read, "He had me at Hola 11.12.15." Manganiello even busted out a rendition of Guns 'N Roses "Sweet Child O' Mine" for his almost-bride, giving her a smooch during an instrumental break, reports People. Vergara truly looked wedding-ready (and ridiculously gorgeous) in a flirty pearl-pink minidress by designer Mark Zunino.
We're assuming a bit of recovery was in order before the big moment on Sunday evening, when guests gathered at the The Breakers once again for the ceremony. Cascades of white roses, orchids and hydrangeas (by florist Jeff Leatham) transformed the indoor setting into a brilliant wedding wonderland. Seriously, you have to check out the Insta pics from inside the venue below—it's insane!
Vergara's much-anticipated Zuhair Murad couture wedding dress stole the show, of course. Earlier this Fall, the star told People, "I'm 43, I don't really need to look like a virgin getting married. I want to look sexy. I want to look great." And boy, did she ever. In constant collaboration with Vergara, Murad and a team of 32 others spent 1,657 hours on the dress. The result? A white strapless silk-tulle mermaid gown with a sweetheart neck, 3D bodice detailing, a beaded pearl belt and an enormous detachable skirt. And get this—the dress carries over 17 pounds of sequins and pearls combined alone!
The reception was held in the hotel's Venetian Ballroom, where nearly 400 guests celebrated the couple's wedding weekend finale. According to E! Online, Joe and Sofia danced to Frank Sinatra's version of "The Way You Look Tonight" for their first dance. The rest of the night was reserved for tearing up the dance floor, plus a surprise performance by Pitbull.
The actress reportedly confessed to being a bit of a "bridezilla" in the weeks prior to the wedding, but honestly, if it resulted in a wedding bash like hers, we'll forgive her! Huge congrats to Sofia and Joe!
Scroll on for amazing pictures from this weekend. You don't want to miss these!