7 Romantic Shell Wedding Ideas
by Simone Hill
If you're thinking of sticking to a neutral palette, but still want a hint of color, this blush hue is the perfect shade. Paired with ivory or gold, shell is classically romantic or it's the perfect antique hue for a vintage wedding. Don't be shy about pairing this soft shade with gray or brighter tones for a modern vibe too! What's for certain is that this soft pink will pretty up any palette.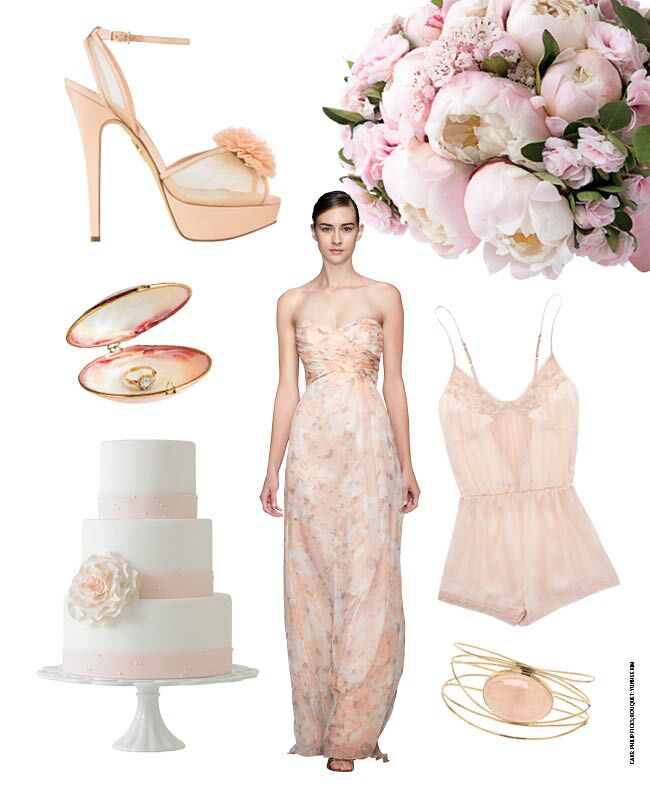 Clockwise from left:
Flirty pom-poms paired with a platform style give these heels a retro vibe. 1,250, CharlotteOlympia.com
Barely-pink peonies can still pop when set against rich-green leaves.
Forget the pillow — have your ring bearer carry a delicate shell down the aisle. $18, BHLDN.com
Don't shy away from patterns for your bridesmaids. It can look pretty and not overwhelming when the print is soft and subtle. $370, Amsale.com
What's better than a sexy lingerie set? An alluring romper that won't ride up during the night. $145, AmpereNYC.com
There's nothing sweeter than light-pink details on white fondant. EatCakeBeMerry.com
Interlocking rings made of gold make this rose quartz bracelet extra special. $5,200, Adornia.com
> 38+ more shell wedding ideas
> A dramatic wedding color palette in red, black and white!