The New Spanx Wedding Collection Is Bridal Shapewear Heaven
These gorgeous lace Spanx are the answer to your wedding undergarment prayers.
by Maggie Seaver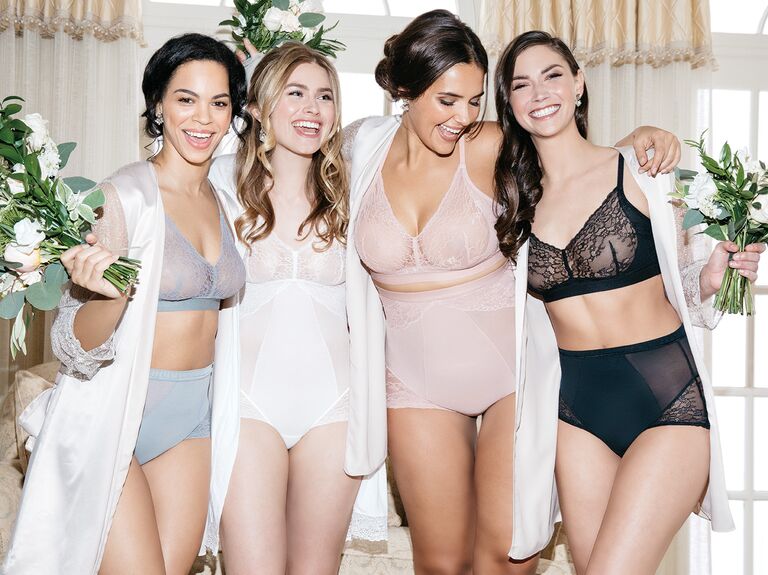 If there's one piece of wedding dress advice we can't stress enough, it's the underrated importance of wearing the right undergarments—and anyone who's tried to wriggle into formalwear or smooth over lumps and lines beneath a white sheath understands the ubiquitous power of Spanx (you know what we're talking about, ladies). And we have the best news for brides-to-be and, well, everyone! Feminine lace and essential neutrals meet the magic of Spanx in the brand's new bridal collection, Spotlight on Lace. Finally, a trustworthy shaper-upper that can make a bride feel as lovely and sexy underneath as she looks on the outside—and keep everything in place all the way through "Shout" and "YMCA."
We promise, Spanx isn't just for Aunt Carol whose skirt suit has gotten a little tight since the last family wedding. Spotlight on Lace features four flattering styles you'll love in the classic hues you need sub-gown. Choose between the bralette, bodysuit, brief and high-waisted brief, in blush, black, gray or white, for a shapewear experience that's as easy on the eyes as it is on your thighs (sorry, we had to!). And what better way to make a seamless transition from the after-party to the newlywed suite? Just saying. Shop every pretty look here.