Everything You Ever Wanted to Know About Spray Tanning For Your Wedding
We've got the answers to all of your burning questions about going faux.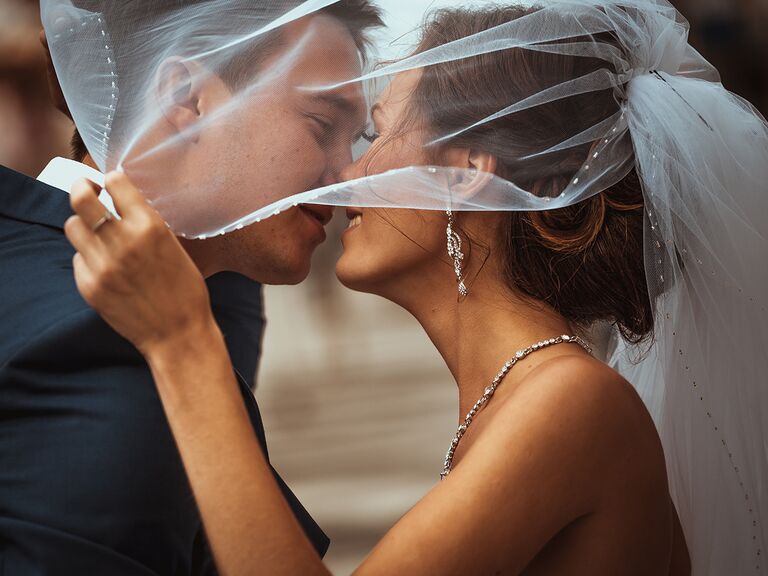 Shutterstock.com

The events surrounding your wedding—the engagement party, the shower, the bach party and, of course, the day itself—are your time to shine. Let's face it, they're all about you and your S.O., and naturally you'll want to feel like the very best versions of yourselves. If that most confident self has a just-flown-in-from-the tropics glow, consider going faux. Hands down, a spray tan is the easiest and most flattering way to bronze your bod without having to expose it to the sun's harmful rays, and you can dial up the look as much or as little as you want.
But if you're new to the process, you probably have a lot of questions, and rightfully so. We mined our community for some of the most common ones and asked Kristin Fasimpaur, senior brand manager at Sunless—which owns the brands Mystic Tan, Norvell and VersaSpa—to weigh in. Read on for the answers to all your burning questions about spray tanning, then get ready to enjoy your moment in the sun with a look that's made in the shade.
When is the best time to get a spray tan before an event?
This is probably the most important question, so make a mental note: The pros recommend scheduling a spray tan one to two days before an event. "It takes four to six hours for a spray tan to develop, and the best results are after 24 hours," Fasimpaur says. The other reason to get your glow a day or two beforehand is to ensure it properly sets, so you won't have to worry about it rubbing off on your dress or other clothing. And once it sets, even if you sweat or cry tears of joy, it won't streak.
What's the difference between a spray tan and an airbrush tan?
While the tanning results are the same—both provide even coverage—it's the experience that's different, Fasimpaur says. A spray tan is done in a private automated booth where jets strategically spray you (it takes about three minutes). "Ask the salon staffer the best way to stand," she says. An airbrush tan is done by a spray tan artist who hand sprays you from head to toe. "One is not better than the other; it's all about preference," Fasimpaur says. "Are you comfortable with someone giving you a spray tan? Or would you prefer the privacy of going into a booth? You can't go wrong; it's all about what makes you the most comfortable."
How do I get the color right?
First things first: You won't look orange. But knowing whether to go for a really deep glow or keep it subtle may take some trial and error. The salon staff and/or spray tan artist will guide you on how to choose the best color for your skin tone, Fasimpaur says. "If you're new to spray tanning, we recommend doing a few trials, so you know what your options are—and to get the exact color you're looking for," she says. You may want to book each sesh before a big event, such as your dress fitting, bridal shower or bach party. The other must: Schedule a tanning appointment before you go for a makeup trial. "It's important for your makeup artist to know what your skin tone will be for your wedding day so they can match complementary makeup colors," Fasimpaur says.
What should I do to prep beforehand?
To ensure the most even application, exfoliate your skin from top to toe a day or so before your session. And if you plan to shave or wax, do so ahead of your appointment, so you won't strip that gorgeous color away too soon. Fasimpaur recommends waxing one to two days prior and shaving up to 12 hours before.
How long will my tan last?
The good news is, a spray tan is not a one-night-only kind of thing, "Our tans typically last five to seven days", Fasimpaur says. "The skin naturally exfoliates the top layer every week, and as it does, the tan fades." To help extend the lifespan of your tan, she recommends moisturizing daily to keep the skin hydrated and enhancing the look with a gradual self-tanning product.
Anything I should (or shouldn't) do after spray tanning?
To make sure you don't sabotage your bronze before it's had a chance to fully develop, wait at least four to six hours before showering or working out. When you do shower, stick to sulfate-free cleansers, which won't strip away your glow too early, Fasimpaur says. You can also keep any streaking or splotchiness at bay by steering clear of too-tight clothes for four to six hours after application.
Are there any health concerns?
Today's tanning products have come a long way since their orange-tinged, chemical-clad predecessors. Mystic Tan, Norvell and VersaSpa use only premium ingredients, including FDA-approved eco-certified dihydroxyacetone (DHA) and skin pH–balancing ingredients, as well as natural ingredients like aloe, glycerin and hyaluronic acid to impart deep hydration and a tan that looks natural (read: not orange). "The FDA recommends clients wear nose filters, and we educate all salons and professional spray tan artists on this safety measure," Fasimpaur says. And as for that characteristic smell you might remember: "Our spray tanning solutions are formulated with odor-control technologies designed to virtually eliminate tanning odor," she says.
Ready to get a sun-kissed glow for your upcoming wedding celebrations (or just because)? Visit Sunless to learn more about spray tanning or to book an appointment near you.