Stacy Tasman, Founder of How He Asked: I Enjoyed My Engagement By Putting My Phone Down -- Here's Why
The proposal website's founder explains how she announced her engagement, plus helpful tips on how to truly enjoy the moment without being too attached to your phone.
by Stacy Tasman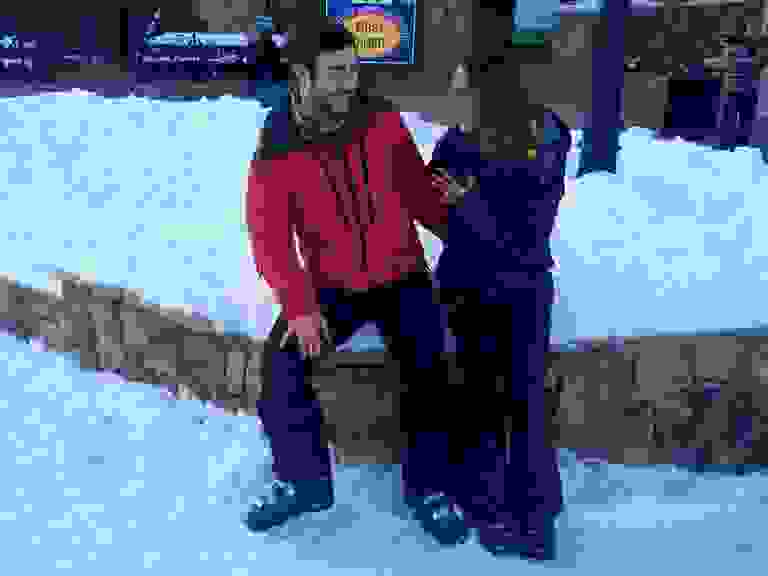 Let's face it -- you're not the only one who was anticipating your engagement. Your parents, whether they knew about the proposal beforehand or not, had been waiting to give you away and all your friends had been placing bets on which weekend he was actually going to do it. (Meanwhile you're wondering if he even bought the ring yet, am I right?)
So when the proposal does happen, there are a lot of people waiting to share in your happiness, and likewise, there's so much of it (the happiness) that you want to share it too.
The question these days, though, is how. Immediacy, a side effect of social media, can trump etiquette, but in matters this monumental (the most monumental matter ever, said the girl who lives and breathes proposals via HowTheyAsked.com), it's important to be more thoughtful with your eagerness to share.
Having seen a few thousand other cases, I had a firm strategy in place for my announcement, so here's how I did it.
First, I hugged my parents, then my sister and best friend (it was part of the whole proposal surprise that they were all at the bottom of the mountain a few minutes after I said yes). Next, I called Greg's parents, who knew exactly what I had to say, and then I put the phone down.
I repeat, I put the phone down.
After that, I enjoyed the happiest feelings of my life. To everyone there, I re-told the story of how he asked about six times, each time uncovering another question, another now-obvious sign it had been coming, and of course, uncovering another smile. Having that handful of the most important people in my life was exactly what I needed, and I remember taking those few hours for myself, my fiancé and them. I also remember repetitively saying "Oh my god, this is seriously like the best day ever." (Yes, it was that unrefined of a sentence, and yes, it truly described every single ounce of my feelings.)
No one had to tell me to be in the moment, I was as present as ever and I can even relive the joy when I close my eyes and ask myself for it.
Then, of course, there came a point when I said, "Okay, time to share with everyone else." My mind and heart created an immediate list to call: a few of my dearest friends, my cousins and so on. I told them the very short and sweet story and then said I'd follow up with another phone call later in the week.
Then I texted a few friends a photo of my ring and others I sent a simple text of "!!!!!!!!!". No one expected a call that minute, they just texted back their extreme excitement and said they couldn't wait to hear. Some people bombarded me with happy texts and phone calls, others gave me space and said they'd wait patiently for a call. I had no shame in telling everyone that I wanted to tell them exactly how he asked, but that I had already told it 12,000 times and that I needed to go back to loving on my new fiance.
To be honest, I did forget a friend or two, but I didn't blame myself for it and I haven't heard a word of resentment for it either. The rush of wild, crazy, awesome emotions made it hard to focus and I think anyone close to me would understand that. One strategy that did help me, as insincere as it might sound, was to go through recent texts. These were obviously the people I spoke to on a day-to-day or day-to-week basis, so it helped me cut down on any forgetfulness.
Now, for the rest of the world! I won't lie about having the most popular day of my social media life the day I posted it. It was the day after the proposal and I thought I'd gotten in touch with all the people I wanted to. I posted a picture and caption on Instagram and Facebook, and for the rest of the day, my social feed and text message inbox was on fire.
To wrap up my thoughts, here are some other helpful tips:
1. Hang on to those hours on cloud nine.
The second you have a phone back in your hand, it will get hard to stay floating up there.
2. When you're ready to spread the good word, start with your besties.
Then call up your extended family, then hit that circle of people you've been talking to about getting engaged for months. Calls or texts work, and if you do text, make sure you tell them you plan to embellish with a call when everything settles.
3. After that, quit worrying if you've told enough people or too many people.
If you've hurt someone's feelings, you've got a good excuse. Just apologize and share your story -- they'll come around the second they hear your happy voice.
4. Obviously, post your story on HowTheyAsked.com.
At a certain point, you'll get tired of telling your story 12,000 times. Share your proposal on HowTheyAsked.com and let your personal link do the talking.
What about you, Knotties? How did you announce? Did you have any pain points? Any tips?
Follow How They Asked on Twitter at @HowTheyAsked and on Instagram @HowTheyAsked.