Stacy Tasman, Founder of How He Asked, Found Her Wedding Dress at Kleinfeld After Keeping These Tips in Mind
The proposal website's founder recounts her experience of finding 'the one' at Kleinfeld Bridal.
by Stacy Tasman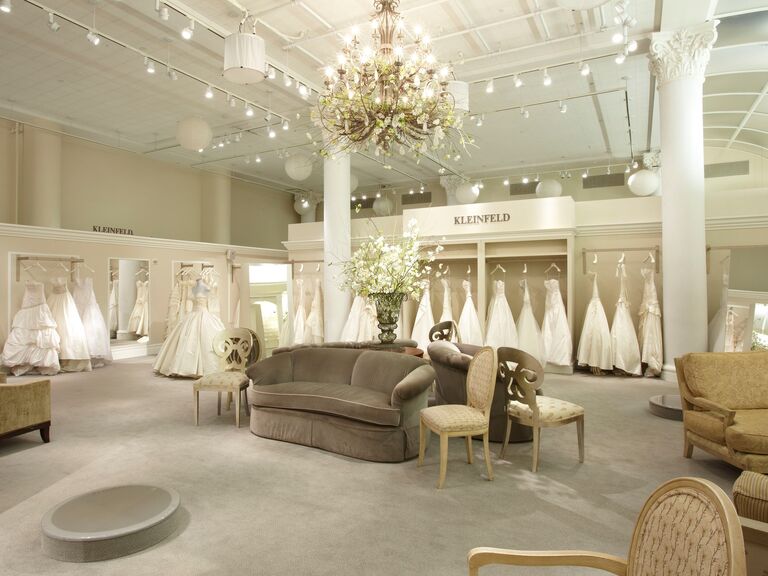 Hi brides and grooms! I'm Stacy, founder of proposal site HowTheyAsked.com (if you haven't shared your own proposal with us, you should!).
I've written a few posts for The Knot about my own recent engagement and how it felt when the "proposal girl" got proposed to. But for my next few posts, I'm going to be sharing my wedding planning experiences, since I'm now in the thick of it.
Obviously (or at least this was obvious to me), I started out with my wedding dress. Seeing about 50 wedding dresses every time I sign in to Pinterest -- which is around four times a day -- really built the excitement up for me.
I couldn't wait to "Say Yes to the Dress," so living in New York City, I naturally hopped onto Kleinfeld's website to make an appointment. My mom was flying up from Florida to come along, so I made appointments at a few other bridal boutiques and we planned to make a weekend out of it.
As far as prep goes, I made a specific Pinterest board for my personal wedding dress style. I pinned styles that I thought I would like, along with a few things that were a stretch from my taste (I heard you should be open-minded.) I didn't do much research on which dress shapes looked best on which body types; I was more excited to figure out what dresses made me feel the best when I put them on.
Being on the other side of it now, that's definitely a huge piece of advice I have. Don't go for what you think should look good on you because you're tall, or a style that you're dying to have work for you because it looked so good on Princess Kate. Go with the one that makes you dance when you put it on and want to twirl in front of the mirror a thousand times.
But okay, back to the shopping experience. Since I ended up finding my dress at Kleinfeld (the dress is by Tony Ward who designs exclusively for them!), I'm going to keep it simple and just share what happened there.
I walked in with three friends and my mother, and all of us felt immediately star-struck. I'm sure our expressions looked like we'd just been welcomed into Buckingham Palace. There were dresses everywhere and everything felt so glamorous.
A stylist named Debbie greeted us and asked me a few questions as we walked back to my own dressing room. Sadly, I did not film a Say Yes to the Dress episode, but they did let me use the dressing room they use on the show (score!).
When we sat down, I showed Debbie my Pinterest board ­­(you'll most likely do this too -- all the boutiques I went to asked for it). I told her a few things I knew I liked and didn't like (I love soft-looking textures, I don't love ruching). I did have two to three dresses picked out that I 100 percent wanted to try on, but the rest was in Debbie's hands, so off she went to search for my dresses as I sat there with my favorite women. When she came back, I poked through the dresses, immediately ruled one out and then began trying on the rest. I loved the first one, liked parts about the second and didn't like the third. This pattern kept up as I tried on 15-20 different dresses. My panel of women mostly agreed on which were dazzling and which were not for me, and there were a few that made all of our eyes light up (those times were super fun).
To be honest, there were some stressful moments and I want you all to know that going into it. Sometimes, there was one thing I didn't love about a dress that I otherwise would have bought in an instant. I wished I could combine of few of them into one perfect dress but that wasn't the case. And there's also a time limit. Most appointments are an hour and a half, so when I realized we only had 15 minutes left, I felt anxious.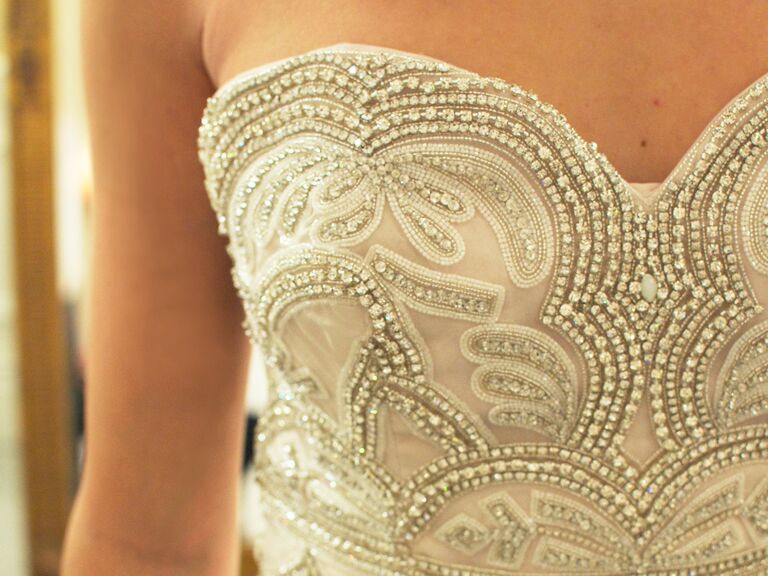 I did have a few great options, and there were two in particular that were front runners (though they were complete opposites of each other -- one was a ball gown, the other was a slinky beaded one). Debbie reassured me that most brides come in for more than one appointment. She put my mind at ease saying that and invited me back that week to try on more.
Because my mom went back home to Florida, I decided to just go alone. Debbie brought out the dresses I liked before and then a few more. One I hadn't tried on before caught my eye. Debbie was confident I'd love it, and as I slipped it on, I could see a smile come over her face (at this point, Debbie and I were clearly friends). She said something like, "Oh wow, this is the exact mix of what you liked about the others here." I agreed and felt overwhelmed with excitement. I twirled in the mirror, looking at myself at every angle. I wanted to sing! It was perfect. I polled the other brides that were at Kleinfeld too (since again, I went solo this time) and everyone agreed that it was "the dress."
I sent a few pictures to my mom and while her normal texts have around three to five exclamation points in them, this response had 15 of them. She loved it, so naturally I cried while Debbie went to find a veil.
The moment the veil was on, it was icing on the cake and I was ready to walk down the aisle!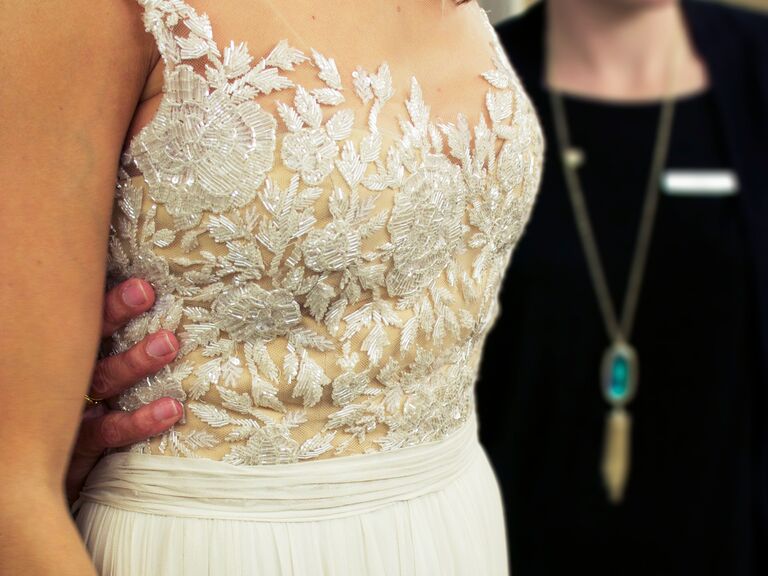 So, what's my advice for other brides?
Research. Flip through magazines and browse dress galleries before your appointment so you get familiar with the buzzwords around style and shape (A-line and sheath, for example).

Think about your venue. I'm getting married in Florida. I'll be walking down a grassy aisle under the sun, so I knew I had to find something that felt breathable and something I could easily move in.
Soak up the glam. It's okay to be over-the-top excited (and wide-eyed if you walk into a place as beautiful as Kleinfeld).
Be vocal. As you try on, describe exactly what you like and don't like about each dress.
Trust your consultant. They've seen thousands of dresses, so as long as you're vocal as stated above, they can truly zero in on some great prospects.
Try on things you didn't think you'd like. Dresses honestly look different on every person, so keep an open mind.
Dance. With each dress, spin around and see if you feel like you're turning into Cinderella as you do!
That's all! It's a blast. You'll love it.
Since I don't want to spoil it for my handsome fiancé, take a look at some of Tony Ward's other dresses. They're amazing and my dress is one of them!
What about you, Knotties! What was your dress-searching experience like?
Follow How He Asked on Twitter at @HowHeAsked and on Instagram @HowHeAsked.