The Force is Strong With These 27 "Star Wars" Wedding Ideas
After all, Baby Yoda deserves a spot on the guest list.
A great way to personalize your wedding is by infusing nods to your hobbies and interests throughout the design. Whether you're a Star Wars fan or Harry Potter is more your beat, movies and books are an especially excellent source of wedding inspiration. Given the vastness of the Star Wars universe, there's a way for everyone to incorporate their fandom into their nuptials—whether you're a Leia and Han Solo stan or simply want to sprinkle adorable Baby Yoda details throughout. For the truly committed Star Wars lovers, you could even consider tying the knot in Lake Como, Italy, at Villa Balbianello, the filming location of Anakin and Padmé's wedding.
To help you along in the brainstorming process, we've tapped some of our go-to wedding experts to share their insights on how to best include Star Wars in your wedding day. Additionally, we've gathered our favorite Star Wars wedding ideas, from invitation and decor inspiration to fashion and cake ideas you'll want to steal.
How to Include Star Wars in Your Wedding
"The options are almost limitless when it comes to showing your fan spirit, especially for a May the Fourth wedding," notes wedding-planning expert Sarah Blessinger, of Kindred Weddings and Events. "If you'd like to incorporate your love of Star Wars in a tasteful way, think about items that your guests will already see, use, or interact with on the wedding day and bring a little flair to it."
The Theme Can Be Subtle
Sometimes small nods to a theme or motif are the way to go to ensure the day feels as tasteful as it does unique. "If you're looking to pay homage to Star Wars tastefully, my advice is to bring in nods to Star Wars rather than making the entire event a Star Wars-themed wedding," suggests Leah Weinberg of Color Pop Events. "Think elements like quotes from the movie incorporated into table numbers, a reference during your wedding vows, or Hans and Leia cake toppers."
Embrace Creativity and Personalization
Blessinger goes on to emphasize the importance of making the day unique to you, despite any thematic details you may chose to incorporate. "Don't do exactly the same thing you saw someone else do on Pinterest. While Pinterest is a great place to find inspiration, this day should be uniquely you. Don't be afraid to put your own spin on the themed details."
Star Wars Wedding Invitations and Signage
To create a cohesive wedding design, and let guests know what to expect on the big day, it's a great idea to include nods to your chosen wedding theme in the invitations. Since there are so many design motifs, like the Rebel Alliance symbol, that are part of the Star Wars universe, your options for including Star Wars in your wedding stationery are quite broad.
When it comes to their invitations and paper goods, the possibilities are endless. Referencing colors, textures, and even shapes from iconic (and any of your favorite) scenes and locales can help transport the guests into the world of your event," says stationery expert Jordan Kentris of A Good Day. "For more subtle references, using a color palette that represents what Star Wars means to you can allude to the look. For more literal references, using quotes or mimicking the way a character phrases their wording can be a fun and memorable experience. We're working on an invitation suite with a Sith theme right now for a client. The invite is matte black metal with laser engraving and red UV ink."
Find all the vendors you need
Discover top-rated pros for any budget, background and style.
1. R2D2 and BB-8 Droid Save-the-Date
Beloved Star Wars characters R2D2 and BB-8, dressed in wedding attire, helped this couple alert their friends about the upcoming wedding.
2. Stromtrooper Table Number Alternative
Instead of assigning numbers to each of their tables, this couple named the tables after notable Star Wars characters.
3. Sign With Rebel Alliance and Empire Logos
Instead of having guests choose a side based on which to-be-wed they knew at the ceremony, this couple had attendees sit on either the Rebel Alliance side of the aisle or the Empire side.
4. Gold-Foil Star Wars Wedding Invitation
The Star Wars font, made famous by the "In a galaxy far, far away" film introduction sequence, grace this couple's wedding invitation suite.
Star Wars Wedding Outfits and Accessories
When it comes to Star Wars-inspired fashion, you can go big by asking your officiant to dress up as Obi-Wan Kenobi or small with Death Star-themed cufflinks. No matter what you choose, you can't go wrong with adding a dose of Star Wars into the outfits and accessories for the wedding day.
"Generations grew up loving Star Wars so it is easy to see why many couples want to include it in their wedding," notes wedding planner and expert Gretchen Culver of Moon & Stars Events. Culver suggests that to-be-weds can "go all in and dress in costume, and bonus points if your guests dress up, but if you aren't stoked about Princess Leia buns as your wedding look, you can incorporate Star Wars into your attire more subtly. Jewelry is a great way to do this—it could be Star Wars cuff links or a necklace or wedding ring inspired by the Jedi."
5. Death Star Cufflinks
The Death Star's round shape makes it a great motif to incorporate in many wedding elements—from cufflinks to cakes.
6. Star Wars-Themed Socks
The groomsmen at this wedding rocked Star Wars-themed socks. Each wedding party member sported a different Star Wars character, from Chewbacca and Darth Vader to BB-8 and C3-PO.
7. R2D2 Garter
R2D2, the famous blue-and-white Star Wars droid, graced this to-be-wed's garter.
8. Officiant Dressed as Obi-Wan Kenobi
The force is strong with this idea! This couple asked the person officiating this wedding to dress up as Obi-Wan Kenobi.
9. Boutonniere With Lego Darth Vader
A Lego Darth Vader figurine, holding his iconic red lightsaber, was part of this Dark Side-inspired eucalyptus boutonniere.
10. Suit With Boba Fett's Crest
This groom's suit was emblazoned with Boba Fett's iconic crest—the Kyr'bes, the official Mandalorian symbol.
Star Wars Wedding Reception Ideas and Decorations
From figures of the Millennium Falcon as centerpieces to a grand entrance through a tunnel of lightsabers, your wedding reception is teeming with opportunities to showcase your love of all things Star Wars. If you want guests to depart with a little piece of Star Wars memorabilia, you could even gift them Star Wars wedding favors at the end of the night.
Many couples can pay homage to the legacy of Star Wars by infusing their love for the movie and characters into their reception. The color palette is one of the easiest to play with in regards to the various episodes that span across decades," advises Jennifer Sulak of Weirdo Weddings. "You can go with the simple earth tones of Tattooine, the stoic grays and darks of the Star Destroyers, or the lushness of Endor. If you are inspired by a planet-scape or star-scape from the series, you will find it easy to replicate the color schemes available to you both in shades and textures. The ideas are limitless on where in the galaxy you can go."
11. Star Wars Lego Wedding Favors
Guests at this wedding departed with Lego keychains of various Star Wars and Disney superhero characters.
12. Ewoks at Wedding Ceremony
To make their ceremony feel like it was taking place on the moon of Endor, this couple decorated the outdoor wedding venue with Ewok figurines.
13. BB-8 and Grogu Dance Accessories
To make the dancing portion of the wedding even more festive, this couple handed out BB-8 masks, Baby Yoda cutouts and life-like lightsabers.
14. Lightsaber Tunnel for Wedding Exit
Guests used their sabers to create a dramatic lit tunnel for the couple's grand exit at the end of the evening.
15. Lego Star Wars Centerpiece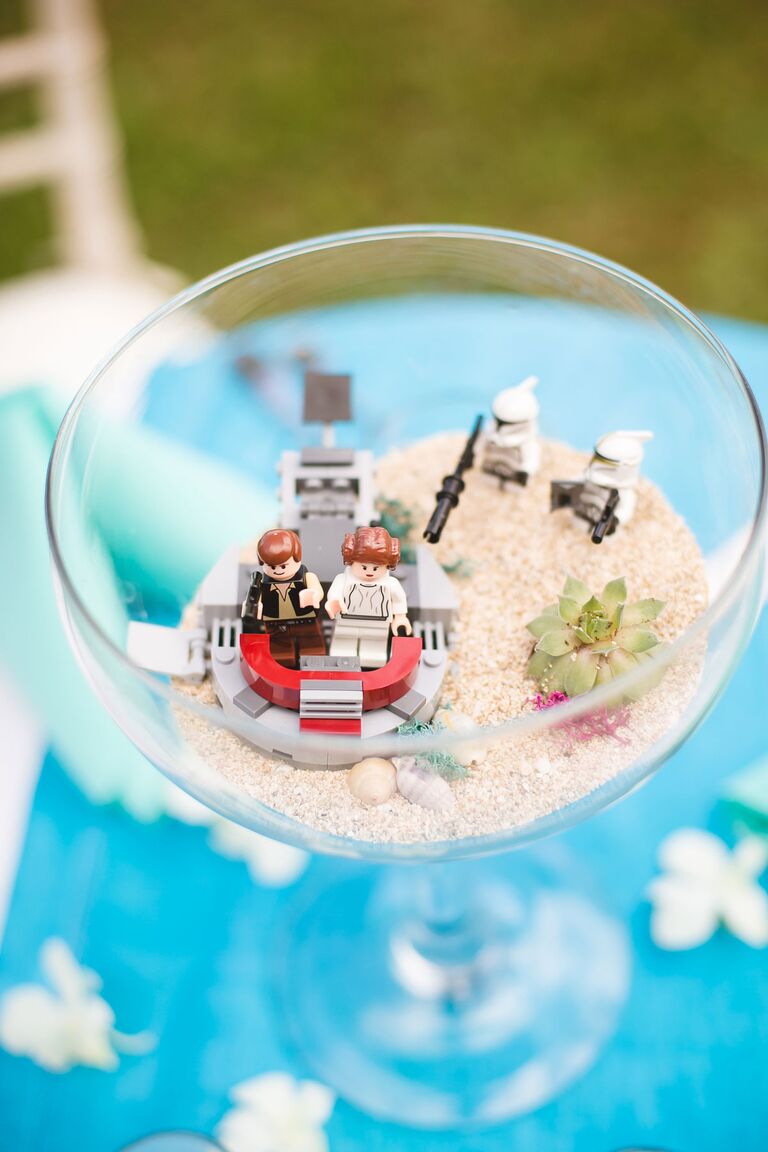 Lego figurines of Han Solo and Leia were used as centerpieces at this wedding.
16. TIE Striker Centerpiece
Each table centerpiece at this wedding included a model of an iconic ship from the galaxy. From the TIE striker seen here to an AT-AT Walker and the Millennium Falcon.
17. Star Wars-Themed Wine Bottle Label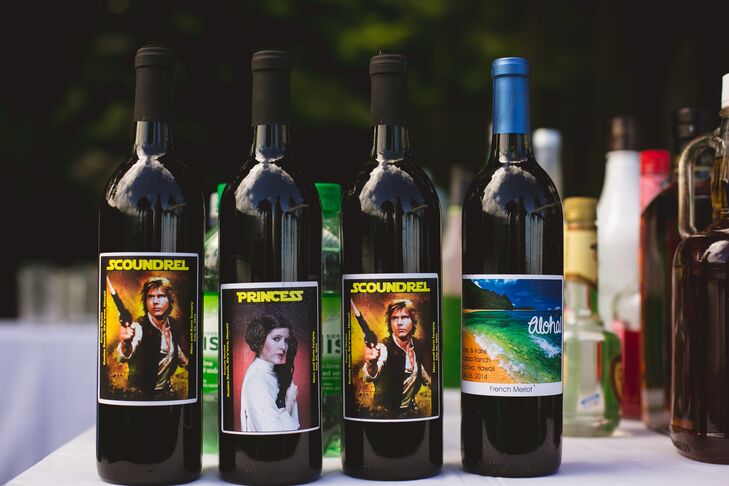 Even the wine bottles at this wedding served as thematic wedding decor. Each bottle had a label with an image from Star Wars.
18. Stormtroopers at Wedding Reception
Sulak suggests that couples could "hire the 501st Legion to show up on your day and take over," much like this couple did.
19. Lightsabers at Wedding Reception
Once the sun goes down, give guests lightsabers to add to the evening's festivities.
20. ​​Star Wars Quote Toasting Flutes
The toasting flutes at this wedding paid homage to the famous "I love you," "I know," exchange between Han Solo and Leia Organa in The Empire Strikes Back.
Star Wars Cake Ideas
Cake is a staple at many wedding receptions and is yet another great spot to highlight the chosen theme of your wedding. For lovers of Star Wars, there are plenty of characters you could have a dessert resemble, from R2D2 to Darth Vader. Similarly, you could go with a more subtle nod to the galaxy through a thematic Star Wars cake topper if you prefer. Combining your fandom with a sweet treat is definitely a recipe for success.
"I always love a Star Wars-themed cake," notes Culver. "Have your cake in the shape of the Death Star so it is extra satisfying to cut into unless, of course, you are a fan of the Empire. Are there cake knife and server sets that are lightsabers? You know it! Or if you want to keep it simple, incorporate a Star Wars cake topper."
21. Millennium Falcon Star Wars Wedding Cake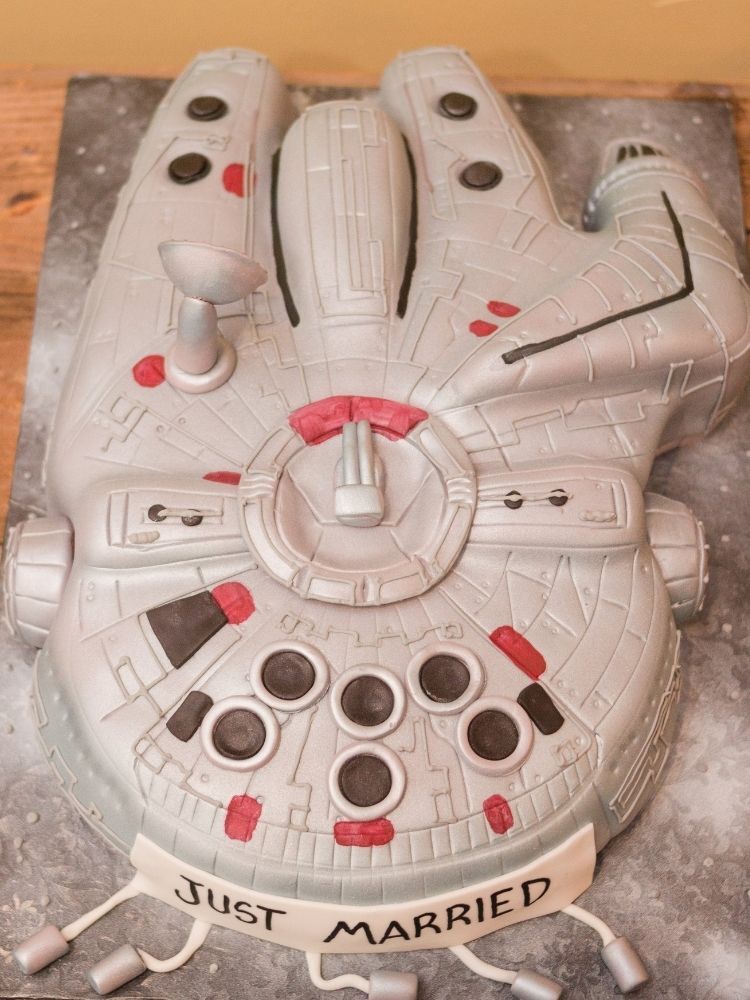 This couple's Millennium Falcon was complete with cans on strings that made it look like a getaway car.
22. Darth Vader Wedding Cake
Darth Vader's menacing visage graced this black wedding cake.
23. Lightsaber Cake Knife and Server
A lightsaber-inspired cake knife and server set were used to cut this galactic black-and-silver wedding cake.
24. Star Wars Wedding Cake
This Star Wars cake included the iconic "I love you," "I know," piped in icing as decoration.
25. Lego Star Wars Wedding Cake Topper
Star Wars-themed Lego figurines were used as cake toppers for this simple wedding cake.
26. Darth Vader Wedding Cake Topper
This custom wedding cake topper was made to look like the couple getting married, except one of the to-be-weds was dressed as Darth Vader.
27. R2D2 Wedding Cake
Guests at this wedding enjoyed R2D2 in cake form as a swee treat to cap off the evening.