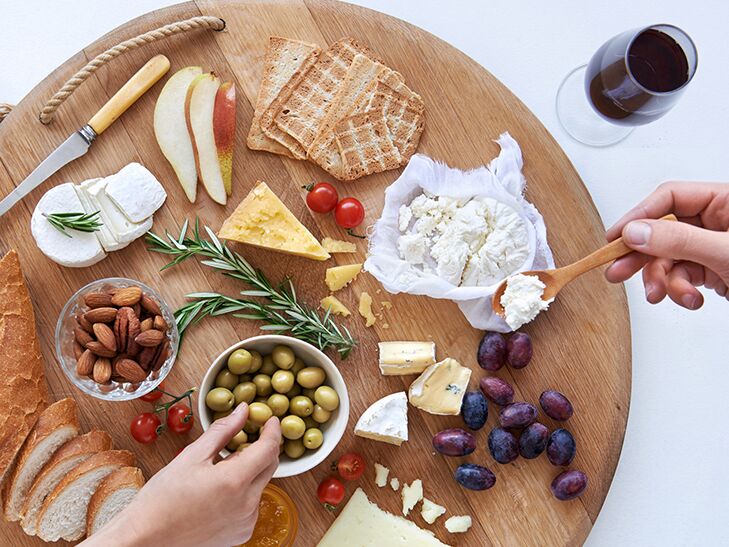 Ever wonder how some people make it look so easy to entertain? Trust us—no matter how casual the get-together, it always takes some effort to pull it off. But there's one simple secret to making it easier: stocking your kitchen with the right dishes, glasses and serveware. That's why we outlined exactly what you'll need to host four very different types of parties. So get ready to register—and then start sending out the invites for your next gathering.  
1. Organize a Wine and Cheese Party
What you need to have on hand:
Wine glasses
Appetizer plates
Condiment bowls
Spoons
Serveware (for bread, crackers, fruits or meats)
Cheese slate or cheese board
Cheese knives
Cheese labels
What's on the menu:
Wine
Hard cheese (cheddar, Gruyère, Manchego, Gouda)
Soft cheese (Brie, goat cheese, Camembert)
Pungent cheese (Limburger, taleggio, Stinky Bishop)
Veined cheese (blue, Stilton, Gorgonzola)
Meats (prosciutto, salami)
Fruits (grapes, strawberries, sliced apples)
Bread and/or crackers
Condiments and sides (fig or quince paste, honey, mustard, nuts, olives, cornichons, roasted peppers)
What you need to know: Wine and cheese parties can become complicated affairs, with multiple pairings in the mix. But that doesn't mean you have to go there. Start with a versatile wine and a straightforward variety of cheeses (about one to two ounces per guest). Make sure there are some crowd-pleasing flavors, but don't be worried about adding in something a little different (at worst, it will lead to a few lively conversations). Set your spread where your guests can easily access it and maneuver around it. Then bring it altogether—and make it Pinterest perfect—by placing items on the menu at different heights (tiered pedestals are great for this) and adding handwritten labels identifying the stars of the show.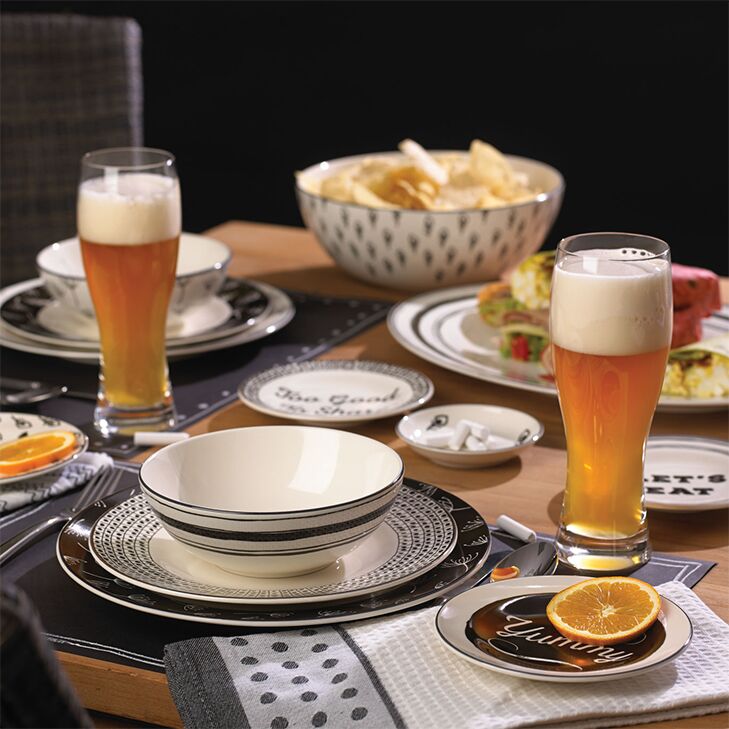 2. Invite Everyone to a Potluck
What you need to have on hand:
Casual plates
Glasses that won't easily tip
Flatware
Make-and-take serving dishes
Serving utensils
What's on the menu:
Just wait and see—that's what's exciting about this type of dinner party!
What you need to know: Not sure you're up for planning a menu? Enter the potluck buffet, where you provide the setting and your guests help out with the cooking. Just like you, not all your invitees might have oodles of time to brainstorm what to bring. To simplify the process, create a shared document with a list of what's needed, such as appetizers, salads, breads, a main course, side dishes and desserts. Ask each person (yourself included) to pick one or a few contributions. Worried about too much variety? Feel free to recommend an easy theme (French cuisine, anytime-of-the-year Thanksgiving, Fifties faves, a lasagna cook-off) to tie it altogether. Now that the menu is coming along, prep the space to present it. Make arrival a breeze by laying down placeholder cards and the necessary serving utensils on a table so everyone knows exactly where to set their additions. Plates should rest at the start of the table, while flatware can be stowed in jars or baskets at the end of it. Tight on room? Spread appetizers and desserts around to other tables, which will also help encourage guests to mingle.


3. Host a Sit-Down Dinner
What you need to have on hand:
Fine china
Stemware
Flatware
Serveware
Teacups and saucers
Candlesticks
What's on the menu:
Wine
Soup or salad or appetizer
Bread and butter
Main course
Two or three side dishes
Dessert
Coffee and/or tea
What you need to know: These more formal gatherings don't necessarily have to involve a crazy amount of work. Devising a game plan will help keep your to-do list manageable. Think of tasks you can complete ahead of time so you won't be stressed out when everyone arrives. Are there recipes that can be assembled—and maybe even ready to go—the day prior? Can you set your table well before that first knock on the door? And while we know it's tempting to try to show off your cooking skills, remember that a dinner party is not the best time to conquer the unknown. Plan to serve up your greatest hits—and if you absolutely have your heart set on something unusual, practice it at least once beforehand.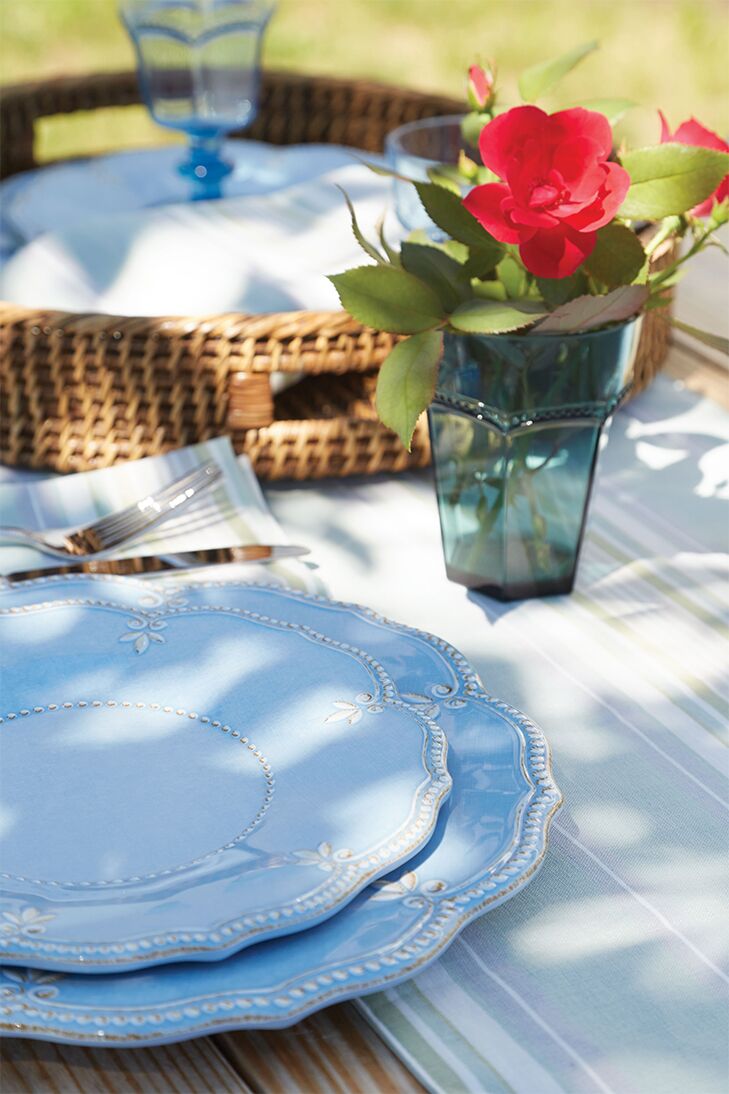 4. Plan the Ultimate Backyard Barbecue
What you need to have on hand:
Melamine dinnerware
Flatware
Acrylic pitcher and glasses
Serving bowls and utensils
Cooler
What's on the menu:
Summer faves, like hamburgers, kebabs, corn on the cob, potato salad and s'mores
What you need to know: One of the best things about hosting a backyard barbecue? Since you and your guests will be dining alfresco, you won't have to worry too much about cleaning your house. While cookouts are as casual as they come, that doesn't mean you should try to totally wing it. Assemble your shopping list well ahead of time, and remember to include vegetarian options. Can you think of any twists on the standards? Even a spicy take on ketchup, a spiked punch or an out-of-this-world salad can make your event stand out. And if your party will last well past sunset, lighten it up. Tiki torches, string lights and fire pits give off just the right amount of illumination—and create a more festive vibe.
The Knot and Lenox present A Place at The Table, a sponsored series featuring tips and ideas to help brides become the ultimate entertainers. Visit Lenox.com to see the latest dinnerware collections.