Style Stalker: Danielle and Bill
by Amanda Black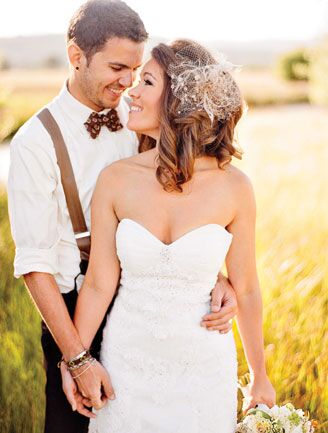 photo by
Braedon Photography
Find out how to nail Danielle and Bill's vintage elegant style from their Oregon nuptials.
The delicate gold beading and lace on Danielle's Casablanca Bridal gown is where her style story begins. To play up the vintage vibe of her dress, she wore a headpiece made of ostrich feathers, antique rhinestones and Russian tulle. The inspiration for Bill's retro ensemble came from his father, who had worn a brown suit to his own wedding. A slim fit gave the chocolate-brown suit a modern update, while suspenders and a bow tie echoed Danielle's old-world look.
> Planning a vintage wedding, yourself? Get inspired.
> Get more style inspiration from fashionable brides