Glamorous Style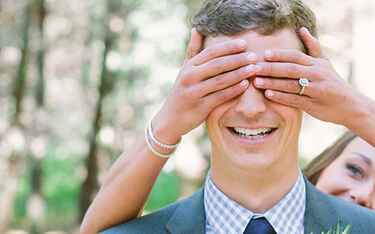 Personalize your wedding with glam details.
A glam wedding theme has an overall aesthetic: think organic elements like wood tables or chairs, flowing floral arrangements, scenic outdoor venues and a few personalized vintage touches.
The Bride Lauren Mancuso, 25 and Kelly Ripa's personal assistant The Groom Douglas Travaglione, 29 and a financial analyst The Date June 11 After visiting a handful of venues in South Jersey, Lauren and Doug found One Atlantic, near the bride's hometown. "Many venues force you to work around their wallpaper and carpet, but One Atlantic was a clean slate," says Lauren. The space's dark cork floors and floor-to-ceiling windows -- offering views of the ocean -- allowed the couple to plan a wedding with traditional decor and a modern backdrop.