Stylish Shoes for Every Type of Groom — Shop Them Here!
by Libby MacCarthy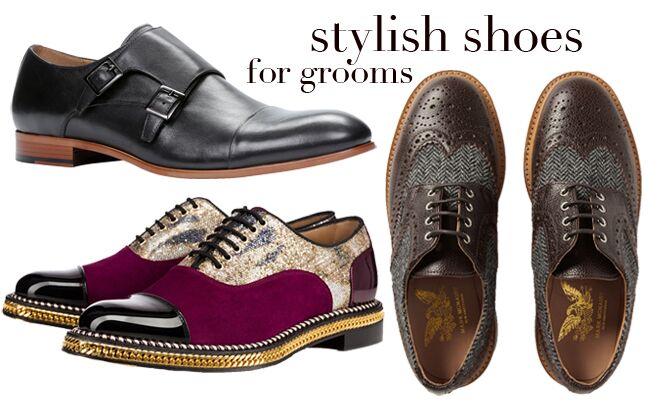 Patent leather lace-ups are the classic choice for grooms, but there are so many stylish options to choose from — why limit it just to black? Choose a pair that plays up your own personal style, whether it's a pair of snakeskin high-tops, bold graffiti-inspired loafers or shimmery color-blocked oxfords.
Whatever you choose, we recommend choosing a style you'll wear again and try to match the shoe to your overall wedding style (a white tie affair may not be the time to rock your Converse sneakers). Here are some of our favorite shoes right now.
For the Groom with a Classic Style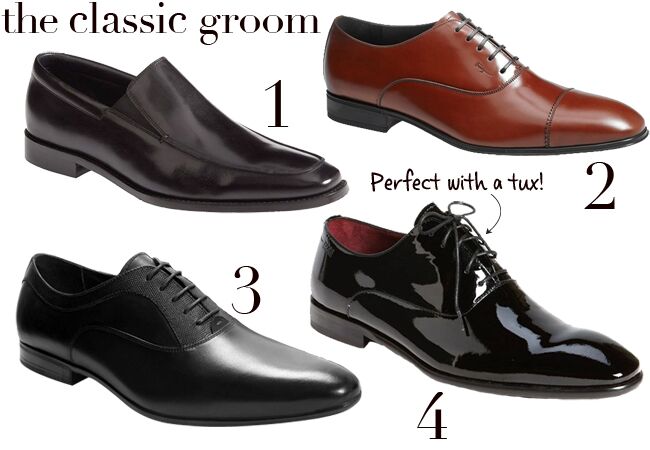 1. Gordan Rush leather loafer, $175, Nordstrom.com; 2. Salvatore Ferragamo cap toe oxford, $540, Bloomingdales.com; 3. Leather oxford shoe, $100, Zara.com; 4. Hugo Boss patent leather oxford, $225, Nordstrom.com
For the Groom Who's Always on Top of the Latest Trends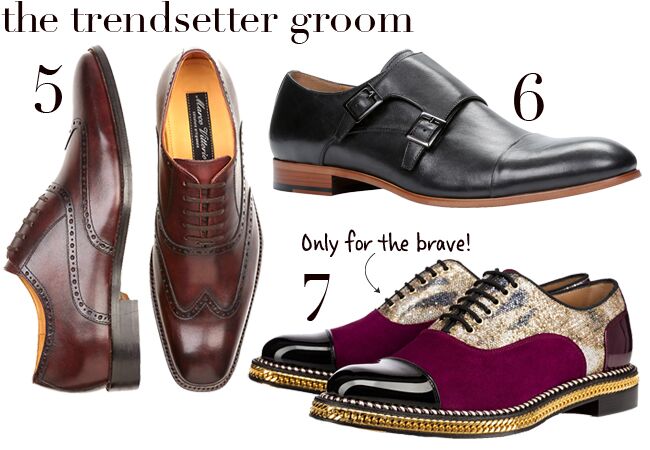 5. Marco Vittorio Monza burgundy wingtip shoe, $175, MensWearhouse.com; 6. Monkstrap loafers, $110, AldoShoes.com; 7. Gold and burgundy glitter oxfords, $1,495, ChristianLouboutin.com
For the Groom Who Likes to Do Things Differently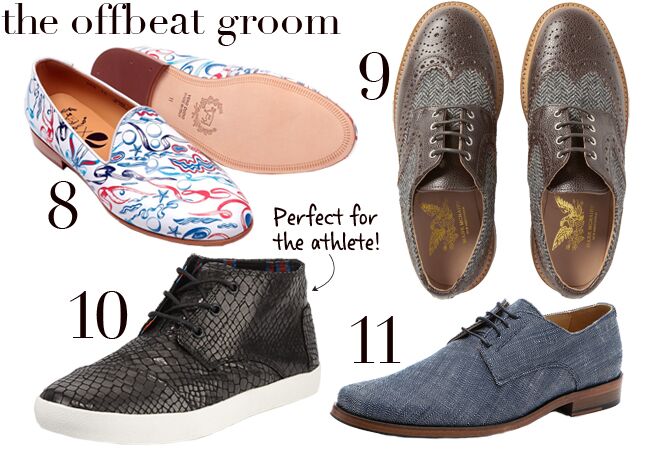 8. Printed slippers, $365, DelToroShoes.com; 9. Mark McNairy tweed brogues, $510, MrPorter.com; 10. TOMS snakeskin sneakers, $125, NeimanMarcus.com; 11. The Generic Man chambray oxfords, $350, EastDane.com
Want more? Right here!
> Get inspired with our Groom Style Guide
> Top Tips to Choosing Your Formalwear