Want to Get Your Best Brows? Sugaring Is the New Waxing
We're really not sure how no one has spread the word on this yet.
by Andrea Fowler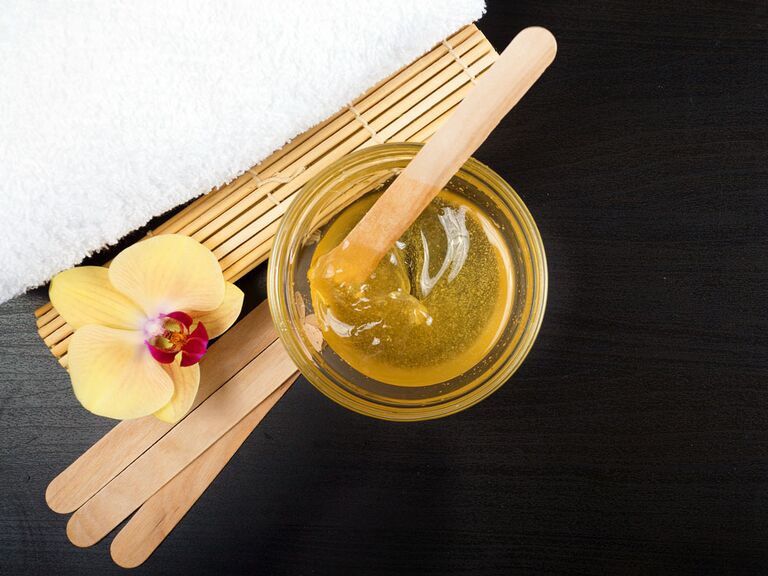 Hair removal: the ultimate love-hate relationship. Smooth skin feels and looks great of course, but the process of getting there is another story. And because of the sensitivity of the brow area, eyebrow upkeep can be even worse, but there are some real benefits to adding brow shaping into your bridal beauty routine.
Your brows frame your face, and when shaped strategically they'll become your biggest ally when it comes to highlighting natural features like bone structure. You can go the at-home tweezing route, but we recommend going to a beauty pro at least once to get their expert opinion on how to shape your brows to best complement your face. (They can explain where the front of your brow should start, where your arch should be and where the tail should end.)
Before you stop reading in anticipation of the "W" word, hold up: We're about to school you on sugaring, not waxing. It's a waxing method that's totally under the radar. "It's the gentlest, most natural hair removal procedure on the market," says browologist Hibba Kapil, founder of Hibba Beauty in New York City. "Sugar paste contains no chemicals or resins, it's hypoallergenic and safe for all skin types. Diabetics, those with eczema, spider or varicose veins, and those prone to breakouts and ingrown hairs after waxing will benefit from sugaring."
We know what you're thinking: "There's been a less painful way of waxing THIS WHOLE TIME and no one told me?" That's what we thought too. So without any further adieu, here's the lowdown on sugaring:
The technique originated centuries ago in Egypt and involves a sugar paste that's made out of all-natural sugar, lemon and water, which takes on a taffy-like feel and appearance. There's never a risk of burning, marking or having it applied at the wrong temperature. Since it's water soluble, it's less messy and doesn't leave behind any residue—but it does leave behind that sweet, sweet smell of sugar.
How does it compare to waxing? Well hair can be removed at less than 1/8th of an inch (waxing requires 1/4th an inch) and the sugar paste removes the hair in the direction of hair growth, which results in less hair breakage and skin irritation. (Wax is applied in the direction of hair growth and removed in the opposite direction.)
Now the real question: Will it still hurt? Yes, probably. Any time hair is being removed from the root it'll sting a bit. But according to Kapil, most clients say it's much less painful than waxing.  The two usually cost about the same price, but doesn't the sound of a sugar wax sound so much nicer than a regular one?