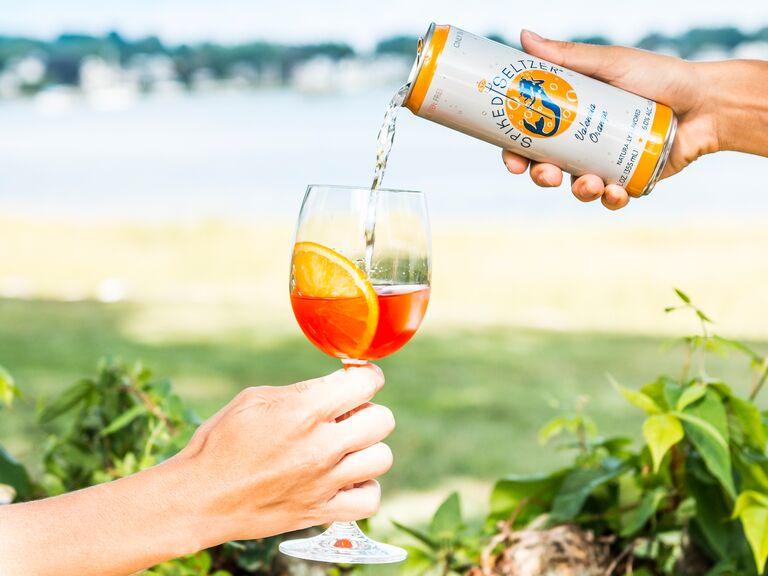 Whether you and your squad are at the beach celebrating your bachelorette party or your guests are dancing the night away at your reception, refreshments will lend to the spirit of all the celebrations  surrounding your wedding (who doesn't love a postwedding brunch mimosa bar?). No matter the occasion, you can use SpikedSeltzer (the original all-natural, low-carb hard seltzer) to create a unique mixed drink as memorable as the event itself. Below, check out six of our favorite cocktail recipes, perfect for every event you have in store.
Cran-Pom Rosé
As if we didn't love pink bubbly enough! This recipe combines one of our favorite wines with cranberry seltzer and pomegranate seeds for a fresh and fruity twist.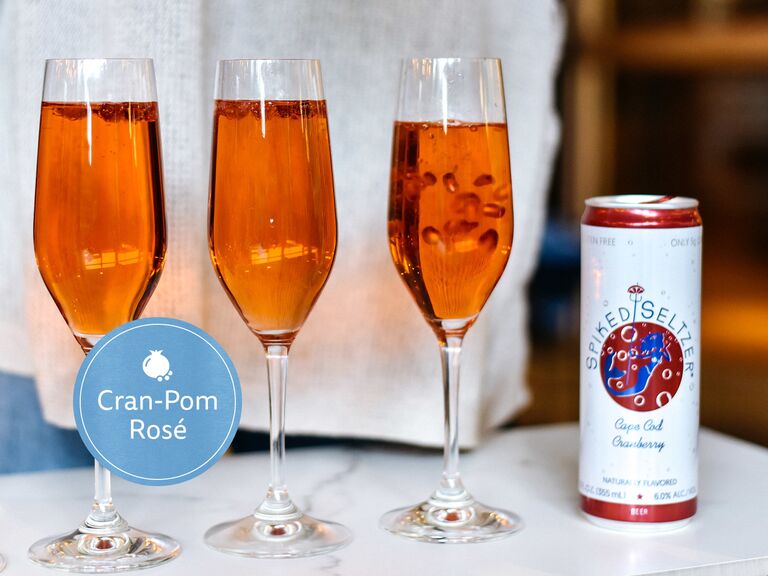 What You'll Need:
SpikedSeltzer Cape Cod Cranberry
4 oz. rosé champagne
.5 oz. Aperol
1 dozen pomegranate seeds
Directions:
Place pomegranate seeds in a champagne flute. Add rosé champagne and Aperol. Top with SpikedSeltzer Cape Cod Cranberry. Serve chilled.

Strawberry Fields
Strawberry puree and pear-flavored seltzer come together to create a drink that, simply put, personifies summer. Guests won't be able to resist the oh-so-sweet aroma and exquisite flavor of this seasonal spritz.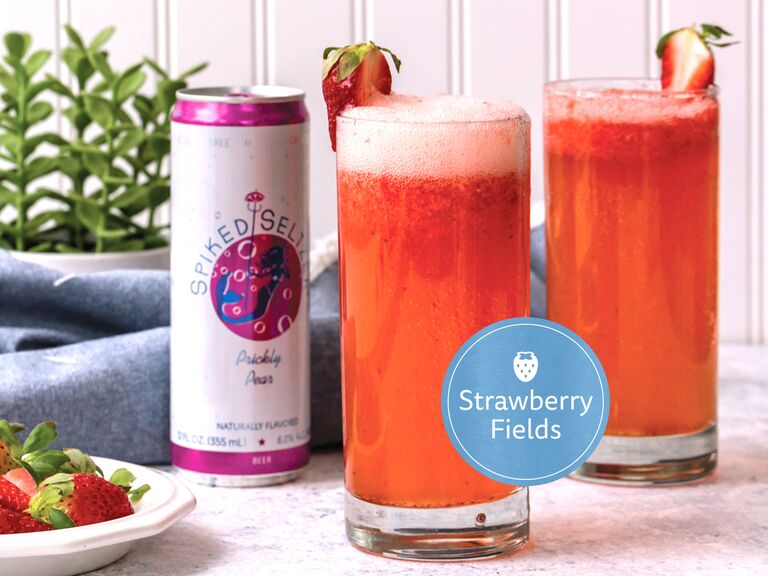 What You'll Need:
SpikedSeltzer Prickly Pear
2 oz. strawberry puree
1 oz. triple sec
1 oz. vodka
Ice
Directions:
Fill a highball glass with ice. Add vodka, triple sec and strawberry puree. Top with SpikedSeltzer Prickly Pear.

Collinzz Fizz
Pour this fizzy drink made of lemon seltzer and gin and let the celebrations flow. Squeeze a fresh lemon over the top of the finished drink for an extra burst of flavor.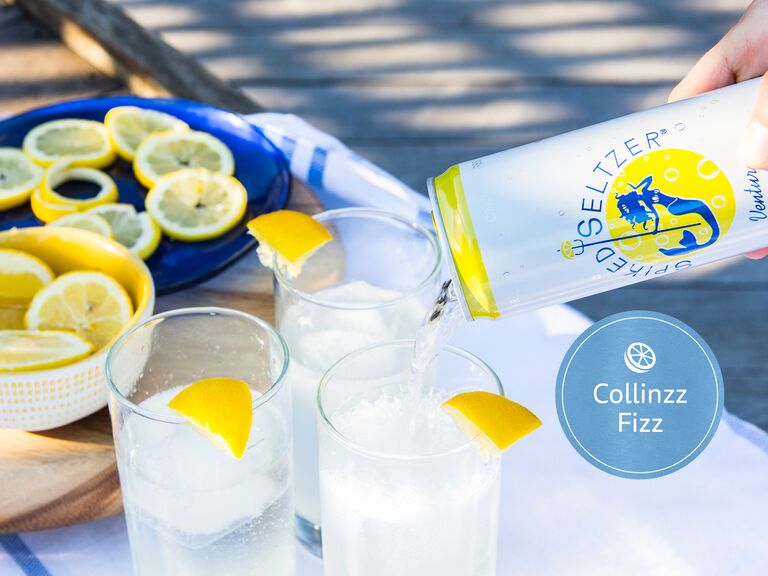 What You'll Need:
SpikedSeltzer Ventura Lemon
1 oz. gin
1 oz. triple sec
½ lemon
Ice
Directions:
Fill a collins glass with ice. Add gin and triple sec. Top with SpikedSeltzer Ventura Lemon. Squeeze in lemon.

Spiked Cucumber Splash
Bring on the heat! A spicy jalapeño garnish combined with the cooling flavor of fresh cucumber and summery grapefruit give this drink a crisp flavor with every sip.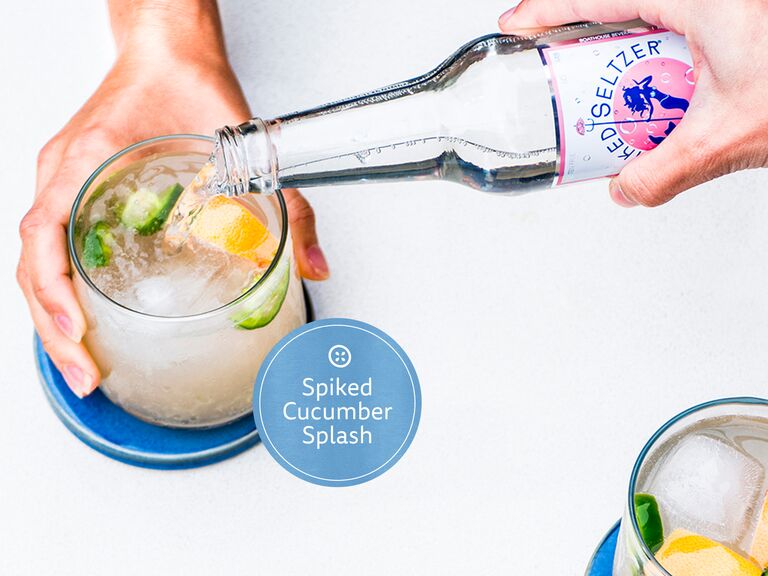 What You'll Need:
Cocktail shaker
SpikedSeltzer Indian River Grapefruit
5 cucumber slices, peeled
1 oz. vodka
.5 oz. elderflower liqueur
.5 oz. fresh grapefruit juice
¼ jalapeño, thinly sliced
Pinch of salt
Ice
Directions:
Pour grapefruit juice into a cocktail shaker. Add 5 cucumber slices and muddle. Pour vodka, elderflower liqueur and ice into shaker. Add salt. Shake until chilled. Top with SpikedSeltzer Indian River Grapefruit. Strain over ice. Garnish with jalapeño slices.

Spiked Spritz
The Aperol Spritz—a classic italian aperitif and summer staple on every seasonal cocktail menu—gets a refreshing and fruity update with this orange-flavored beverage. An orange slice adds the finishing touch to this sparkling mix.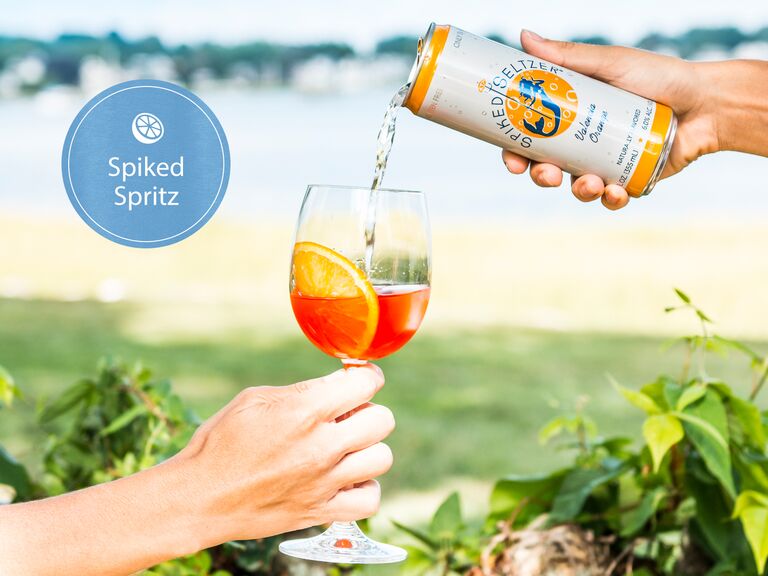 What You'll Need:
SpikedSeltzer Valencia Orange
1.5 oz. Aperol
Orange slice
Ice
Directions:
Place a few ice cubes in wine glass. Add Aperol. Top with SpikedSeltzerValencia Orange and garnish with orange slice.

Mojita 
Set a lively mood from the moment guests walk in by having this cool and tropical refresher on hand. Tie everything together by throwing in a straw to match your color scheme.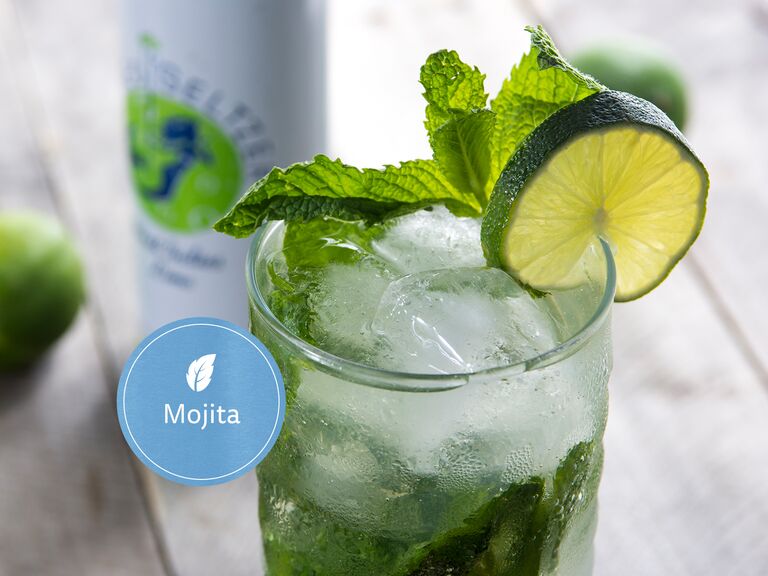 What You'll Need:
SpikedSeltzer West Indies Lime
1.5 oz. white rum
.5 oz. lime juice
2 mint sprigs
Directions:
Pour white rum and lime juice in a highball glass over ice. Add SpikedSeltzer West Indies Lime and two mint springs. Muddle before serving.
The Knot and SpikedSeltzer present Spike Up Your Life, a sponsored series featuring unique ideas and delicious drinks to help you enjoy all of your wedding events to the fullest. Visit SpikedSeltzer.com for more inspiration.