The Most Surprising Things Wedding Guests (and Planners) Have Ever Seen
10 outrageous tales from the aisle.
by Kristine Solomon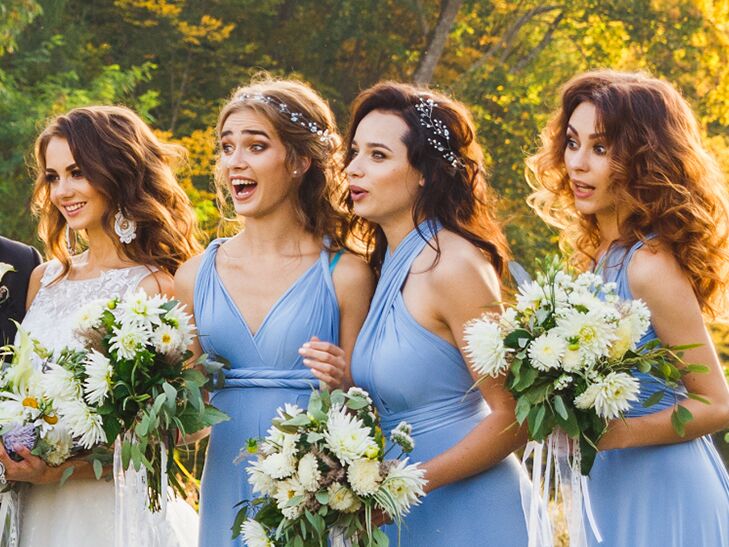 Wedding streakers? Been there. Grandmothers getting freaky? Seen that too. Unexpected guests, disastrous toasts and cake-destroying kiddos? Check, check and check. We asked wedding planners, guests and brides to share some of their most outrageous stories with us, and their tales did not disappoint. The good news? Everyone lived—and laughed—happily ever after.
Get Skivvy With It 
"The day of the wedding, we got to the venue for the wedding-party photos, and I looked over on the dock. The groomsmen had stripped down to their underwear and jumped into the lake! This took place while the wedding guests were just arriving for cocktail hour. I was mortified, especially as they started to get out of the water and get dressed on the end of the dock while the guests were eating crab cakes." —Wedding planner

If You Give a Dog a Bone...
"At a very nice hotel wedding, a guest's husband asked the guy working the carving table if he could take the leftover bones home to his dog. So before the wedding was over, at some tender moment that I can't really remember, we heard the worker say over the microphone, 'I'm looking for the guy who wants to take some meat home. Please come up and get it.' Then the guest lumbered across the dance floor for his to-go bag. Classy!" — Wedding guest
The Worst Man
"Once we had to hold up a ceremony for almost an hour because the best man was late. While waiting for him to show up, the bride was saying, 'I'll bet it's his stupid self-absorbed girlfriend holding him up.' She was screaming into the phone, 'Tell him to leave her! I don't care if her hair's not finished! It's my wedding day!' After waiting 45 minutes they decided to start without the best man. He showed up 10 minutes into the ceremony with his outrageously over-the-top girlfriend. He tried to come up and stand with the party, but in front of all 225 guests the bride looked at him, shook her head no and pointed to the back of room as if to say, 'You're not allowed up here.' So the best man and his arm candy left halfway through the cocktail hour. That wedding was about three years ago, and I've always wondered if that situation ever got smoothed out." —Wedding planner
Toast, Not Roast
"My maid of honor turned her time with the mic into a rhyming roast of my husband. All of our guests had horrified looks on their faces. It was kind of funny but mostly shocking. Let's just say she probably won't be asked to give a speech at a wedding ever again." —Bride
Born Free
"One of the craziest things I've seen at a wedding was actually the day after the wedding itself. We were at the venue for brunch the next day, and we had golf carts on the property to take guests from their cars to the main house. (These golf carts had been used the night before to transport guests around the property.) As I got into a golf cart to help an elderly guest, the bride's Spanx were sitting right on the passenger seat! She had taken them off the night before because she just couldn't wear them another minute. I had to quickly kick them off the cart before the guest sat down. It had me laughing the whole day." —Wedding planner
Grin and Bare It
"I once had a streaker crash through an outdoor cocktail hour. Eventually he was tackled and tasered by four out-of-breath cops who had been chasing him throughout the park. Talk about unsolicited entertainment. Luckily the bride thought it was hilarious. Moral of the story: If you are going to have your wedding in a public park, you cannot control who might also be roaming about the day of your wedding." — Wedding planner
Tied Down
"At a black-tie wedding where the groom's family were total jokesters, his mother sneaked up behind him on the dance floor in the middle of the evening and tied a fake ball and chain to his foot. It was hilarious, because we all knew it was a joke. His family loved the bride." —Wedding guest
Curious Crasher
"We were married in a restored factory with still-functioning art studios that overlooked the ceremony location. At the start of the ceremony, a large dog came out, sat and watched the whole thing. As soon as the ceremony was over, he went back in the studio. My husband and I didn't notice it, but all our guests still talk about our unexpected wedding guest." —Bride
Risky Business 
"At one wedding a grandmother of the groom—from her front-row seat—kept pinching the butts of the groomsmen as the men were facing the altar! Later that night at the reception, she mooned the DJ. Apparently this saucy behavior was not out of character, because the couple had told us to keep an eye on Granny." —Wedding planner
A Kiss for Good Luck
"My cousin was married at a tropical resort in the Bahamas during peak season. The bridal party had prepped and primped in a hotel room before walking through the casino to the outdoor ceremony site, which faced the ocean. As we carried my cousin's train across the casino floor, we caught the eye of a little girl who had never seen a bride before. The girl's mother smiled at us and leaned down to explain the celebration to her daughter. 'Sweetheart, look! It's a princess, like in a fairy tale. She's off to meet her prince. The girl's eyes widened in delight, and just before we ducked out the door, she blew my cousin a kiss for good luck. My cousin has now been married for 10 years and has two beautiful children—and I know she believes that sweet little girl's good-luck kiss was a beautiful sign of the good things to come!" —Wedding guest