9 Sweet Proposals From Pro Football Players
Check out the real-life, "awww"-inspiring stories of how some of your favorite NFL players got engaged!
Who says football players don't have a romantic side? Here, get the super sweet stories behind how famous NFL stars — including Dan Orlovsky, Glenn Dorsey, Anthony Fasano, Luke Joeckel, Toby Gerhert, Chad Henne, Franklin De'Sean Weatherspoon, Christopher Harris Jr., and Kyle Van Noy — all popped the question.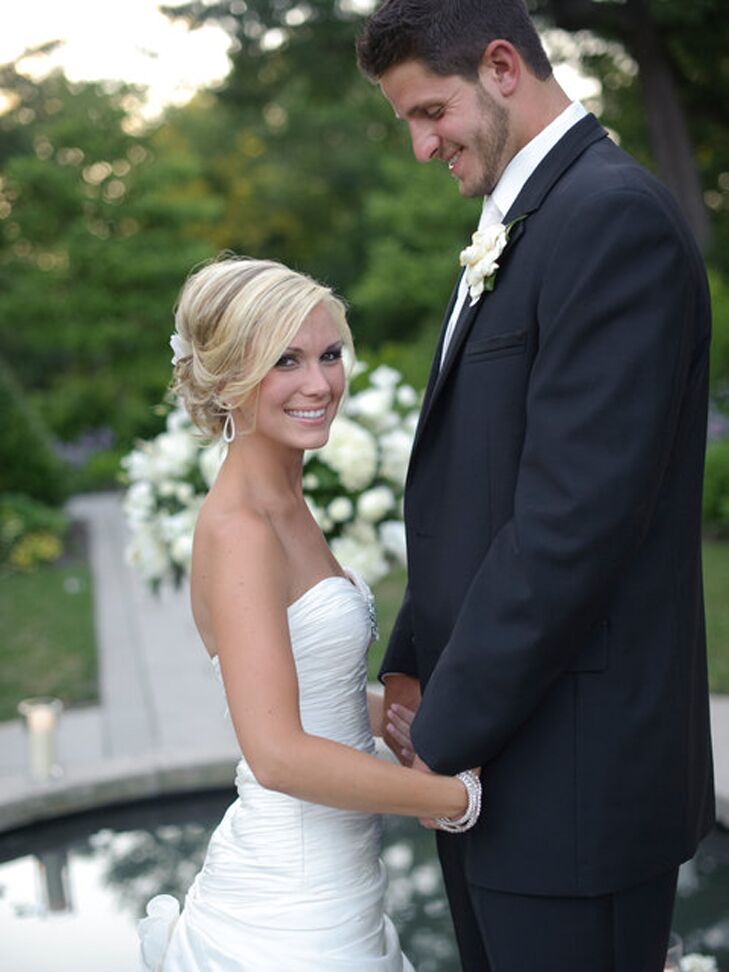 Dan Orlovsky, Quarterback for the Detroit Lions, & Tiffany Orlovsky
Where it happened: Philadelphia
How it happened: Throughout their relationship, Dan has always sent Tiffany flowers. But Thanksgiving week, he sent them to her office every day, along with sweet notes explaining why he was thankful for her. On Thanksgiving day, Tiffany's whole family gathered at her aunt and uncle's house, their annual tradition. Of course, football was on TV, and the Detroit Lions (along with Dan) were playing as they do every Thanksgiving. Tiffany felt tired after the big meal and was planning to head home, but her family stalled her and got her to stay. Then there was a knock at the door—Tiffany answered and was surprised to see Dan! "I was super-confused because I just saw him on TV in Detroit and now he's here at my aunt and uncle's house in Philadelphia, where he's never been," she says. In shock, all Tiffany could say was "How did you find me?" Dan said he had one more thing to give her this week—but it wasn't a flower and he wanted to give it to her in person. "He got down on one knee in front of my whole family, knowing how much family means to me, and asked me to marry him," Tiffany says. "Still shocked, I responded with, 'Are you freaking serious?' And then, of course, eventually said, 'Yes.'" It turns out, Dan had left right after the game, got a police escort to the airport and hopped on a plane. "It was the biggest surprise of my life, and I'll never forget everything Dan did to make it so special," she says.
Glenn Dorsey, Defensive Tackle for the San Francisco 49ers, & Tiffany Evans
How they met: Glenn messaged Tiffany on Twitter, sparking a year of talking long-distance (he lived in San Jose; she was in Los Angeles) before their first actual date.
Engagement date: July 25, 2015
Where it happened: BOA Steakhouse, Santa Monica, CA
The ring: Haimov Jewelers
How it happened: The couple dated for a little more than a year before Glenn decided it was time to pop the question. "She is so beautiful, caring, educated, hardworking in her career and family oriented, I knew I wanted to spend the rest of my life with her," Glenn says. The 49er began planning the proposal under the disguise of his 30th birthday—keeping it an intimate dinner with his mom, her parents and her brother (who flew in from Georgia State University). When July 25th rolled around, the couple and their families went to dinner at the site of their very first date. Before their drinks even arrived, Glenn moved in close to Tiffany, took her hand and said, "It would be an honor to spend the rest of my life with you. I'm at a loss for words, but I'm always at a loss for words when I look at you. But I have to know: Will you marry me?" Overwhelmed, Tiffany began to cry, exclaiming, "Yes!" halfway through Glenn's proposal. The newly engaged couple celebrated with their family and friends at the Playhouse Nightclub in Hollywood.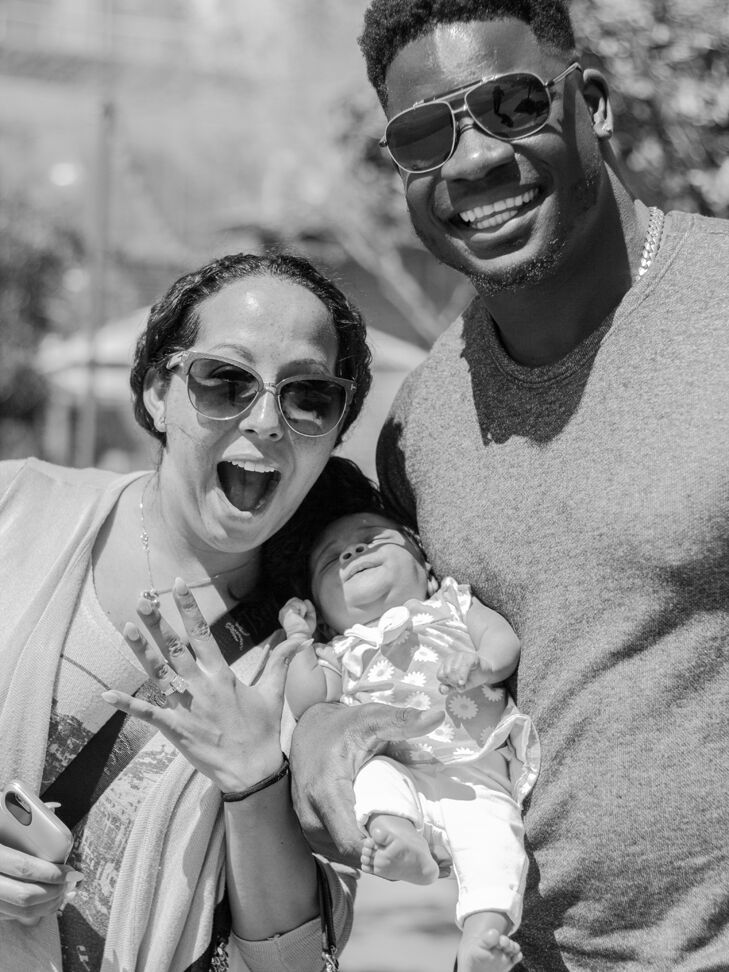 Franklin De'Sean Weatherspoon, Inside Linebacker for the Arizona Cardinals, & Christine Elizabeth Weston
How they met: "I saved her from some guy who was trying to get her to notice him. I could tell she was irritated so I intervened as if I was her man, and she played right along with my act. She has been the love of my life ever since."
Engagement date: May 10, 2015
Where it happened: Snooze AM in Tempe, AZ
How it happened: After spending many years together, Franklin knew that Christine possessed everything he could ever want in a counterpart: "beautiful, religious, smart, selfless, loving and loyal," he says. "Christine always saw me for the real me. That's special!" While trying to figure out the right time and way to pop the question, Franklin found out he was going to be a father, and the couple welcomed Ava Christine Weatherspoon on March 20, 2015—"the best day of our lives." He had the ring for a little more than a week before actually proposing to Christine. "It was her first Mother's Day as a mom, and God wanted it to be one she never forgot," he says. He, Christine and Ava went to brunch at Snooze AM to celebrate the day together. When they walked out of the restaurant, he grabbed Christine's hand and started expressing his love for her. She looked surprised and nervous as he sat Ava in her car seat and then went down on one knee while pulling out the "boulder of a ring." Of course, Christine answered, "Yes!"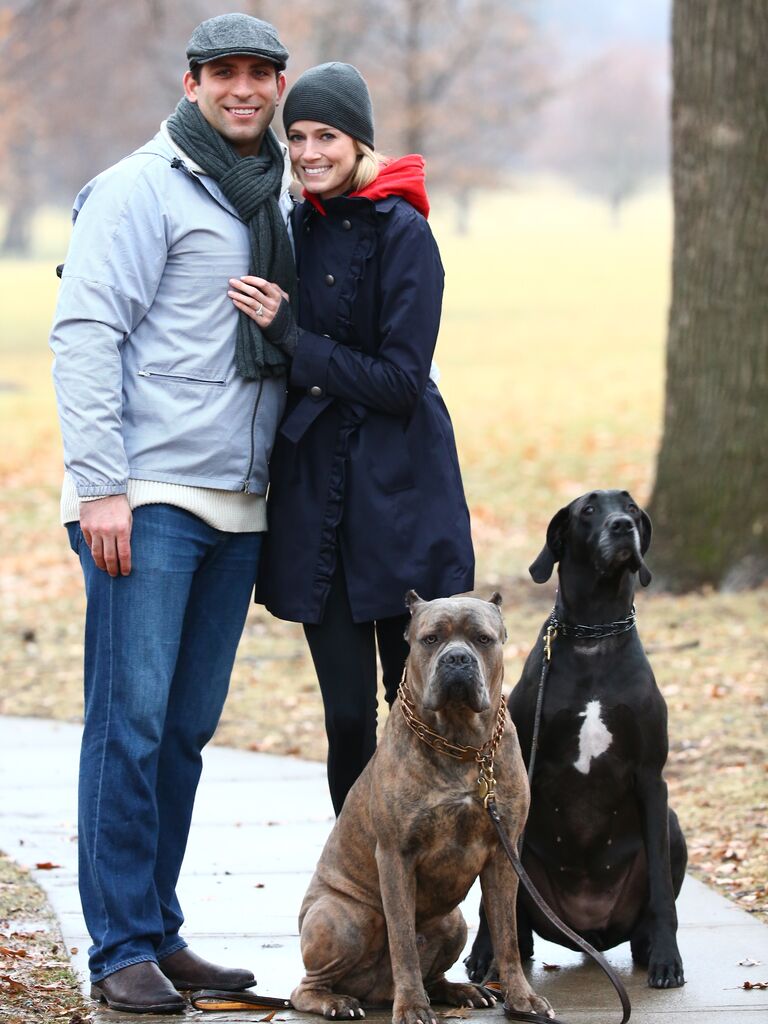 Anthony Fasano, Tight End for the Tennessee Titans, & Cary Fasano
How they met: Set up by mutual friends when they both were living in Miami
Engagement date: December 13, 2013
Where it happened: Loose Park, Kansas City, MO
The ring: Designed by Anthony and made by personal jeweler, Kevin Brosh
How it happened: After two and a half years of dating, Anthony became a free agent and decided to sign with the Kansas City Chiefs. Once the couple moved to Kansas City, he and Cary got in the habit of taking their dogs, Ace and Mia, for a walk together in Loose Park every Friday afternoon. It definitely wasn't ideal dog-walking weather on this particularly rainy and freezing-cold day in December, but Anthony insisted she just wear something warm and tough it out. Being a Florida girl, Cary broke out her snow boots and ski gloves and the two grabbed some coffees and ventured out to keep up their new custom. The pair usually takes turns picking up after their dogs, but this time Anthony insisted that she get it. Cary tried to get out of it, pleading that she was too bundled up, but eventually she gave in. As she took the bag, she noticed the ring tied to it, and Anthony got down on one knee. "I told her how much I loved her and how I couldn't imagine my life without her," says Anthony, and she said, "Yes!" "What would seem like a dreary, lonely day in a typically crowded park to most, turned out to be the perfect private setting for us. It couldn't have been more romantic."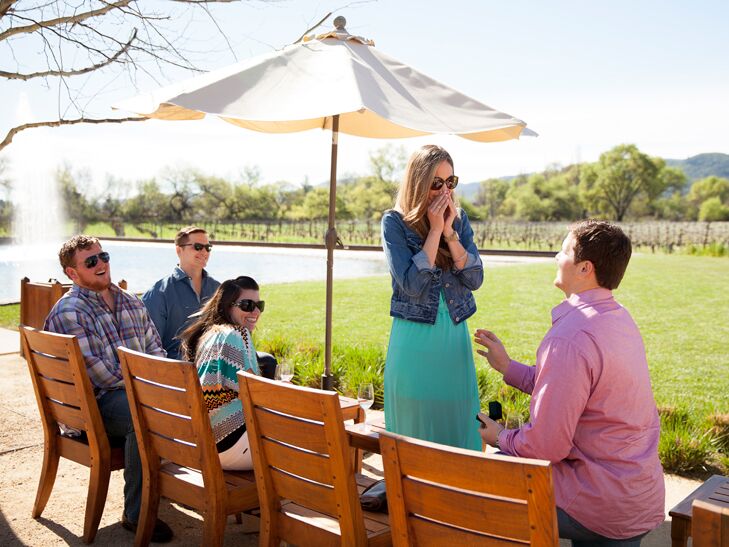 Luke Joeckel, Left Tackle for Jacksonville Jaguars, & Cameron Coulter
How they met: Luke approached Cameron at a local bar near Texas A&M University, where they both attended college. She was wearing orange (the color of their school rival, University of Texas) and Luke asked, "Hey, cool sweater—where can I get one of those?"
Engagement date: March 13, 2015
Where it happened: Alpha Omega Winery, St. Helena, CA
The ring: JB Star/Underwood's Jewelers
How it happened: The couple had been dating for about two years before Luke decided it was time to get engaged—though Luke says he knew she was the one the moment he saw her. In January, he asked Cameron's parents for her hand in marriage and then started planning an engagement trip to California. Cameron knew Luke's family was coming on the vacation, but she didn't know that he'd secretly arranged for Cameron's family to be there too. "She knew I wouldn't propose without her family there, so this helped keep it a surprise," Luke says. On the day of their tour at Alpha Omega, Cameron's family hid at the back of the Napa Valley winery, while Cameron, Luke and his family sat down for a preliminary wine lesson. Just when the tour was about to begin, Cameron's family walked up behind them, and Luke proposed. "It was such a blur that neither of us remembers what I said, but she said 'Yes!' There were definitely tears involved on her end too," Luke says.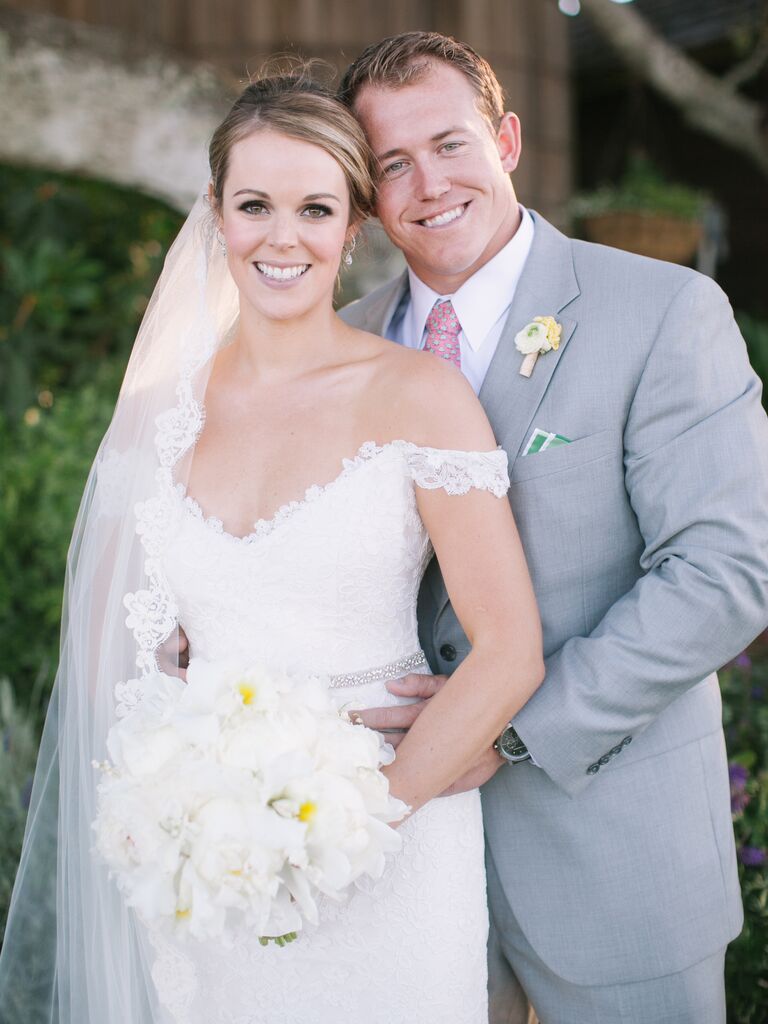 Toby Gerhart, Running Back for the Jacksonville Jaguars, & Meredith Gerhart
Where it happened: Minneapolis
How it happened: Toby had met the manager of Zac Brown Band through a random backstage introduction, and when he heard that the band was coming to Minneapolis, he started planning his proposal. (The pair has always shared a love for country music.) Toby told Meredith he'd gotten them tickets to the concert and that they'd be going on Sunday night after the game. Midway through the show, Zac Brown announced from the stage that the next song, "Whatever It Is," was dedicated to Meredith from Toby. "While I was busy being awestruck at how sweet that was, Toby was waiting for the key line, 'She's gonna be my wife,' to get down on one knee right there in the middle of the concert to propose," Meredith says. "In hindsight, I remember thinking how weird it was that he was wearing his warm Minnesota jacket since he's never cold!" she says. "I'm sure the ring was burning a hole in his pocket."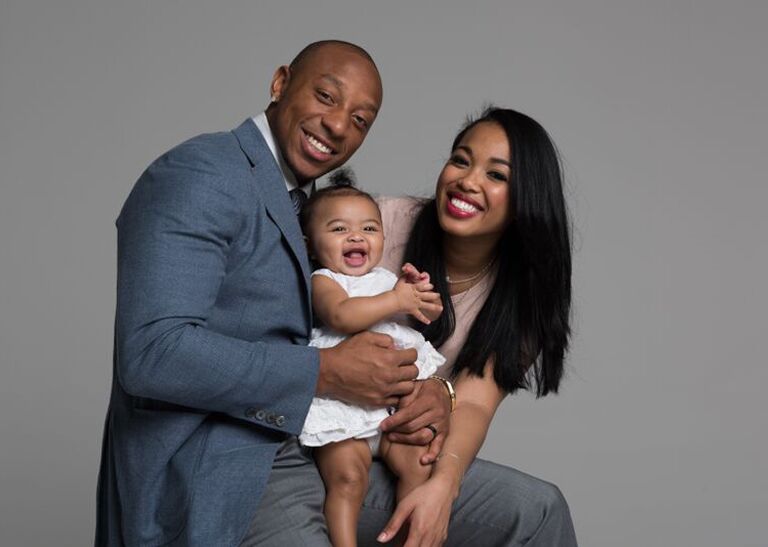 Christopher Harris Jr., Cornerback for the Denver Broncos, & Leah Anatalya Harris
How they met: At bible study at the University of Kansas their freshman year (though they didn't start dating until after graduation)
Engagement date: March 30, 2012
Where it happened: Country Club Plaza, Kansas City, MO
The ring: Shane Co.
How it happened: After being in a long-distance relationship for nine months and taking a vacation to Walt Disney World, Christopher knew Leah was the one. "We have so much in common, and she has certain things that I had asked for in a wife," he says. Christopher was training in Texas during the off-season, but that didn't stop him from looking for a ring and calling Leah's father to ask for her hand in marriage. With her father's blessing, Christopher flew back to Kansas for the weekend, picked up the ring and took his soon-to-be fiancée to her favorite restaurant, Houston's. Nervous about smashing the ring in his back pocket, Christopher kept running into the men's room to check on it. After dinner, they walked down the street, and Christopher asked Leah about her happiness in their relationship. Holding her hand, he got down on one knee, and before he could get his whole speech out, Leah excitedly blurted out, "Yes!"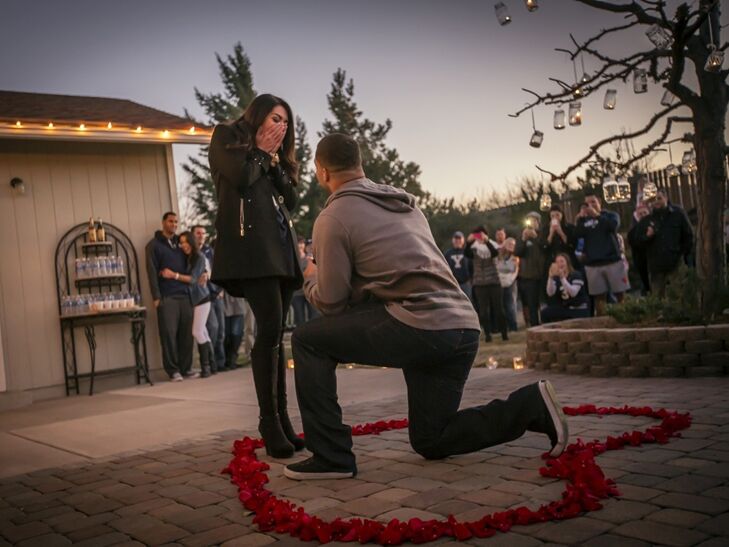 Kyle Van Noy, Linebacker for the Detroit Lions, & Marissa Van Noy
How they met: At a mutual friend's birthday party in college
Engagement date: November 30, 2013
Where it happened: Reno, NV
The ring: Paul Schoen Jewelers
How it happened: On the day of Kyle's last college football game, he set his proposal plan in motion—with a little help from both of their families. After the game, Marissa's sister stalled the couple while his family headed to Kyle's childhood home to set up. "I was so nervous the whole way to my house I barely spoke. I was totally focused on remembering all of the things I wanted to say in my proposal," Kyle says. When the two arrived, Kyle opened the door to reveal a path of rose petals and candles that went from the front of the house to the backyard. He led Marissa outside, where both of their families stood with a gorgeous sunset in the background. He got down on one knee in the center of a big rose petal heart and told her how much he loved her. "Her reaction when I opened up the ring box was priceless. She forget to say, 'Yes,' until my dad asked out loud 'Was that a yes?'" Kyle says. Of course it was.
Chad Henne, Quarterback for the Jacksonville Jaguars, & Brittany Henne
How they met: They grew up together and were high school sweethearts
How it happened: All the way back in the fourth grade, Brittany had a schoolgirl crush on Chad, who played sports with her older brother. In junior high, the two became very close friends, and their relationship turned romantic when they were in the ninth grade. Chad and Brittany continued dating all through high school and college (they both attended the University of Michigan). After the NFL Draft post-graduation, Chad started talking about an engagement. The couple browsed rings together and met with a jeweler, so Brittany could give him ideas of what she liked, and Chad took over the process from there. On one of Chad's breaks before Training Camp, they traveled home to Pennsylvania and went to pick up the ring together. "He took it to my parents' house where we were staying and hid it somewhere there. It took everything I had not to search their house and get a sneak peek!" she says. Their families were throwing a party to celebrate Chad's birthday and 4th of July, and Brittany felt sure he'd pop the question in front of everyone then. But it didn't happen. A little more than a week later, Chad suggested going for a hike at a nearby lake where Brittany grew up boating and they'd shared many great memories. After finishing the hike, they headed back toward the car, which was parked overlooking the lake at the top of a hill, and sat on a nearby bench. There Chad told Brittany how much he loved her and that he wanted to spend the rest of their lives together. "I was in such disbelief that just as he was pulling the ring out of his pocket, I gave him a shove on his shoulder—I thought he was faking the proposal," Brittany says. "Thank goodness he has good hands and he didn't drop the ring." After the shock passed, she happily accepted his proposal and the two went home to share the news with their families and friends. "Five years of married bliss, a few moves and two kids later, we are still as in love as we were that day and are looking forward to a lifetime of love and great memories together," Brittany says.