Gold Medalist Sydney McLaughlin on Love, Olympian Life & How She Stays Grounded
"I'm starting to vocalize things, to release them into the open so they can be addressed. There's people out there who can and will help you."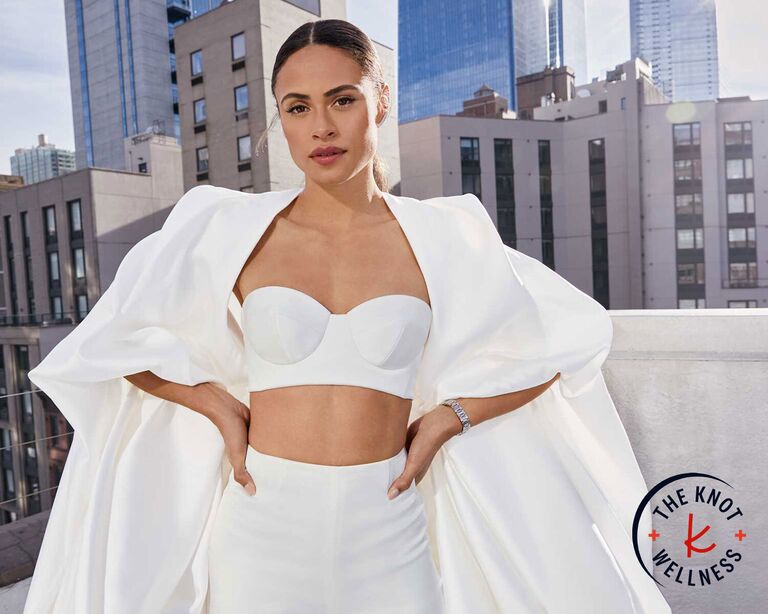 Andre L. Perry

,Creative Director: Sarah Evans,Fashion Styling: Shelley Brown,Production: Kelsey Pillischer,Hair & Makeup: Mika Shimoda
Sydney McLaughlin's success on the track has earned her millions of fans over the years. Two of her biggest arrived alongside her at our cover shoot: her parents. Mom and Dad ran too and introduced Sydney to the sport when she was just 6 years old. She fell in love and the rest is, well, history (and history making). Running has always been an outlet for the star and a way for her to express herself. In the last five years she's turned pro, won two gold medals, set a world record and gotten engaged to former NFL player Andre Levrone Jr. But if you ask Sydney, the best is yet to come.
For The Knot Spring 2022 issue, the athlete opened up to Executive Editor Lauren Kay on her love story, the way she prioritizes her mental health and the moment she's most looking forward to on her wedding day.
Lauren Kay: You are a force, Sydney—a two-time Olympic Gold medalist and a current world record holder in the women's 400-meter hurdles. Tell us about your running journey.
Sydney McLaughlin: Running is an amazing part of my life. It's allowed me to see so many places and experience so many things. Both of my parents ran track and so did all of my siblings.
I started when I was 6 years old and kind of fell in love with it. I don't think I got really serious about it until high school. That's when my parents and my coach realized there was opportunity to take it to the professional level. I remember watching the Olympics when I was 8 or 9 and knowing from that moment on it's what I wanted to do. And to be able to compete and win was a dream come true for me.
I'm starting to flex that muscle of vocalizing things and releasing them into the open so they can be addressed. I understand that there's people out there who can and will help you. I feel like running has provided me the opportunity to mature in a lot of ways—it's definitely taught me life lessons on and off the track. Being in the Olympics at 16 forces you to grow up pretty fast. Along the way, I've just seen myself continue to mature into the woman that I am. I've been blessed to have such an amazing support system around me and I really think that's the foundation that has helped me get to where I am right now.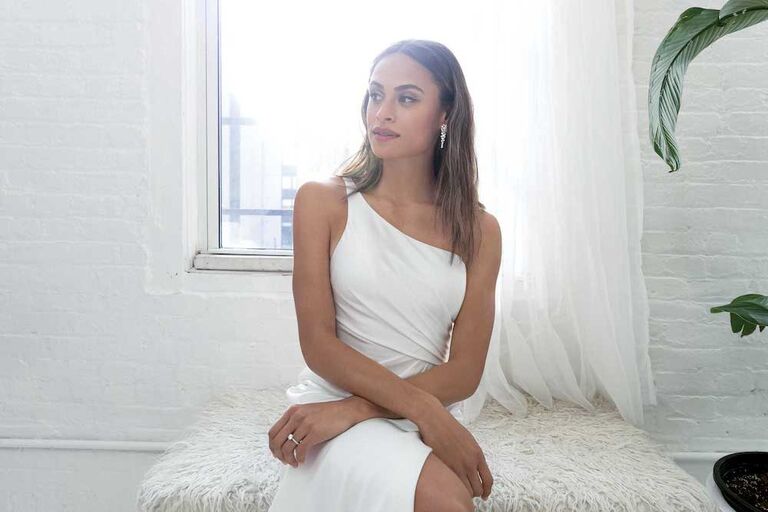 LK: That's incredible. You've made room in your life for another love too. Tell me about Andre—how did you meet? When did you know he was the one?
SM: Oh, it's a great story. I mean, it's not an amazing story, but I think it's pretty great. Ever since I was very young, I always looked forward to the day when I would get married. I've made that such a big part of my life. I was constantly looking throughout my teenage years, throughout college, into early adulthood. A big part of meeting my fiancé had to do with the evolution of my faith, finding who I am in Christ and submitting all my plans to God. Not long after I did that, I met Andre.
LK: Kismet! So how did you originally connect?
SM: We had a mutual friend who I went to high school with and he went to college with—but we didn't interact until he slid into my DMs. We started off as friends. He asked me to do Bible study with him and introduced me to a group of really great people who were encouraging and very mature. It was the first time I was in a relationship with a man who I felt could lead me in my faith to a place where I wanted to be. We both knew early on that we liked each other and what our intentions were. If I could say the one thing about our relationship, it's that it was always very intentional. Honestly, I knew the fourth day we ever talked. So that's something.
LK: Those must have been some memorable conversations.
SM: My second date with Andre was perfect. We went to the beach, brought food and realized we forgot forks. We ate salmon with our bare hands! It's become an inside joke now—I carry forks with me everywhere I go. But it was such a bonding moment for us.
LK: That's hilarious! You all dated for about a year and then Andre popped the question. Were you expecting a proposal?
SM: We had lots of conversations about getting married. I even made a Pinterest board and added him! I was in Arizona celebrating my birthday with a group of girlfriends and I was very suspicious that he was going to just pop in. I wasn't sure why. I walked out of my room just before dinner and there's a videographer. I paused and thought, what? My friend jumps in and says, I saw you did a birthday vlog a couple of years ago and it was terrible so we're gonna make a new one. So we made a vlog on the way to dinner. We get to the front desk of the hotel and I'm handed a card that says, "I'm sorry I can't be there to celebrate with you but I have a surprise for you on the lawn." I walk outside and there he was. I honestly don't remember what we talked about. I kept thinking, don't fall. Don't look ugly in these pictures. It was so sweet and very surreal.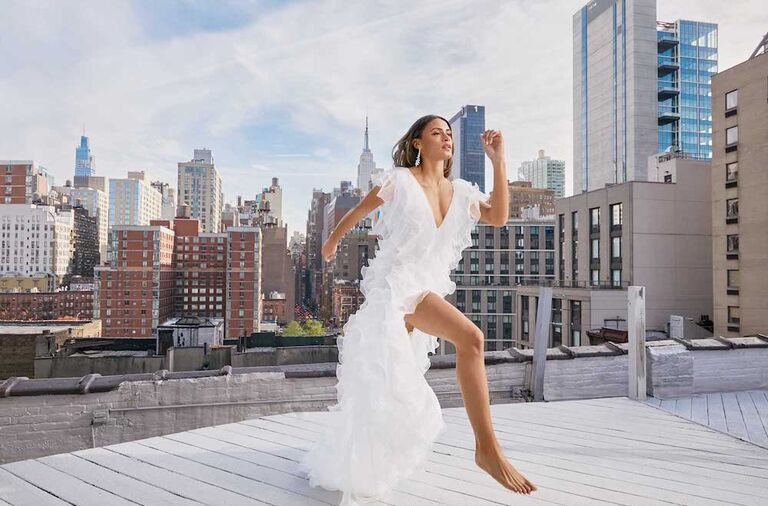 LK: What a wonderful way to kick off your next chapter. Have you started wedding planning? Any must haves?
SM: I'm in the inspiration phase right now, scrolling Instagram and getting an idea of what I want. I think we want something rustic and elegant, with lots of white and olive green. I really love the idea of a backdrop of greenery, maybe a neon sign we can all take pictures in front of—classy. Andre has a lot of friends in the NFL and I have World Championships next year so we're just figuring the timing out. We definitely know we want something intimate with our closest friends and family present.
LK: Andre planned a pretty epic proposal. Do you think he'll be a hands-on groom?
SM: Oh he'll definitely be involved. When I'm stressed about something, he's right there, making sure everything goes smoothly. We talked about the ceremonial washing of feet being part of the ceremony and we'd love to write our vows. We're both writers and it will be awesome to speak from the heart. I think that's the part I'm most looking forward to—reciting our vows and watching him cry. He's definitely going to cry.
LK: We all have a greater appreciation for mental wellness these days. How do you prioritize yourself when things get stressful?
SM: I really prioritize prayer, and not just at meals or in the morning and at night, but throughout the day. I try and be vocal about things, whether I'm feeling them or just thinking them. I release them to God. If I'm facing a challenge or adversity, I have the tools and knowledge from scripture to fight the battles in front of me. I also take time to just be alone. I'll go to the beach, listen to music and decompress with my thoughts. This helps me come back to my center, refocus and move forward.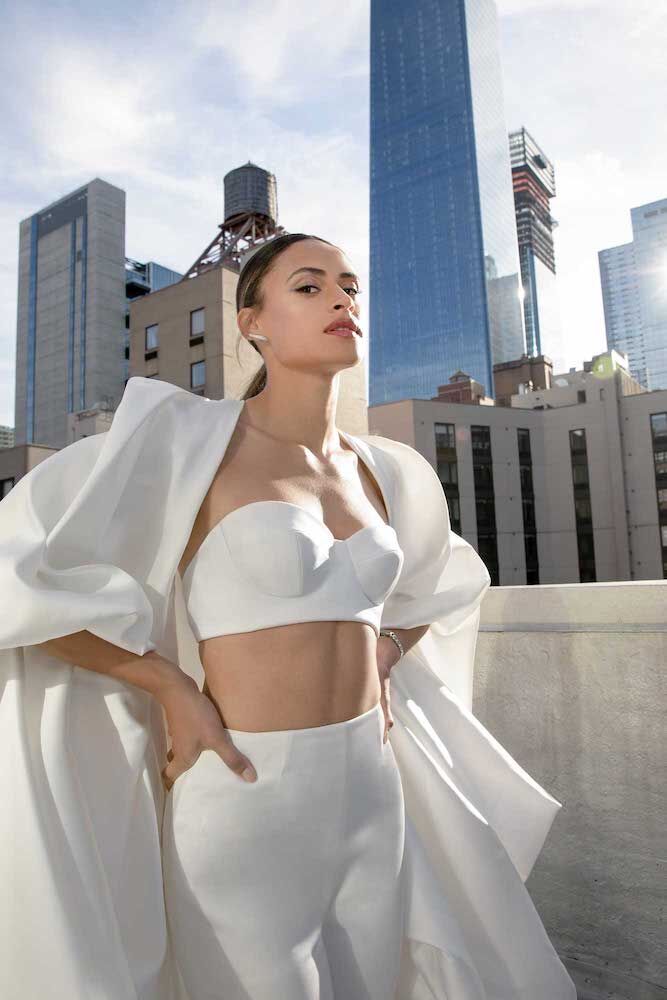 LK: You've spoken publicly about the mental impact of being in the public eye as a young athlete. How has that shaped who you are and your commitment to mental health?
SM: In the past when I was going through something I had a tendency to isolate myself and try and handle it on my own. I've been working on that, knowing I have an amazing group of people in my corner who love me and want to help me. I'm starting to flex that muscle of vocalizing things and releasing them into the open so they can be addressed. I understand that there's people out there who can and will help you.
LK: Leaning on your community for support is huge, especially while wedding planning. A lot of athletes have superstitions. Do you have any rituals you'll carry out on your wedding day?
SM: Gummy bears! I always eat gummy bears the night before I run. I'll probably be in season so I may have to sneak these in.
LK: Talk to me about the music. Will your running tracks make the cut?
SM: Oh, we already made our wedding playlist! We just went back and forth and chose a mix of some recent songs and some old songs. I don't have anything from my running playlist on there, but we'll definitely play the electric slide.
LK: Will there be a first dance? Have you settled on that song yet?
SM: Yes to a first dance, but finding a song has been a whole thing. I think we're going to start practicing to our short list of songs and see which one feels right. It's been hard to pick one we both agree on—we're on the same page, just not there yet.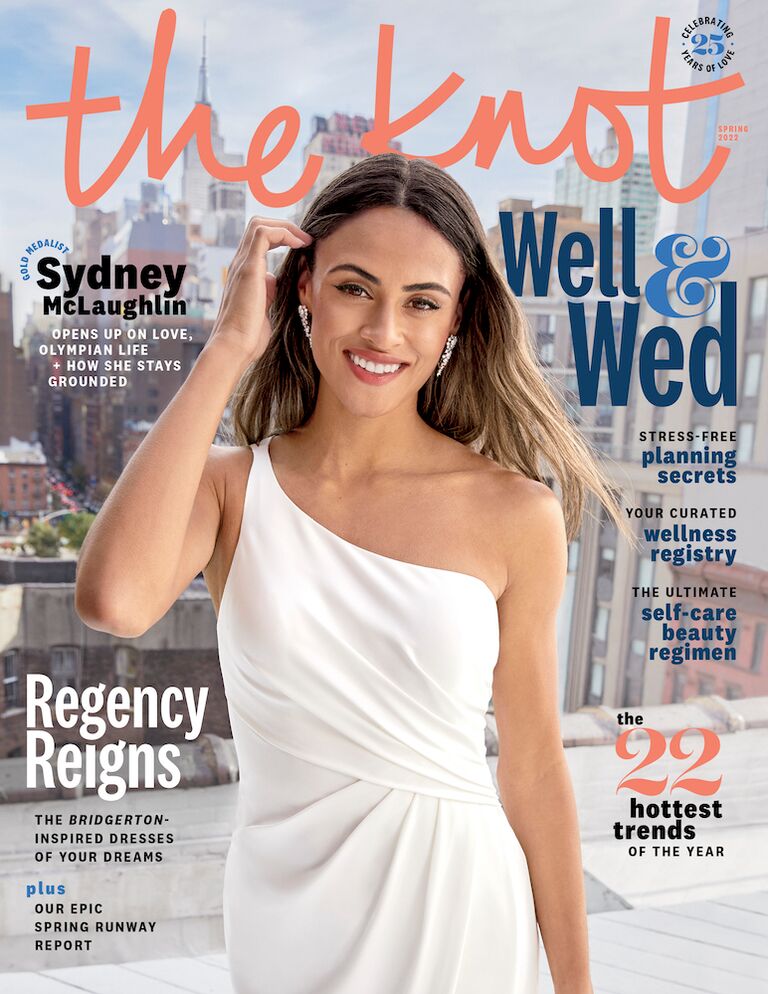 LK: What about your attire? Will you be donning a pair of New Balance sneaks on your wedding day à la Father of the Bride?
SM: It's so funny you ask that because my dad has been asking me constantly about wearing sneakers. He wants to wear them! I told him, yes, you can wear sneakers but I need to see them first—he can be swagged out, but we have to be on the same page. I did find my dress and it's the opposite of what I thought I would have picked. I thought I was going to go the very simple route with my dress, but it's not simple. That's all I'm going to say.
LK: Wow, you're leaving me in suspense. What do you think Andre will think?
SM: He doesn't really care about the dress. He knows it will be beautiful and he's just very excited for the wedding day. I think we'll skip a first look, so the first time he'll see me in it will be when I'm walking down the aisle.
LK: Any other traditions you plan to carry out or skip?
SM: I love the throwing of the bouquet and seeing who's aggressive enough to fight for it. I'm very intrigued to see who it's going to be at my wedding—maybe my sister?
LK: When you're planning a wedding, everyone has something to say or advice to offer. What's the best you've received?
SM: The best advice I've received is that no wedding is perfect. You just have to focus on what's important, which is why you're there, and try not to make everything so exact and perfect.