How to Tell Guests About Your Wedding Website
And make sure they actually use it.
by Maggie Seaver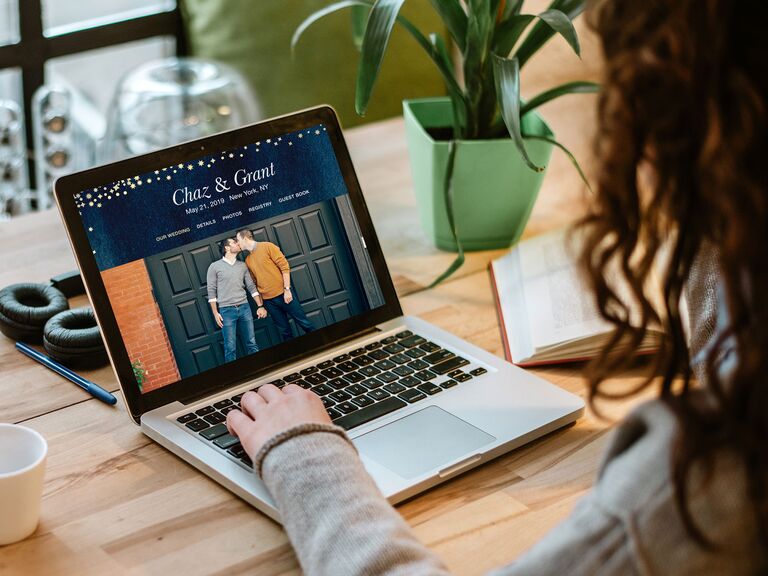 If you've spent time and energy creating a wedding website, you're probably dying to know how to tell guests about your wedding website right about now.
We know you want to shout your wedding URL from the mountaintops so your friends and fam can start eyeing your engagement photos, booking hotel rooms and perusing your registry. But before you go completely rogue, remember that how you tell guests about your wedding website actually does matter. Here's exactly how to tell guests about your wedding website and get them excited to use it.
How to Share Your Wedding Website
Here's the thing: Sharing your wedding website implies that's probably where you'll provide registry information—which means you're kinda-sorta suggesting you'd love some wedding gifts. Now, your guests obviously want to check out your website ASAP and buy a gift off your registry—but the point is, it's important to go about leading them there tactfully. With this in mind, the best ways to tell guests about your wedding website are:
Putting the link right on your save-the-dates, bridal shower and/or engagement party invites
Including your site on an insert in your invitation suite
Sharing it by word of mouth (aka via texts, emails or in person)
Note that it's really not good form to print a link directly on your formal wedding invitations—include it on a separate insert. The reason you can tell guests about your website via save-the-dates is that those are generally a little less formal—and they're typically one of the first official announcements of your wedding date and important details (making it the perfect place to share your wedding website).
How Not to Tell Guests About Your Wedding Website
Not to be bossy, but don't post your wedding website on social media. Unless you're planning to send your URL to a friend in a private Facebook message or Instagram DM, posting your website publicly on social will only cause problems. You'll offend anyone who sees your website but wasn't invited to the wedding. Plus, people might see your site, assume they're invited and call you asking where their save-the-date is. Cue the awkward phone conversation.
How to Get Your Guests to Actually Look at Your Website
Beyond telling guests about your website, make sure you incentivize them to use it and get them psyched for your upcoming nuptials. Step one: Make your wedding website as easy to find as possible. How? Create a custom URL that's easy to remember. This way, no one will have to rummage through their mail or emails to find that original save-the-date. Think of it this way: If they can't find your website, they won't use it.
Step two: Turn on digital RSVPs so your guests can instantly reply, mark their meal preference and add a plus-one (if applicable, of course). As much as we love a traditional RSVP, this is way easier than filling out one of those response cards. 
Lastly, a great way to get your guests to engage with your wedding website is to include not only need-to-know wedding details, but fun extras too. We're talking engagement photos, your love story, wedding party bios and local gems near your wedding venue. Include favorite restaurants, coffee shops, museums, parks and stores to keep your loved ones well-fed and entertained over the course of your wedding weekend. And don't forget, you can always update your site along the way to keep it looking fresh and up to date.
Let's get you a gorgeous wedding website, shall we?