Texas Ballrooms That Aren't Boring
Treat your guests to fine Texas hospitality with these local gems.
by Shelby Simon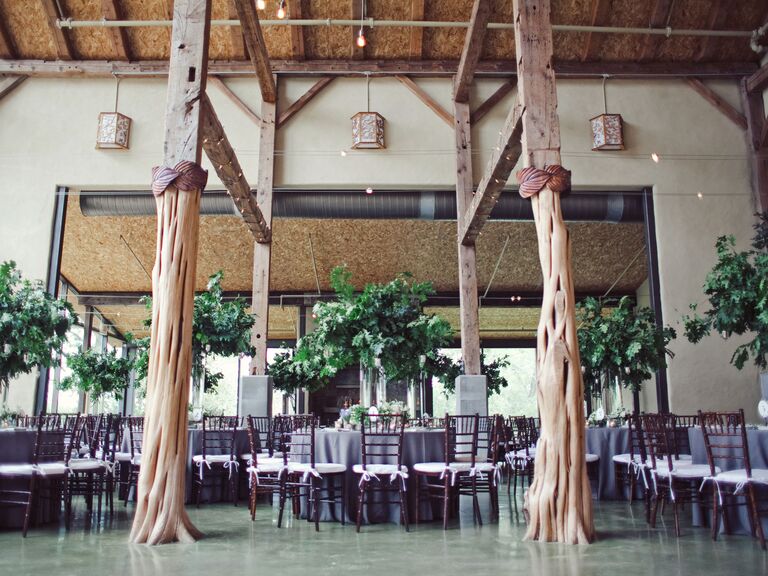 Barr Mansion & Artisan Ballroom
10463 Sprinkle Road, Austin;
(512) 926-6907; BarrMansion.WPengine.com
This versatile indoor/outdoor venue features an Eastlake Victorian mansion, a ballroom and a farmstead with a front wall made entirely of glass so guests can look out onto the beautifully manicured grounds. The several buildings on this property are highly customizable for any reception, whether it's rustic and laid-back or chic and formal.
The Castle at Rockwall
2071 Clem Road Extension, Rockwall;
(469) 702-1222; TheCastleatRockwall.com
If you've ever dreamed of having a wedding in a castle, look no further. The Great Hall of this modern day citadel offers a majestic grand ballroom with exposed wood beams and gothic cathedral windows. Make your grand entrance from the intimate round balcony high above the ceremony space or dance floor or walk through medieval arches into the regal atrium. Let the castle speak for itself and become king and queen for the day.
Hotel ZaZa
5701 Main St., Houston;
(713) 526-1991; HotelZaZa.com
The many ballrooms in this flamboyant, art-infused hotel are anything but ordinary. The Piano Man, a music box setting with glass walls and classy champagne decor, features a grand piano front and center so your guests can enjoy sultry sounds in a dynamic, inspiring room. This luxury boutique hotel is sure to make a strong impression.
MAX's Wine Dive
207 San Jacinto Blvd., Austin;
(512) 904-0111; MaxsWineDive.com
This unconventional "underground" rustic warehouse, which boasts three event spaces, is elegant by candlelight with its antique carpets, exposed brick and vintage wood barrels that can double as decor. This hip bar and restaurant puts the fun in funky and juxtaposes a casual setting with high-roller amenities. Allow your reception guests to experience the casual pleasantries of Austin with in-house gourmet comfort food, top-notch beverages and dancing without the formalities of a traditional ballroom.
McNay Art Museum
6000 North New Braunfels Ave., San Antonio;
(210) 824-5368; McNayArt.org
For a Texas-size wedding and reception, the oldest modern art museum in the state will open its doors and let your guests mingle among American and European art from the last two centuries. The Spanish Colonial Revival-style home on acres of landscaped gardens will undoubtedly entertain large crowds of all ages whether they're dining and dancing or exploring the galleries.
Modern Art Museum of Fort Worth
3200 Darnell St., Fort Worth;
(817) 840-2175; TheModern.org
For the folks at The Modern, it's all about transforming your reception into a unique work of art. This one-of-a-kind ballroom offers a versatile aesthetic that can easily transform a traditional celebration into a striking soiree. Plus, your guests will love mingling among the eclectic exhibitions and installations.
Lajitas Golf Resort
100 Main St., Lajitas;
(432) 424-5000; LajitasGolfResort.com
This West Texas resort surrounded by the desert and mountains is nothing short of magical. The natural stone setting is both romantic and full of local flare, and the resort offers amenities such as horseback riding, mountain biking, a museum and a spa for guests to make a weekend out of your event.
The Legacy Event Center
3101 35th Street, Lubbock;
(806) 792-2723; LegacyLubbock.com
Take one step into this luxurious ballroom and you'll forget you're deep in the heart of Lubbock. The historic ballroom was designed to accommodate crowds of up to 250 for a seated dinner and dancing all night, and the adjoining Parlor has a working fireplace so your guests will be cozy and comfortable.
The Lodge at Bridal Veil Falls
1619 Cypress Cove Road, Spring Branch;
(830) 228-4880; TheLodgeattheFalls.com
Showcase the beauty of the Texas Hill Country in this ultimate romantic destination, complete with a creek and a magnificent waterfall backdrop. The large ballroom with exposed wood beams, sparkling chandeliers and a dramatic staircase for a grand entrance looks out over the grassy terrace and water features for a ceremony or reception with breathtaking views everywhere you turn.
Rosewood Crescent
400 Crescent Court, Dallas;
(214) 871-3200; RosewoodHotels.com/crescent
This hotel offers an opulent blend of classic European elegance and Texas local luxury. On the 17th floor, the glistening lights of the Dallas skyline provide a dramatic backdrop to an intimate upscale reception in The Crescent Club. As a bonus, the hotel is conveniently positioned in the heart of downtown, so your guests will both see and experience the best of Dallas.
The Venue at 400 North Ervay
400 N. Ervay, Dallas;
(214) 502-0890; TheVenueat400NorthErvay.com
The site of many historic court cases, the venue is embellished with exquisite architectural details, such as hand-painted ceilings and marble walls, to create a sophisticated atmosphere with character. Choose between the airy Grande Hall, the warmly accented Courtroom or the lush Rooftop Garden with a sprawling view of Dallas.
For more extraordinary ballrooms click here!