Ask the Expert: 7 Design Tips from Event Planner Brandi Hines
Texas-based event designer Brandi Hines shares her favorite flower pairings and so much more.
by THE KNOT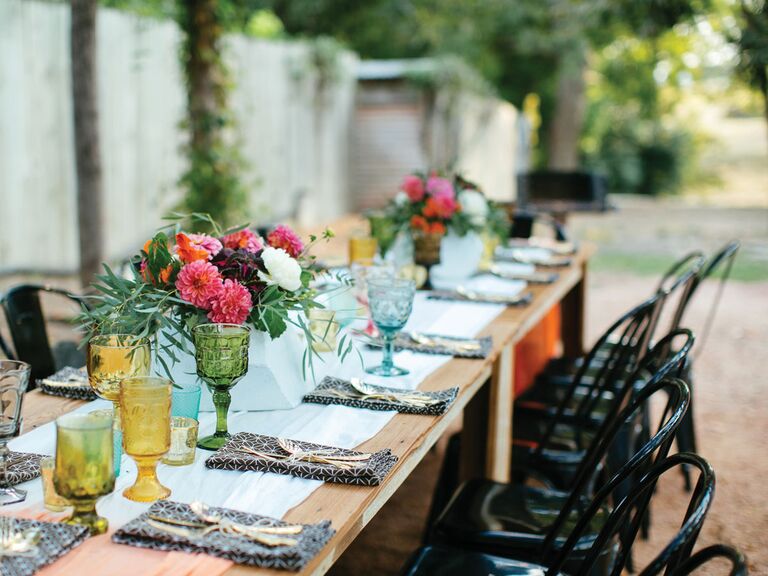 Brandi Hines
Brandi Hines Events + Design, San Antonio
What are some unique flower pairings you'd like to see more of?

I love mixing fruits with blooms, like using clementine branches or incorporating artichoke and cabbage as the focal point in an arrangement. Colorful fruit paired with greenery creates the perfect look.

Are there any floral trends you really can't stand?

I'm definitely ready for the baby's breath and mason jars to expire. Also, DIY details are great, but your guests are at your wedding for roughly four hours. Sometimes it's not worth it to put in the work for DIY projects that will go unnoticed, even if you're the creative type.

How can couples plan a wedding in less than six months?

Very carefully! Book a great venue and an even better catering team and planner. With the help of those three vendors, you should be set.

What do you find is your favorite moment of the wedding day?

Since having a baby boy of my own, I'll admit that I've grown quite fond of the mother-son dance.

What are the challenges to planning a wedding out of state?

The difficult part is securing a lot of vendors in such a short visit. When couples visit, sometimes that means a weekend of eight-hour days filled with vendor meetings and important decisions. That's why hiring a local planner is so important!

What advice do you have for couples on a tight budget?

Spend money on what's important to you. Ask yourself what you want guests to say when leaving your wedding. If it's, "I had so much fun," or, "the food was amazing," then spend more on entertainment or catering.

Any other tips?

Secure your address list early on. The guest list is always the most painful part of the process, and the cost to reprint a small quantity of invitations is very expensive.