Ask the Expert: 6 Stationery Tips from Lavender and Mint
Texas-based stationer Lily Lasuzzo shares her favorite stationery trends, tips on embellishing invitations and so much more.
by The Knot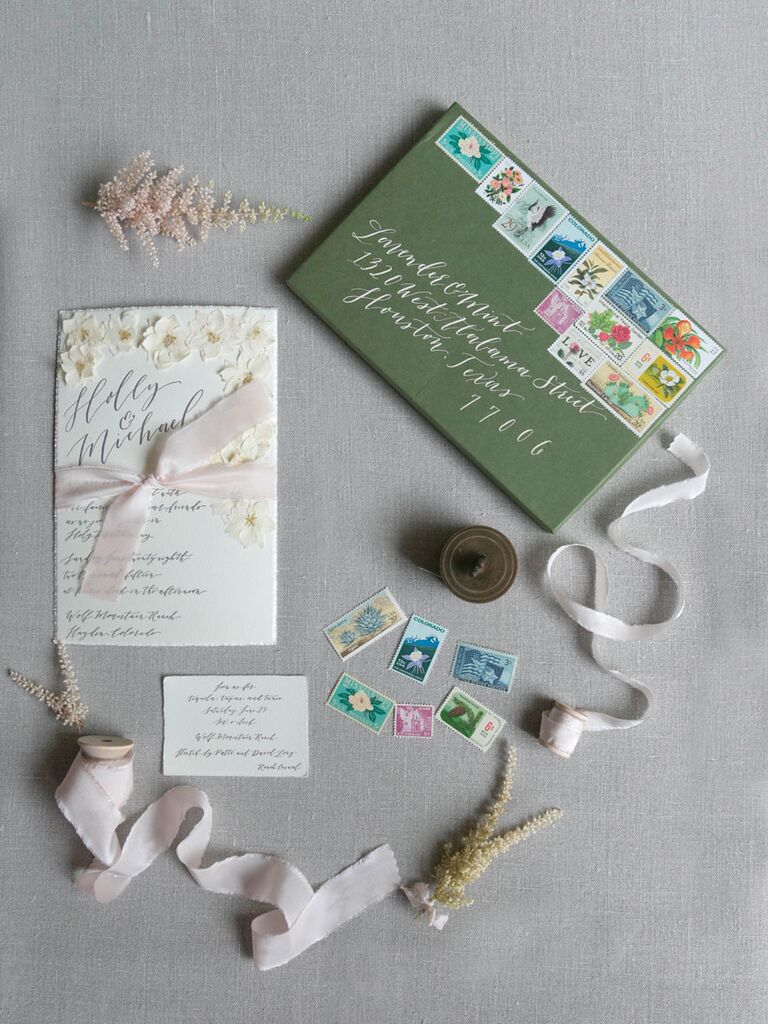 Lily Lasuzzo
Lavender and Mint, Houston
How do you start the design process after first meeting a couple?

Most couples don't know the ins and outs of printing, which is totally understandable, so visual samples are key. I always ask clients to share their Pinterest board with me, and after our consultation, I create a mood board of my own that I then share with them. I like to use a variety of images here—stationery, florals, paint colors, interiors and fashion—to help convey the design direction.

How much should a couple expect to spend on their invitations?

People assume that the range is 2 to 3 percent of your overall budget, but when you go the custom route, that won't get you very far. Expect to set aside 5 to 10 percent of your wedding budget, since custom work will incur a design fee on top of your printing costs. Also expect to pay more for letterpress, foil stamping and engraving, since they're all highly specialized printing methods.

What's trendy in stationery right now?

Traditional typefaces and calligraphy with a modern twist on colors, sizes and shapes are very big right now. There's also a move toward darker and more moody aesthetics rather than muted gray and blush color palettes that were popular last season.

What elements can you skip if you're working with a tight budget?

Digital printing is always the best choice, since it's the most cost-effective method of printing. Eliminating hand calligraphy and envelope liners is also an easy way to save. As an alternative, digital calligraphy can still be very beautiful, and it's much less expensive than having a calligrapher address all of the envelopes by hand.

What are some creative ways to embellish invitations or save-the-dates?

The sky's the limit! I love adding highly tactile elements to stationery like wax seals, flocked paper, laser-cutting, velvet ribbon and linen sleeves.

What's the one thing to-be-weds should keep in mind throughout the design process?

Custom designs take time. We work with our couples to accommodate any timeline, but we suggest starting the process as soon as your date is set and your venue is selected.