'The Bachelorette' Stars Andi Dorfman and Josh Murray Talk Wedding Planning, Wedding Dresses and More!
by Ivy Jacobson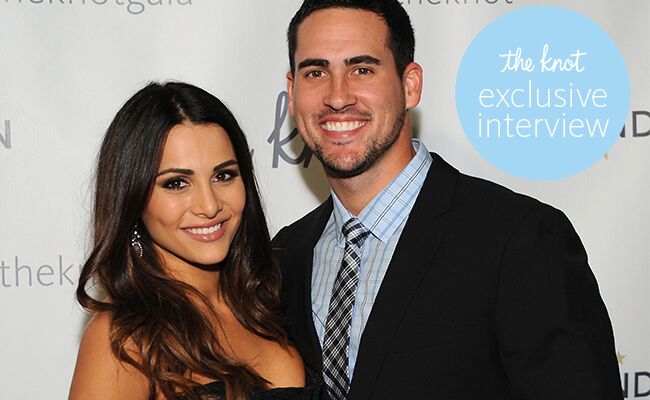 What we know for sure is that Josh definitely wants a Godiva mint chocolate chip groom's cake ("I love Godiva!") and that Andi is going to look gorgeous in her wedding dress — it just won't be a crop top!
The Knot: How inspired are you from seeing all of these gorgeous wedding dresses?
Andi Dorfman: I love seeing all of these dresses and getting inspiration for my wedding. You know what I'm loving this season? Everyone's take on a wedding dress is completely different. It's no longer just a white lace gown. The dresses I've seen are made with so many different materials and have such unique embroidery and mixed metals on them. Five years ago, you'd never see mixed metals on a dress! Designers are taking elements that used to only be reserved for red carpet gowns, so its really upping the fashion factor. I love all of these new trends!
TK: Are you in on the crop top wedding dress trend?
AD: Not for my wedding, but I am all about the crop tops! They highlight the best area of my stomach and hide the pooch. It's both sexy and conservative. I'd definitely wear a crop top for something else.
TK: Josh, what's your take on seeing all of these wedding dresses with Andi?
Josh Murray: It's beautiful; I'm taking it all in. I can definitely tell you what I think looks good.
TK: So will you be involved in helping choose Andi's wedding dress?
JM: I will be involved in picking! Not the final one, though. She has the final say, of course, but I have a decent eye when it comes to that.
AD: I trust Josh. He's got a good eye whether it's art, fashion or just matching clothes. I definitely want to hear his opinion, but he won't see the dress until our wedding day.
TK: Is there a style you can definitely rule out for your wedding dress?
AD: I originally wanted something simple, strapless and chic, but now I'm seeing all this beading and lace that I love! I can say that you probably won't see a lot of bling-bling on my wedding dress! I like my bling on my jewelry and not on my clothes! I'm going for a classic, elegant and chic look.
TK: Have you set a wedding date yet?
JM: Not yet, but we're looking at the spring or summer. The sooner the better — we're ready to roll!
TK: Has wedding planning been fun or stressful so far?
AD: [Wedding dress shopping] is actually our first step in the planning process. I mean, the wedding revolves around the dress! So far, it's been fun and really low-stress. Today was so much fun seeing Mark Zunino's collection. He's the nicest guy, and so down-to-earth. It was such a beautiful collection and Kleinfeld is so lovely.
TK: Who's going to end up inviting more wedding guests?
JM: Andi has a bigger family, but it's pretty even.
AD: I want to have open ceremony seating too — I don't like the bride's side and groom's side sitting separately. Everyone's family now!
TK: What aspect of your wedding are you most excited to plan?
AD: Our honeymoon! It'll be our first real vacation. We don't like leaving our dog Sable at home.
TK: What will surprise your fans about your wedding?
AD: I'll be freaking out on my wedding day! I'm a planner, and I feel like every bride has a freak-out moment. Not about the wedding or guy, but about the logistics of it all.
TK: Have any The Bachelor/The Bachelorette alums given you any advice about your wedding?
AD: We actually received a lot of advice before we got engaged, actually. Like from Des [Desiree Hartsock] — who I'm so proud of with her Maggie Sottero wedding dress line — who told me to be true to myself and be who you are. We actually were just giving advice to Chris Soules [the next star of The Bachelor] the other day!
Take a look at more photos and videos of celebs at The Knot Gala below: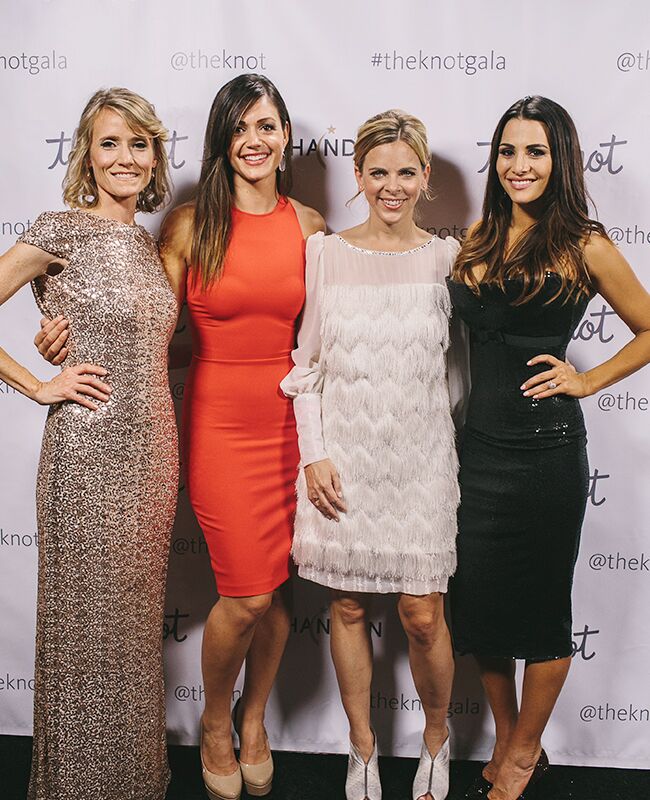 The Knot's co-founder Carley Roney, Desiree Hartsock, The Knot's Editor-in-Chief Rebecca Dolgin and Andi Dorfman glamorously pose on the red carpet.
Andi and her fiance Josh Murray are the cutest together.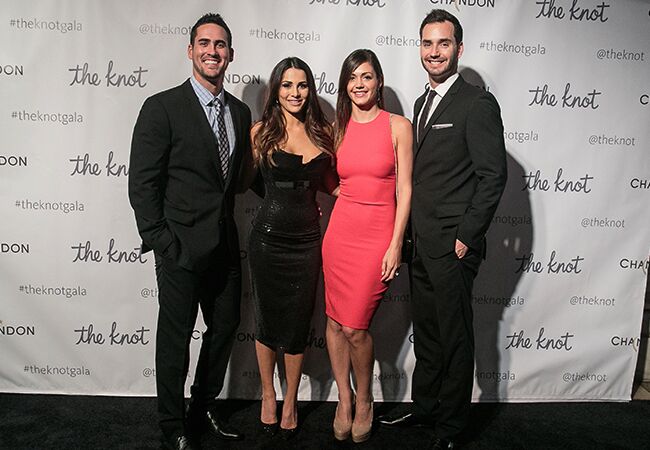 It's a The Bachelorette reunion with Josh, Andi, Desiree and Chris Siegfried!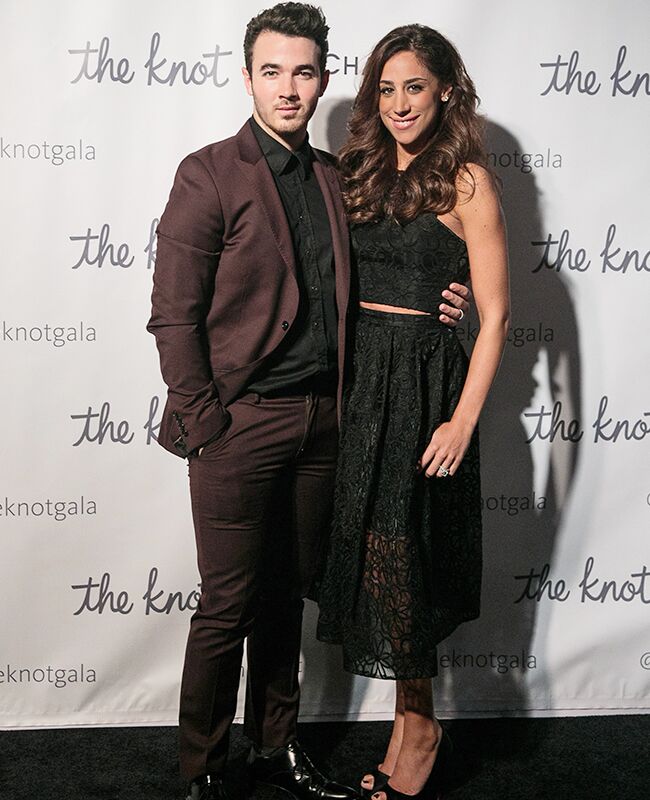 Can you believe that Kevin and Danielle have been married for almost five years?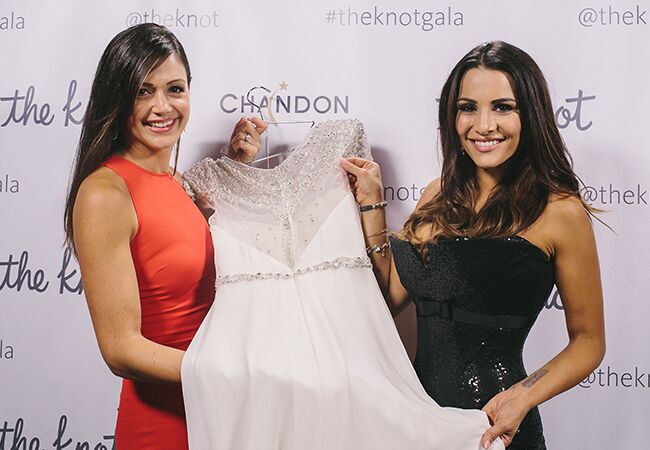 Desiree and Andi show off a gorgeous gown from Des's new wedding dress line with Maggie Sottero!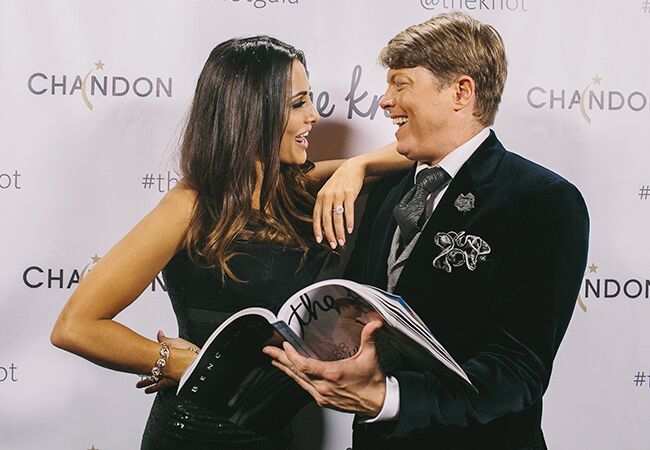 Andi and Kleinfeld's Fashion Director Terry Hall catch up while looking through The Knot magazine's Winter 2014 issue!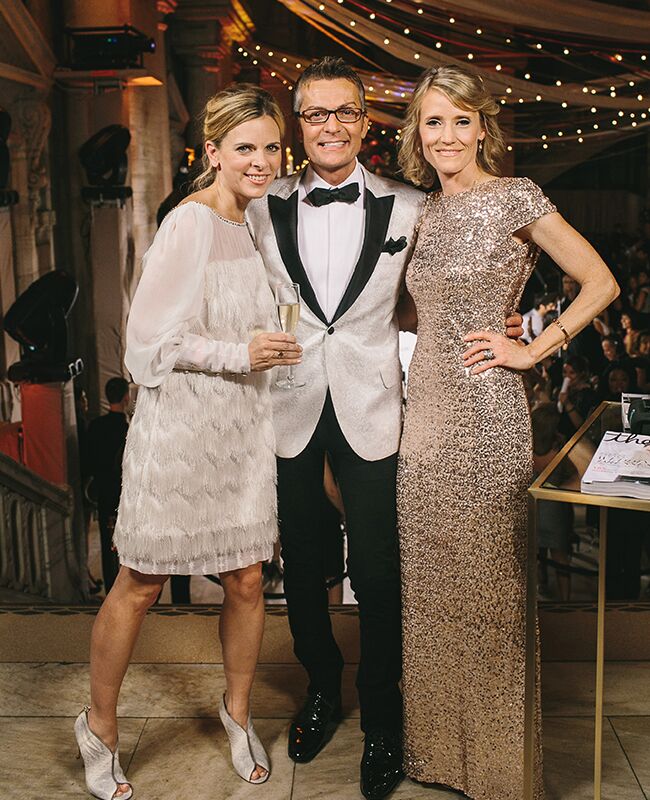 It's always a party with Rebecca, Say Yes to the Dress star Randy Fenoli and Carley!
Want more? Right here!
> 'Bachelor in Paradise': See Marcus Grodd propose to Lacy Faddoul (and a pic of her engagement ring!)
> 500+ gorgeous engagement ring photos
> The gorgeous rings from ABC's The Bachelor and The Bachelorette