You Can Get Married at the Vineyard Featured on 'The Bachelorette' Last Night
Last night on 'The Bachelorette,' JoJo Fletcher and Chase McNary had a hot yoga date, followed by a romantic dinner together—at this stunning wedding venue.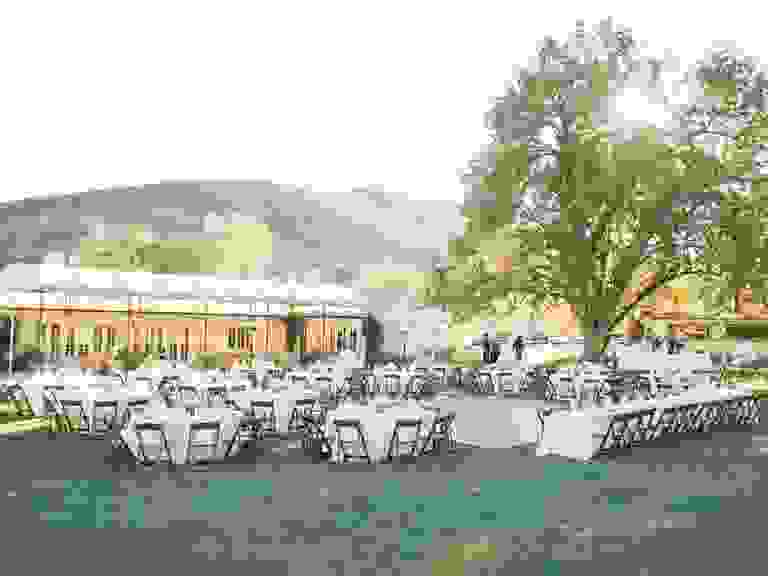 Triunfo Creek Vineyards

JoJo and Chad's steamy hot yoga date on The Bachelorette last night was one for the books (it's not like we were watching with laser focus or anything), but it's what they did after that really caught our wedding editor eyes. For a romantic dinner and drinks date, the pair went to Triunfo Creek Vineyards in Agoura Hills, California, a private 55-acre estate, which also happens to be a picture-perfect wedding venue.
Triunfo Creek Vineyards holds lots of weddings throughout the year, and their website states that the winery is "set upon a rolling emerald landscape and nestled amongst eucalyptus, California Oak and Sycamore trees. A truly elegant and idyllic setting for the most unforgettable pictures."
When JoJo and Chase danced under the stars to Charles Kelley of Lady Antebellum singing "The Only One Who Gets Me" (casual first date activity, right?), we could totally picture a dance floor underneath the two right next to the stage—and you can see how it would look in the daylight in the photo above.
Also, the SoCal winery's specialty is a "rare and boutique vintage" red wine. We know that JoJo loves her wine, so we're hoping she had a glass—and took notes for possible vineyard wedding inspiration.