26 Bridesmaid Shoes You Can High-Key Wear Again (Seriously)
Your future self will thank you.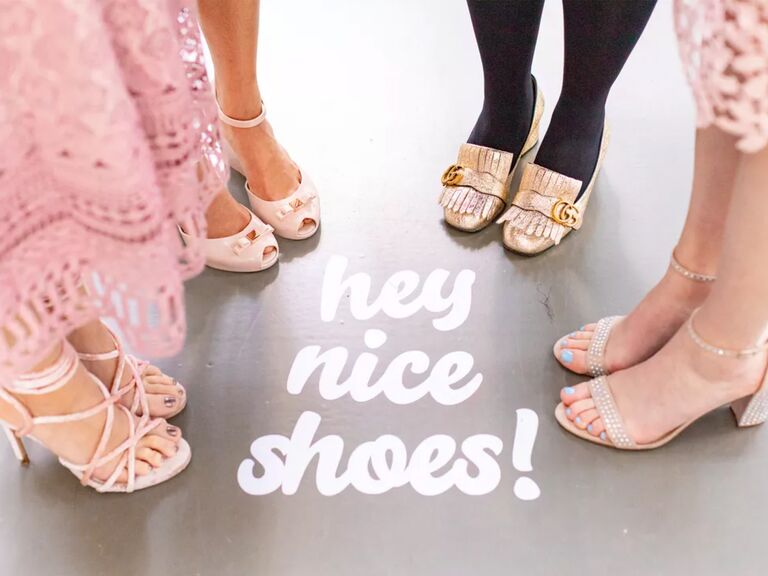 Photo: Elizabeth Burgi Photography
We have included third party products to help you navigate and enjoy life's biggest moments. Purchases made through links on this page may earn us a commission.
When it comes to wedding party attire, the bridesmaids' shoes are almost just as important as the bridesmaid dresses—you need to nail the whole look for the full effect, right? If you're a bridesmaid in an upcoming wedding, chances are you've been tasked with finding and purchasing your own shoes, since it's one of the traditional bridesmaid expenses (along with your dress and other accessories). Since you are a bridesmaid, be sure to confirm any shoe preferences in terms of color, style, and whether or not they want all of the bridesmaid shoes to match. Once you're ready to start browsing, you can consider things like your personal taste, preferred heel height, and the types of shoes you feel most comfortable wearing.
In addition, before you shop, there are a few guidelines and tips you want to know, which is why I tapped Haley Pavone, Founder and CEO of Pashion Footwear who has created the first fully convertible high heels. Yep, you read that right. "The ultimate bridesmaid shoe is convertible heels," says Pavone. "That's right, heels that turn to flats! Bridesmaids should be stylish and comfy on their best friend's big day." So what are we waiting for? Let's find your soulmate.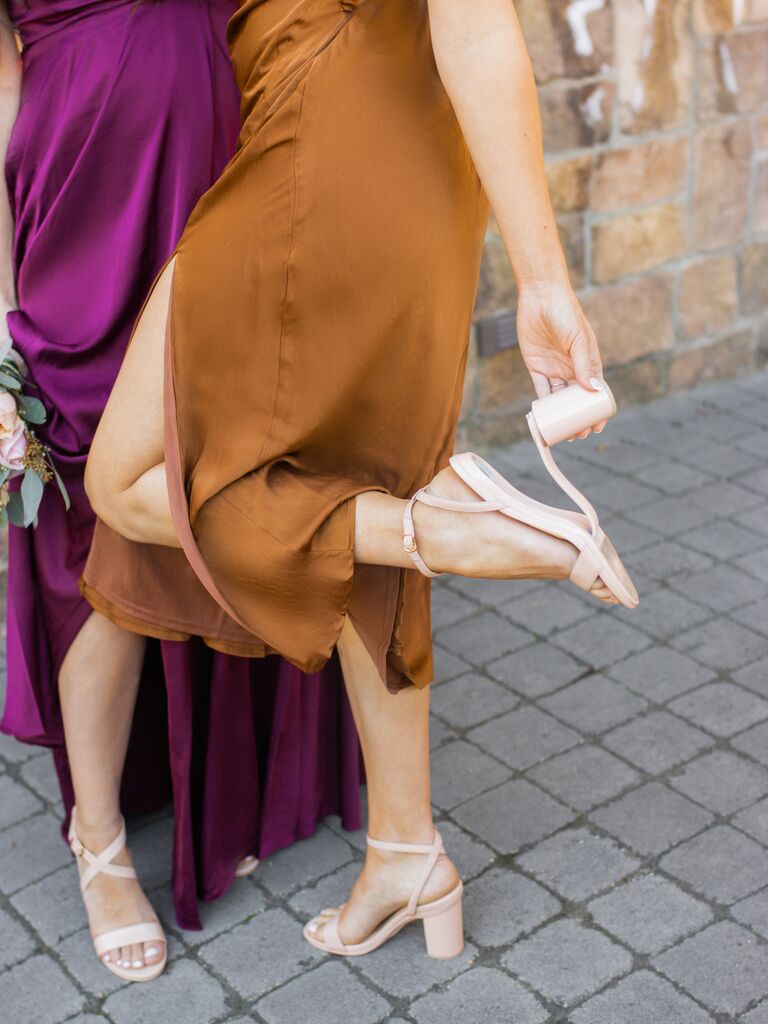 In this article:
10 Best Bridesmaid Heels You Can Buy Now
When it comes to buying wedding shoes for bridesmaids, you want to choose a pair that not only complements your dress but also matches your personal style. Whether you opt for classic pumps, wedges, or kitten heels, here are the bridesmaid heels you'll want to wear long after the wedding is over.
1. Pashion The Pashionista Heels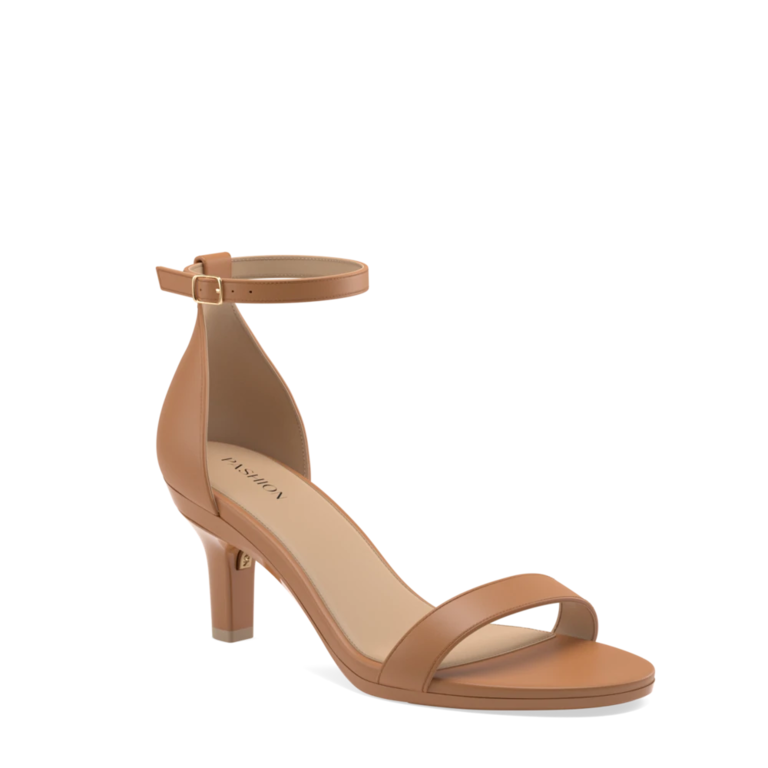 Check out Pashion Footwear's convertible heel-to-sandal style for the ultimate bridesmaid shoe. Easily clip on or remove the heel (your choice of stiletto or block style) as the wedding day goes on. Plus, they can be worn long after the wedding day, thanks to their nude color options and understated design.
Colors: 2; Size range: 5–11; Heel Height: 3" or 4"
2. Birdy Grey Alby Low Chunky Heel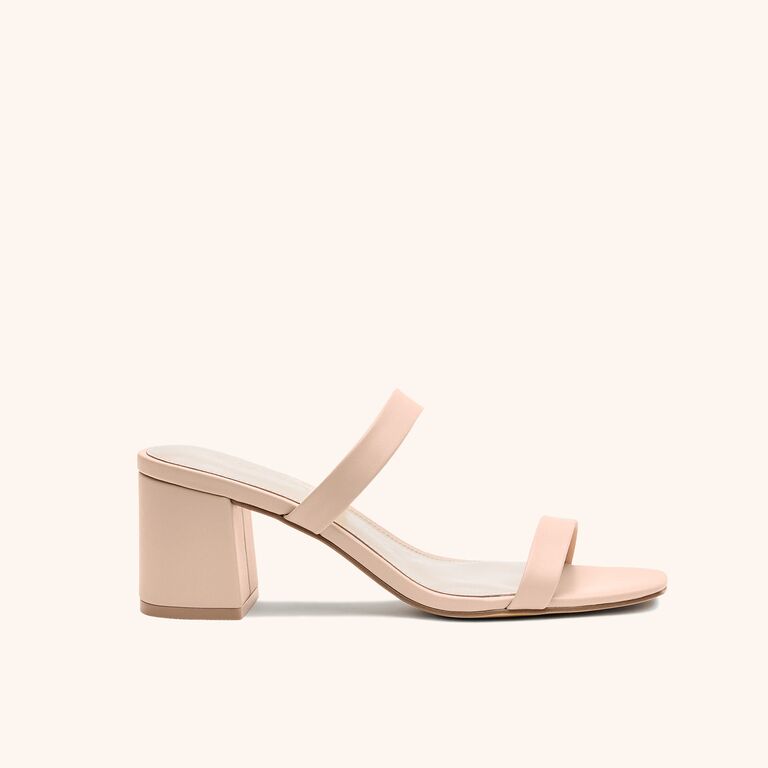 I'm here for the chunky heel movement because they make the most comfortable bridesmaid shoes. These heels from Birdy Grey come with a plush memory sole, so you can comfortably stand through any ceremony. Plus, they would look super cute with a floral dress in the Spring or Summer seasons.
Colors: 2; Size range: 6–10; Heel height: 2.55"
3. Lulus Taylor Rose Gold Ankle Strap Heels
Lulus had me in rose gold bridesmaid heels. These shoes have over 3,000 five-star reviews that rave over how comfortable they are, despite the 4" heel height. Plus, they come in over 15 colors, so you have plenty of options to choose from.
Colors: 18 | Size range: 5–11 | Heel height: 4"
4. Jeffrey Campbell Fluxx Sandal
If Sofia Richie were a bridesmaid, I can nearly guarantee you that these are the bridesmaid sandals she would wear. Everything about them is so trendy, from the square toe to the flared heel, and I think the brown hue is incredibly sexy (but there are eight other colors to choose from if that's not the look you're going for).
Colors: 9 | Size range: 5-11| Heel height: 2.5" heel
5. Vicenza Knotted Platform Heels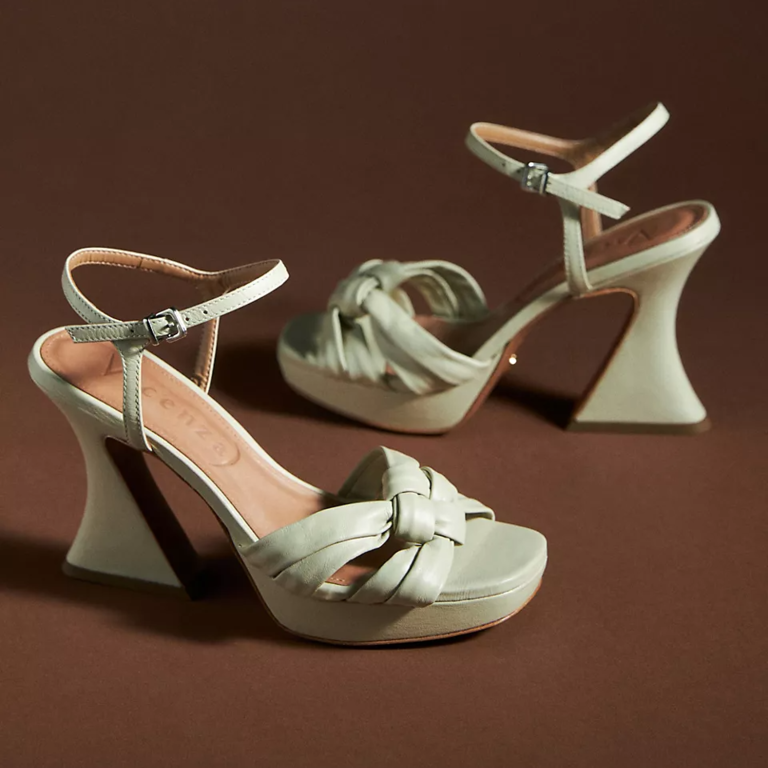 On the other hand, I think our Gen-Z queen Olivia Rodrigo would wear these platform heels if she were a bridesmaid. The creamy sage hue and knotted detailing are to die for and make them totally worth the splurge IMO.
Colors: 9 | Size range: 5-10 | Heel height: 3"
6. Sam Edelman Viv Pointed Toe d'Orsay Pump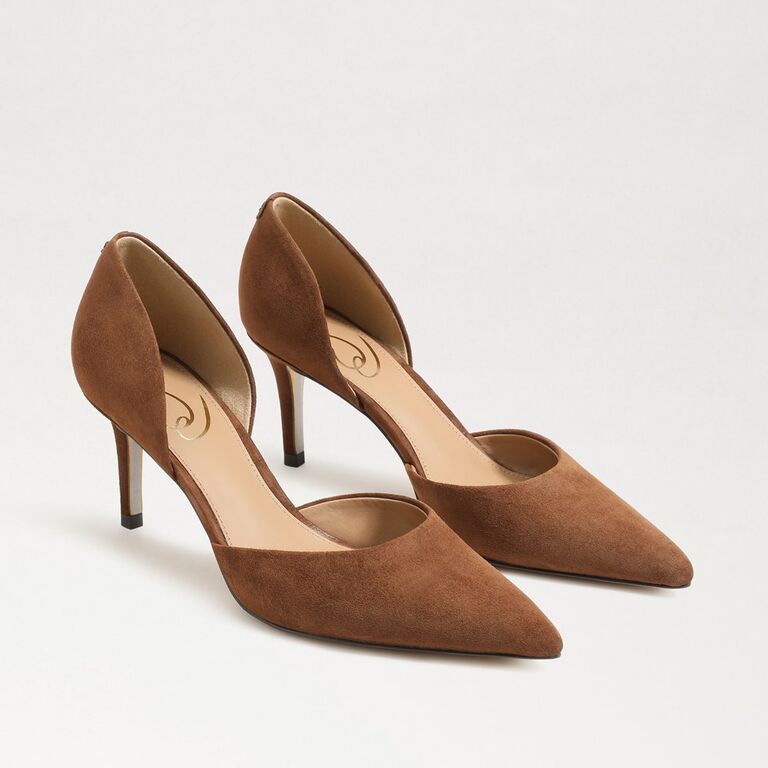 If you're looking for classy shoes for your bridesmaid dress, look no further. These pumps are a great option for a formal or black-tie dress code. They also come in three gorgeous finishes, including leather, patent and suede.
Colors: 8 | Size range: 5-12 | Heel Height: 2.8"
7. Dolce Vita Paily Braided Sandal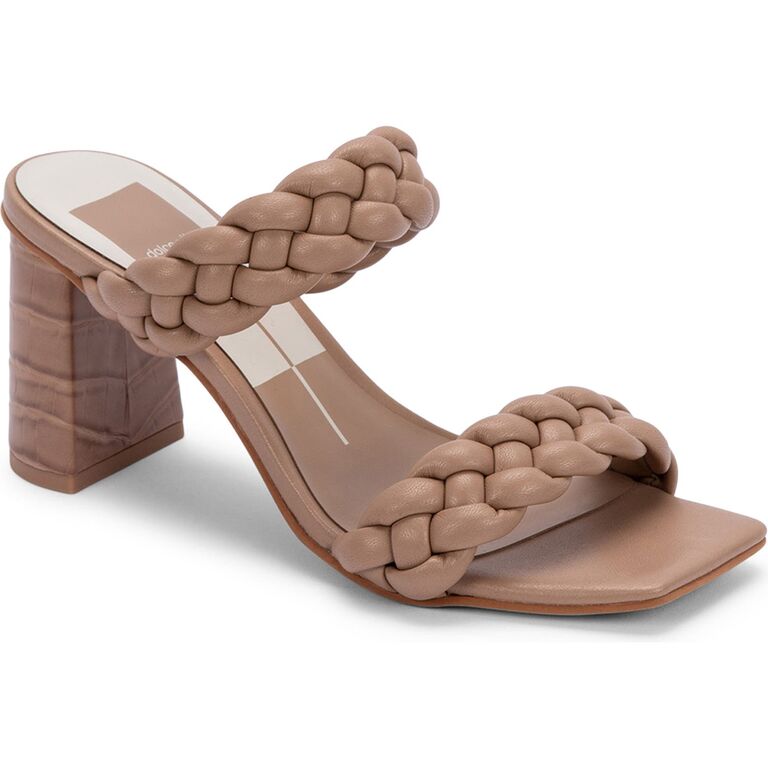 From the moment these Dolce Vita braided sandals hit the market, the world went feral for them. Why? Because they are so incredibly versatile and comfy. The slip-on style is a great pick if you want a trendy, modern bridesmaid look.
Colors: 8 | Size range: 4.5-10 | Heel Height: 3.25"
8. Bibi Lou Aoi Heels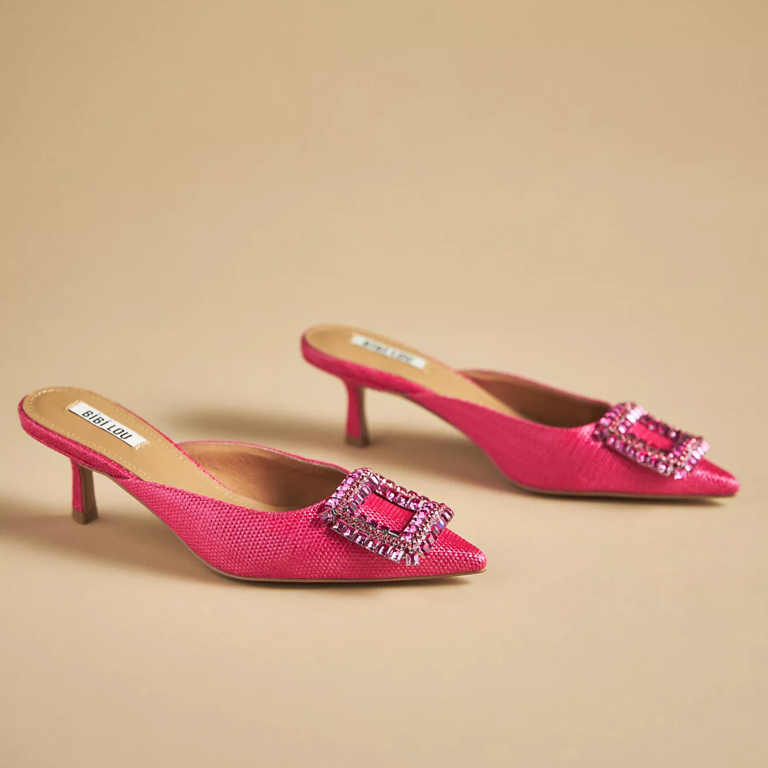 Since we're all in our Barbiecore era, these Bibi Lou heels seem completely appropriate (don't worry they come in beige and neutral colors too if that's more your style.) No matter the hue you pick, a matching embellishment detail sits on the pointed toe for just the right amount of sparkle.
Colors: 5 | Size range: 4-9 | Heel height: 1.5"
9. Lulus Harper Almond Ankle Strap Heels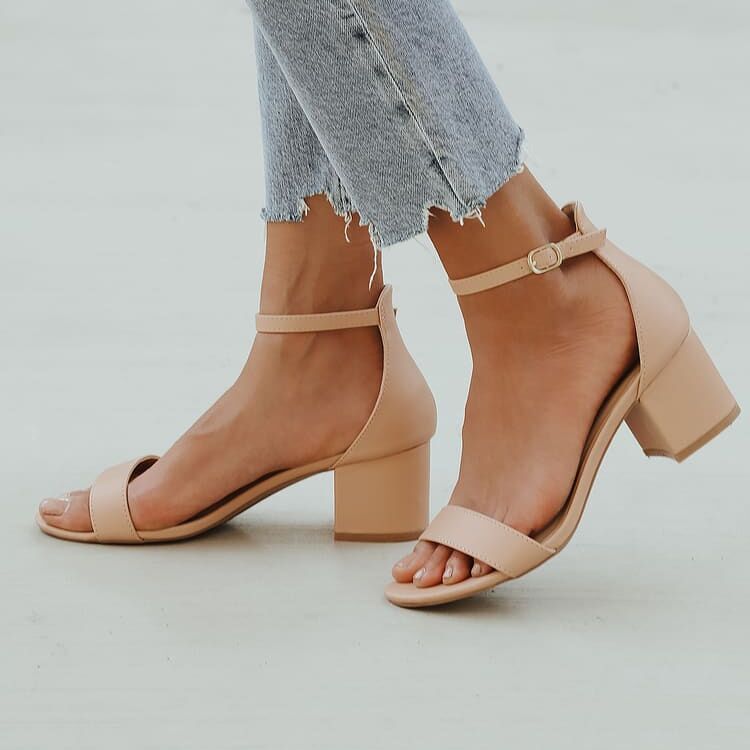 If you love the classic bridesmaid heel but don't want a high heel height, these block heels are exactly that. They're an instant closet staple that can be dressed up or down depending on the occasion, but they'll also pair perfectly with any bridesmaid dress. We love the soft blush hue, but you can choose from a total of 16 colors to match your look.
Colors: 16 | Size range: 5-11 | Heel Height: 2.5"
10. Kenneth Cole Brooke Cross Strap Heeled Sandal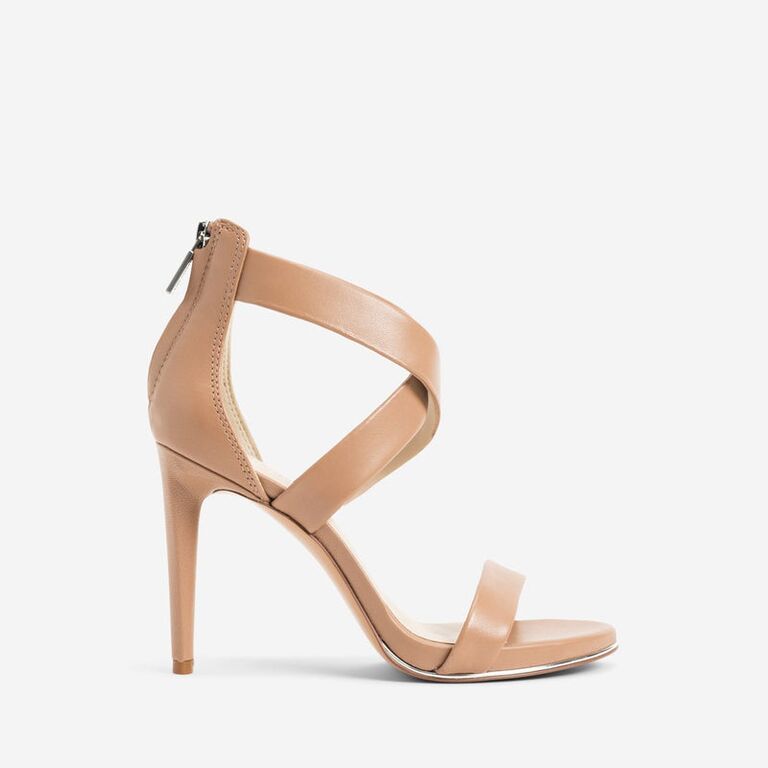 I'm totally into these sexy cross-strapped bridesmaid heels from Kenneth Cole that hug your feet for ultimate comfort. They also come with a shock-absorbant sole and a back heel zip to easily take them on and off. Plus, the latte color is totally a vibe.
Colors: 1 | Size range: 5-11 | Heel Height: 4"
Where to Buy Bridesmaid Shoes
I know that there are a ton of brands out there to choose from, which is why I've scoped out some of the cutest styles that you won't want to miss—and more importantly, shoes you'll want to wear more than once. Whether you're looking for basic nude block heels, cute bridesmaid flats or beach bridesmaid sandals, these are a few of the places I recommend checking out first:
Pashion: For those craving a touch of elegance mixed with total practicality, look no further than Pashion Footwear. With the ability to convert your heel height on the spot, you'll want to wear them to every fancy affair. "There is only one option that lets bridesmaids have a style for the ceremony and comfort for the reception without sacrifice, and that's Pashion Footwear convertible high heels!" says Pavone. "You can turn our heels into flats by removing the heel itself, so you are ready for anything the wedding day throws your way (from outdoor venues to absolutely epic dance-offs)."
Birdy Grey: When it comes to affordable and stylish bridesmaid shoes, Birdy Grey knows what's up. Their vast collection offers a wide range of colors, materials, and heel heights, ensuring you'll find the perfect pair to match your dress. These budget-friendly gems will have you dancing all night long, not just at the wedding but at any special occasion.
ASOS: For fashion-forward bridesmaids, ASOS is a treasure trove of trendy and affordable shoe options. Whether you're into classic pumps, trendy block heels, or stylish sandals, their extensive collection has something for every style and budget. You'll definitely find shoes that will have heads turning at the wedding, as well as any other special event.
Nordstrom: When it comes to quality and variety, you can't go wrong with Nordstrom. With a vast selection of brands, you'll find elegant bridesmaid shoes that you can wear again and again. From designer heels to comfortable wedding flats, Nordstrom offers options for every taste and preference. Plus, their excellent customer service ensures you'll find the perfect fit.
Lulus: If you're looking for affordable bridesmaid shoes that are both stylish and comfortable, Lulus is your go-to. With a wide range of colors and heel options, you'll find the perfect pair that complements your bridesmaid dress. And the best part? You'll be able to wear these chic shoes for plenty of other occasions.
Ready to keep shopping? I've got plenty more bridesmaid shoe picks up my sleeve.
Nude Bridesmaid Shoes For Every Skin Tone
Nude bridesmaid shoes are a staple in bridal party attire because they go with nearly any dress option. Here are a few of my top picks in a variety of skin tones that you can shop now:
Pashion The Sandal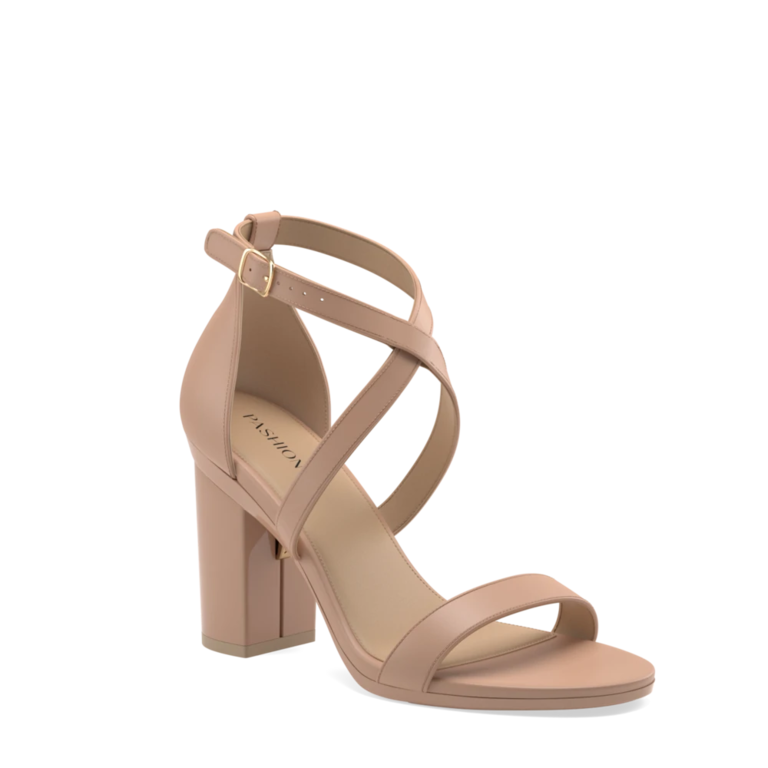 I just can't get over how genius the Pashion convertible bridesmaid shoes are, and these are such a cute choice. "I've recently been a bridesmaid myself, and I wore the Latte Leather Sandal with a Cork block heel," says Pavone. "It's a chic neutral that works for nearly any bridesmaid look!"
Colors: 11 | Size range: 4-11 | Heel Height: 3" or 4"
Birdy Grey Ryanne Platform Heel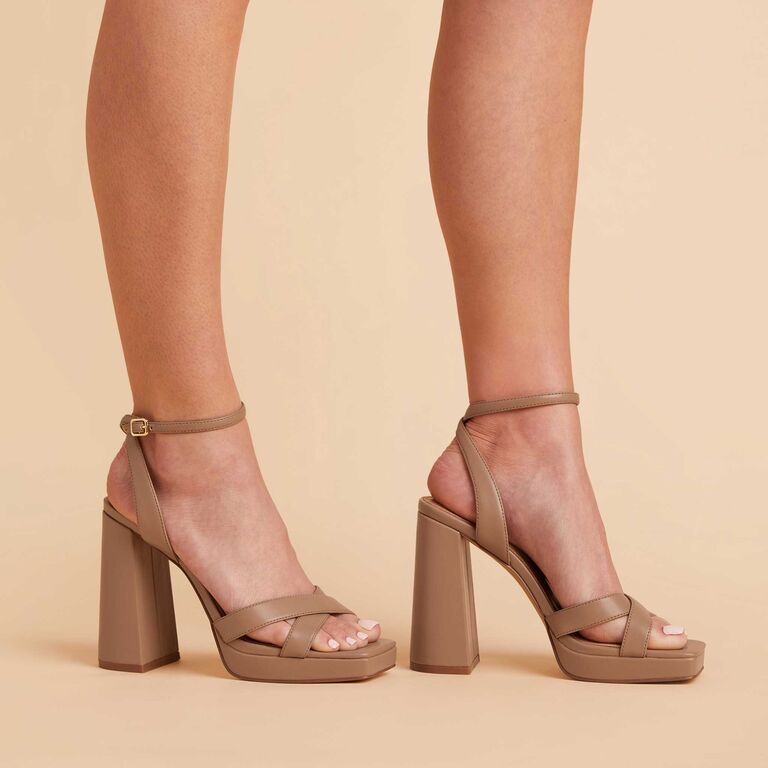 I just can't get over the platform heel trend for bridesmaid shoes right now. This open-toe style features a Y2K-inspired block heel, vegan leather upper and square toe shape. It comes in two neutral shades: nude blush and mocha.
Colors: 2 | Size range: 6-10 | Heel Height: 4.5"
Pashion The D'Orsay Patent Stiletto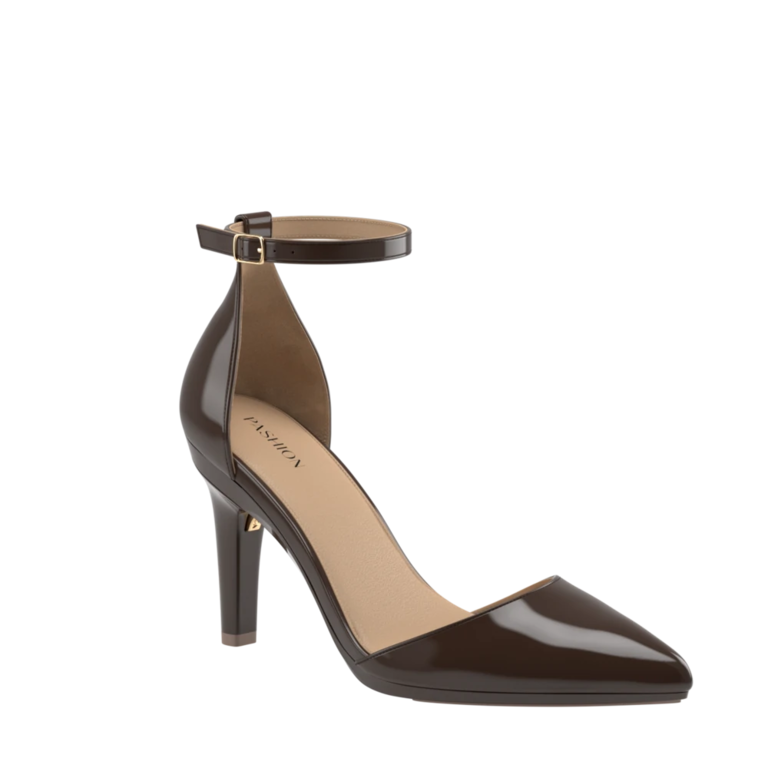 These stiletto heels will go with nearly everything in your closet. Oh, and if stilettos aren't your thing, you can choose a block heel instead. They are available in several skin tone colors, making these nude bridesmaid shoes incredibly versatile. Plus, the ankle strap will keep you secure while you're on bridesmaid duty.
Colors: 8 | Size range: 5-11 | Heel Height: 3" or 4"
ASOS Simmi London Wide Fit Corale Heeled Slingbacks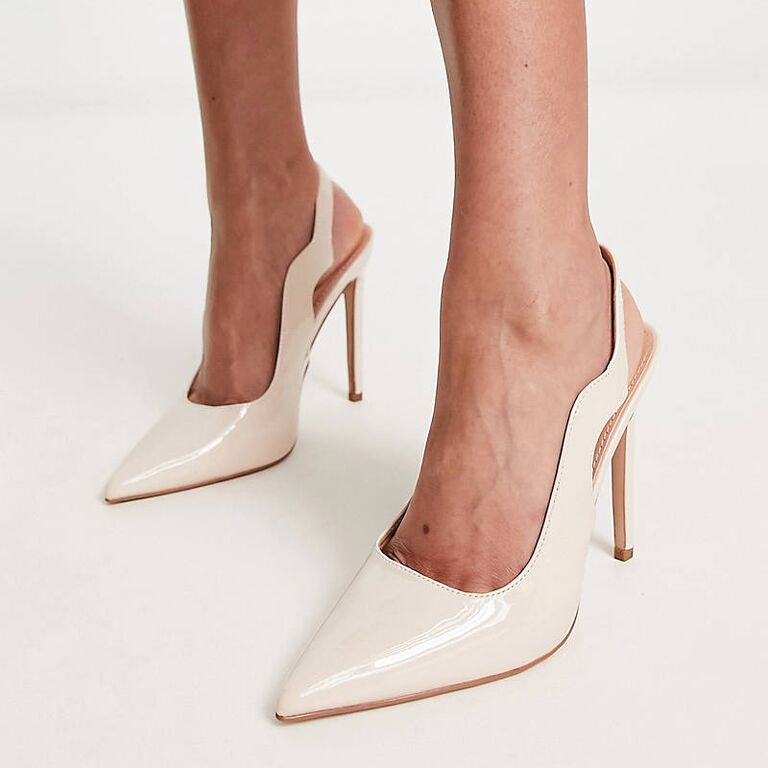 I love the edgy twist on these classic slingback pumps from ASOS. It adds just a bit more detail to make it stand out from the everyday nude heel. They would be perfect with a midi dress so you can show them off.
Colors: 2 | Size range: 5 -11 | Heel height: 4.7"
Sam Edelman Kia Block Heels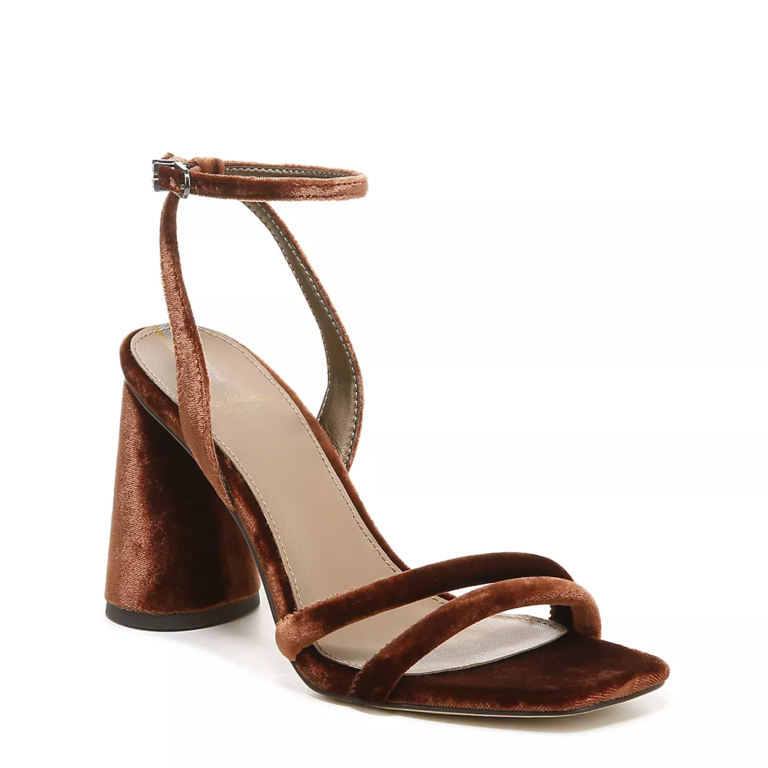 These velvet wedding shoes were made for bridesmaids in a Fall or Winter wedding. The copper color is a great nude option for dark skin tones, while the block heel will provide plenty of support and comfort while you dance the night away at your bestie's wedding.
Colors: 5 | Size range: 5 -11 | Heel Height: 3.5"
Kenneth Cole Brooke Ankle Strap-Heeled Sandal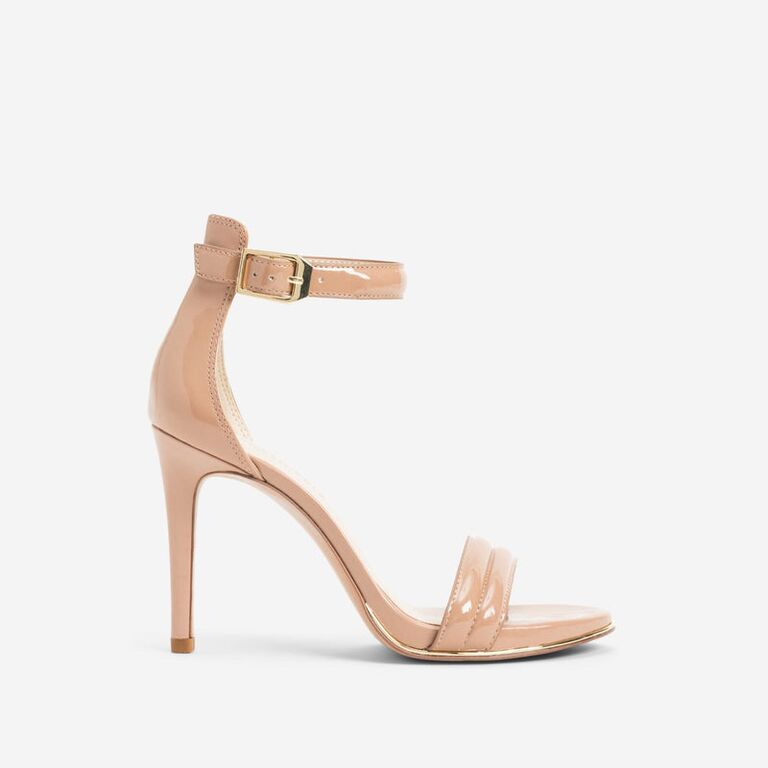 If kitten heels are more your style, this strappy option from Kenneth Cole is fun, fresh and flirty. It comes in both black and nude, which makes them easy to re-wear again for girls' night out, date night or other special occasions.
Colors: 2 | Size range: 5 -11 | Heel height: 3.75"
Nordstrom Pearla Ankle Strap Pump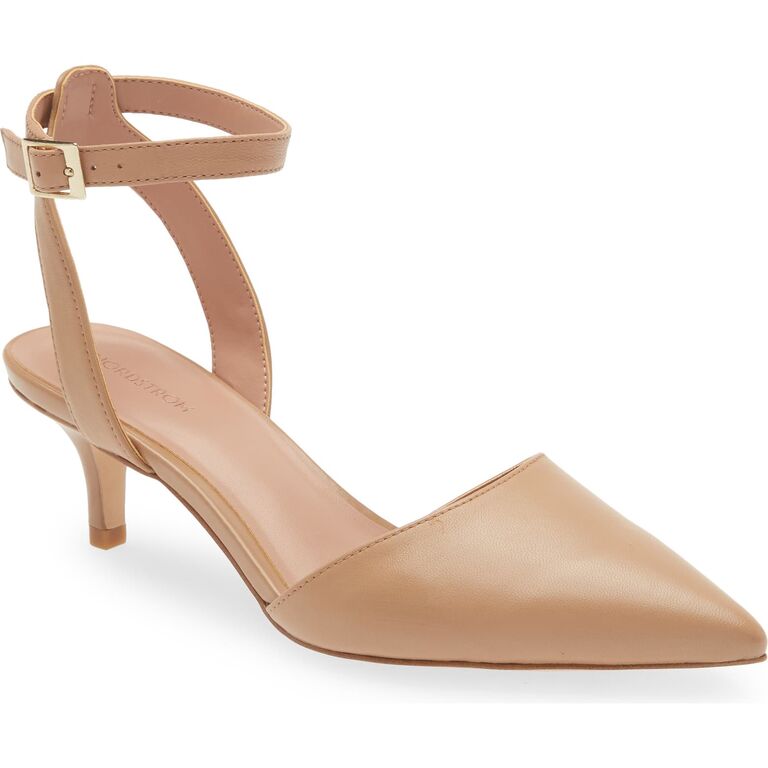 Need a bridesmaid heel that goes with literally everything? I've got your answer. Available in five colors, these nude bridesmaid shoes are incredibly versatile and sophisticated. The minimalistic strap design and simple kitten heel will flatter nearly any outfit.
Colors: 5 | Size range: 5 -12 | Heel height: 2.25"
Bridesmaid Sandals You'll Wear Again
Summer lovin' is only a blast if your feet are comfortable. Whether it's an outdoor wedding on the lawn or the beach, here are a few sandal options you'll definitely be wearing again after "I do's":
Steve Madden Assured Sandal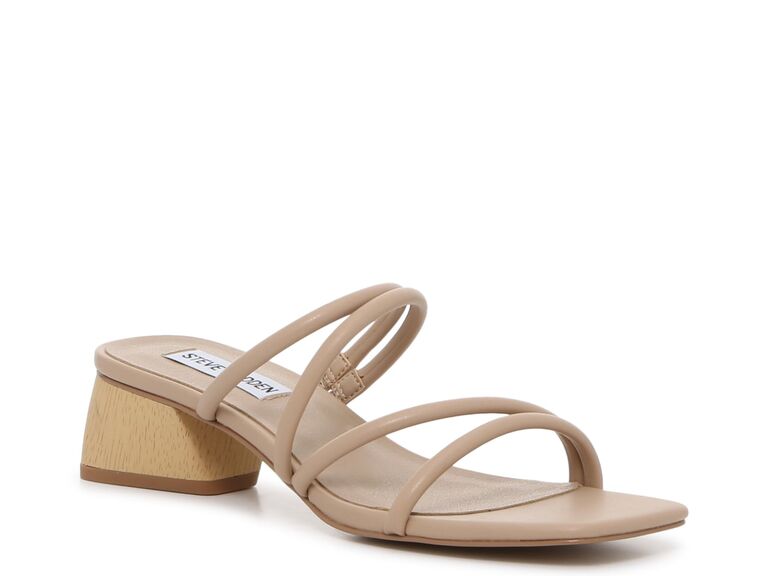 Gorgeous, gorgeous girls wear Steve Madden sandals with their bridesmaid dresses. Plus, the under 2-inch block heel is a good compromise if you don't normally wear heels but want to feel a little more dressed up than your usual flats.
Colors: 2 | Size range: 6-10 | Heel height: 1.75"
Old Navy Faux-Leather Strappy Knotted Sandals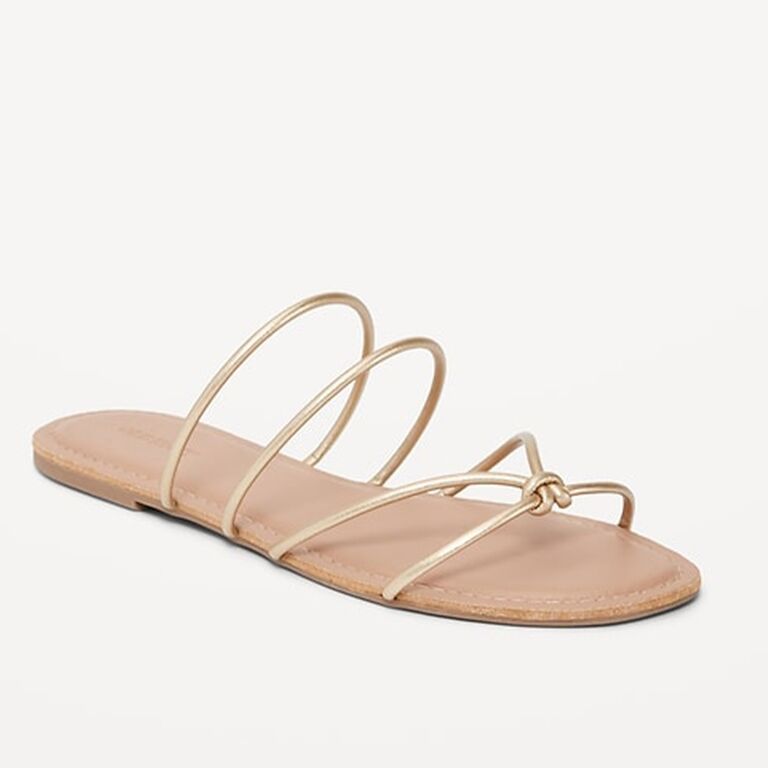 If you're in a beach wedding, chances are you won't want to be walking down the aisle in heels (take it from a native Floridian) so instead, opt for a pair of sandals you can easily walk around in and slip off if needed. Plus, who doesn't love that affordable price point?
Colors: 6 | Size range: 6-11 | Heel height: Flat
A New Day Women's Delores Ankle Strap Sandals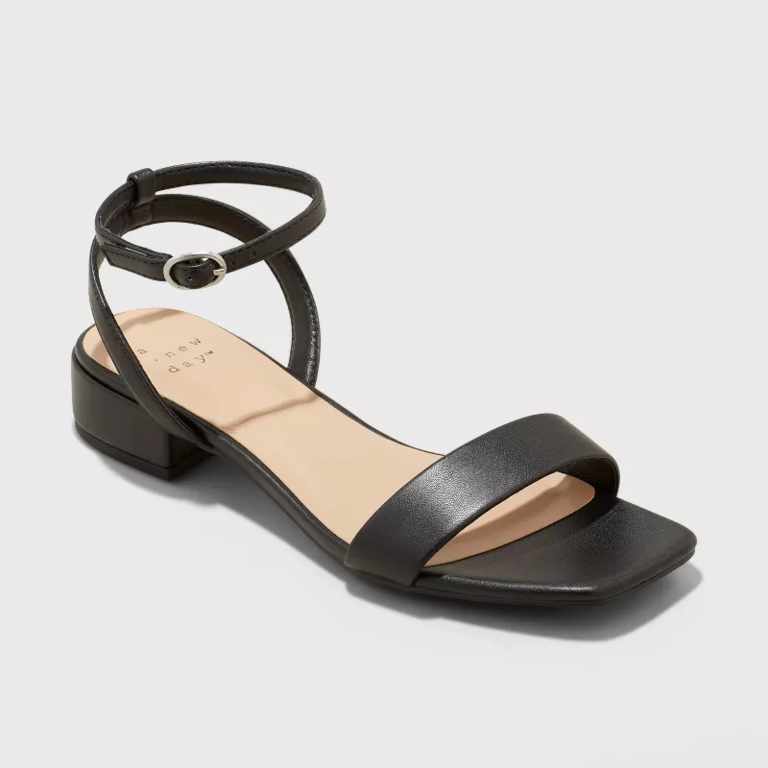 Speaking of budget-friendly bridesmaid sandals, be sure not to sleep on Target during your search. For just $20, you can score these simple bridesmaid shoes in either black or tan. The soles are super soft and the design is versatile, meaning you can find plenty of ways to style them again.
Colors: 2 | Size range: 6-11 | Heel Height: 1.25"
Lulus Danyella Gold Nappa Leather Strappy Sandals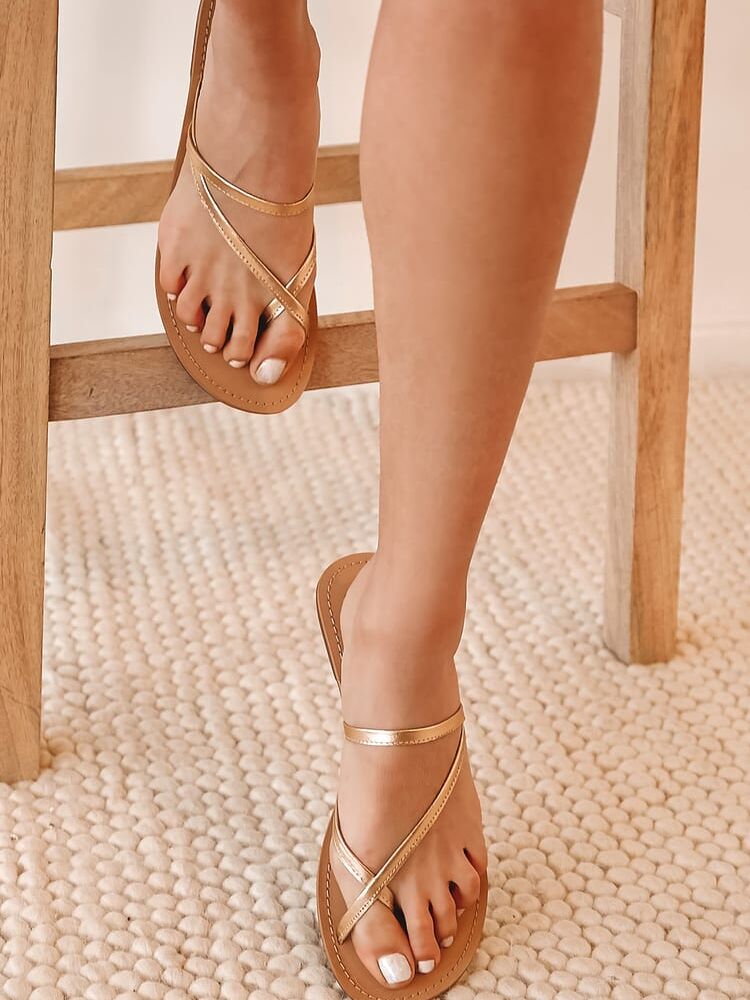 Double up with these double criss-cross strap bridesmaid sandals from Lulus. They're a great option for backyard weddings, beach venues and after-parties when you want to ditch the heels.
Colors: 1 | Size range: 5-11 | Heel Height: Flat
Pashion The Pashionista Rhinestone Heel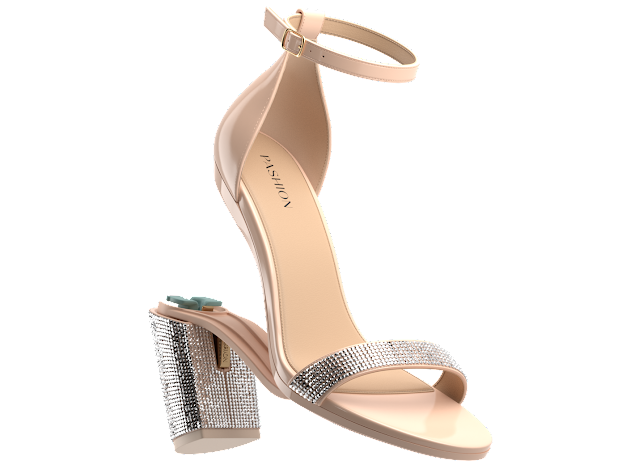 Why not add a little sparkle to your bridesmaid sandals? This pair from Pashion Footwear comes with the convertible 3" or 3" heel so you can dress them up or down with cute midi bridesmaid dresses in the summer, or for matching bachelorette party outfits.
Colors: 12 | Size range: 5-11 | Heel Height: Flat; Convertible to 3" or 4" Heel
Comfortable Bridesmaid Flats
Truth bomb: If you aren't comfortable in your bridesmaid shoes, you likely aren't going to have a good time (and maybe be left with a few blisters the next day). Check out these comfortable bridesmaid flats instead, your feet will thank you:
Lulus Holly Light Nude Suede Flats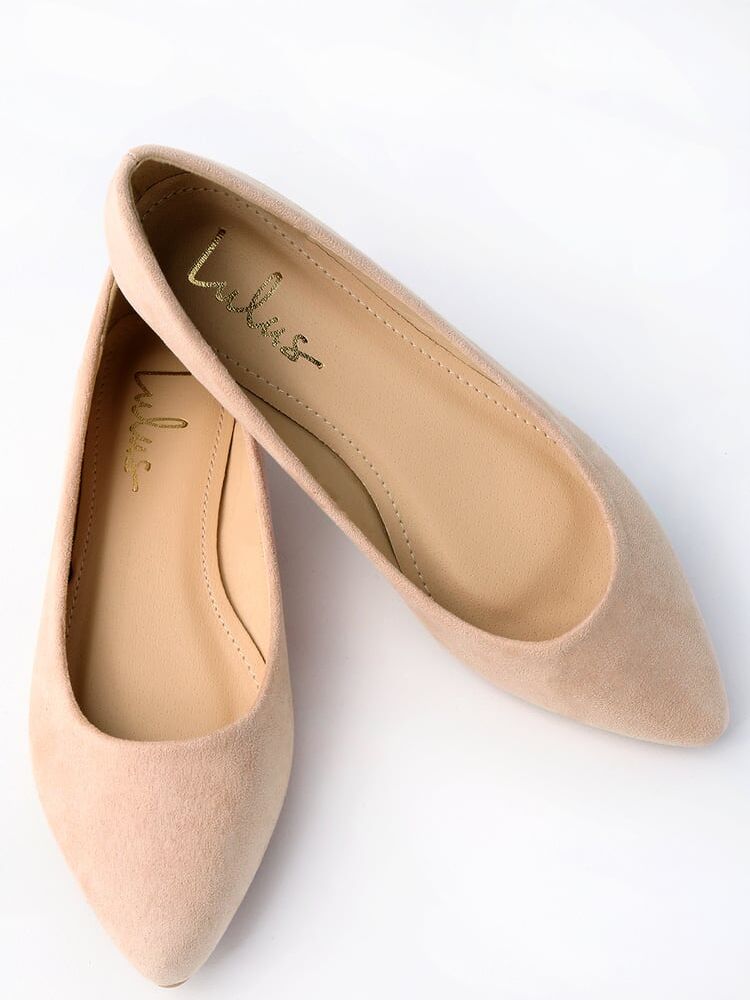 You can't go wrong with a classic and simple pair of suede flats, like this chic pair from Lulus. They are a bit more modern than traditional ballet flats thanks to the pointed toe and low-cut collar. This pretty option comes in light nude, grey and black.
Colors: 3 | Size range: 5-11 | Heel height: Flat
Bibi Lou Embellished Flats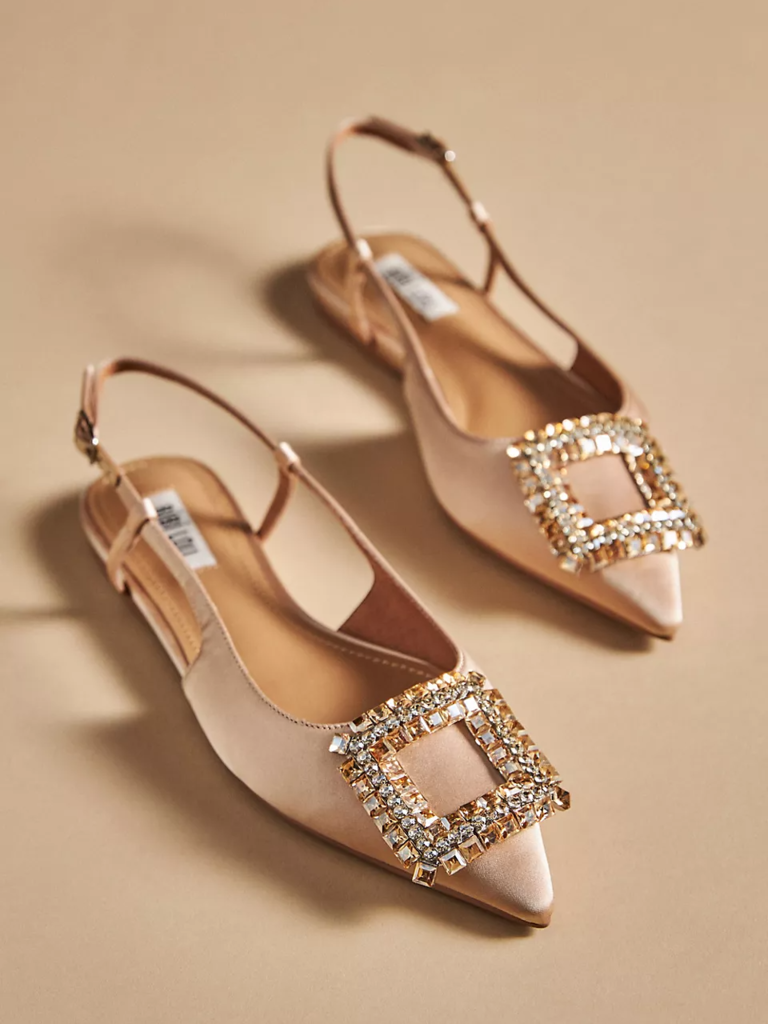 Remember the heel version of these Bibi Lou shoes that I showed you above? Yep, you can get them as flats too, and I had to share. The rose gold color was practically made for bridesmaids who want a color other than the standard nude hues.
Colors: 10 | Size range: 5-11 | Heel height: Flat
Jack Rogers Heidi Pointed Toe Flat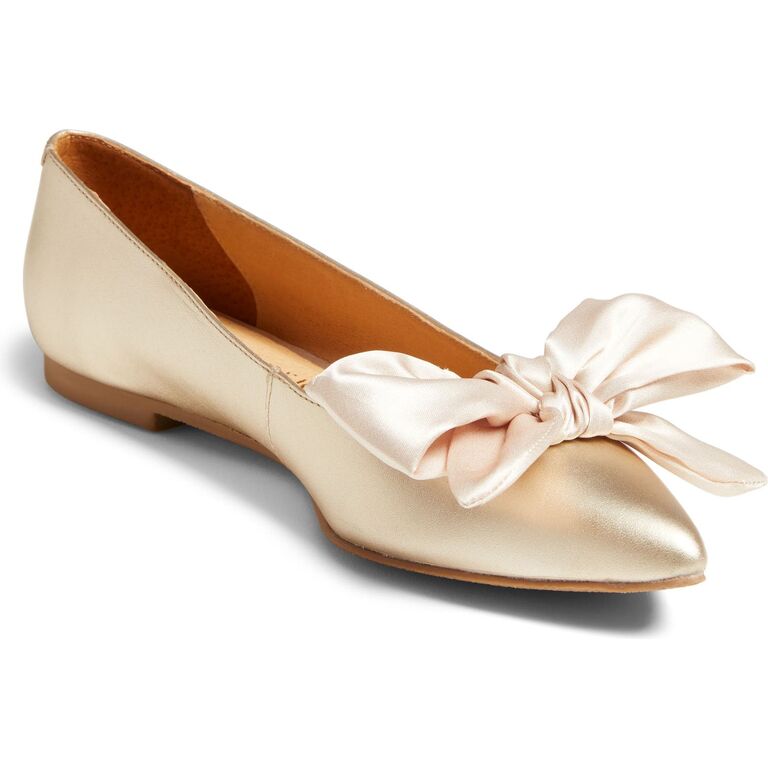 Let your bridesmaid flats have a bow-ment in this adorable pair from Jack Rogers. The bow accent at the top is made from a soft satin so it adds a luxurious touch that's both classic and understated.
Colors: 2 | Size range: 6-10 | Heel height: Flat
ASOS DESIGN Wide Fit Larna Pointed Ballet Flats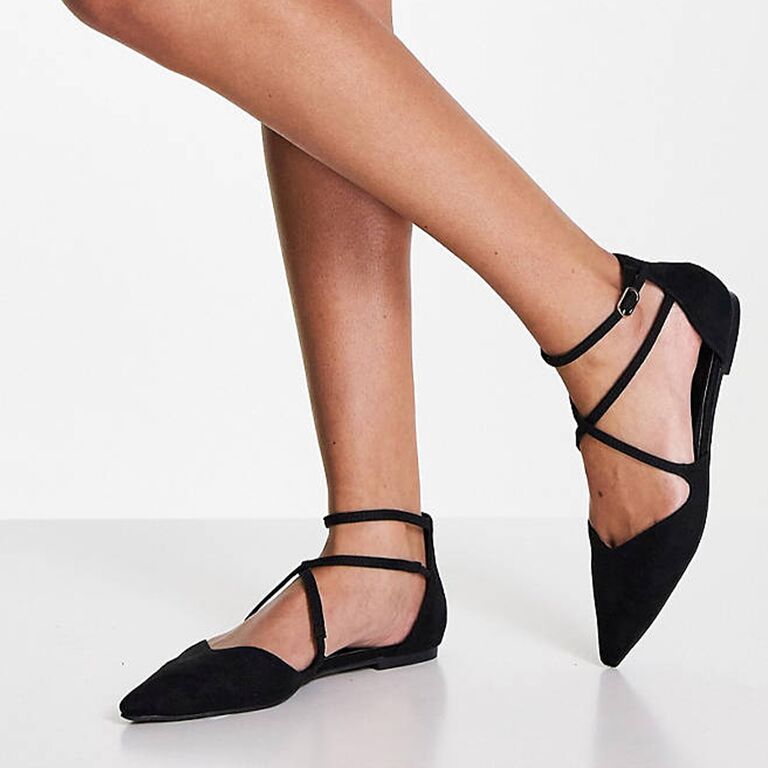 Love a strappy shoe but don't love the actual heel part. Here's your solution. These ASOS flats are available in both black and beige and only cost $29. Leaving you plenty of room to splurge on your other bridesmaid accessories.
Colors: 2 | Size range: 4-11 | Heel height: Flat
Steve Madden Blossoms Rhinestone Mesh Ballet Flat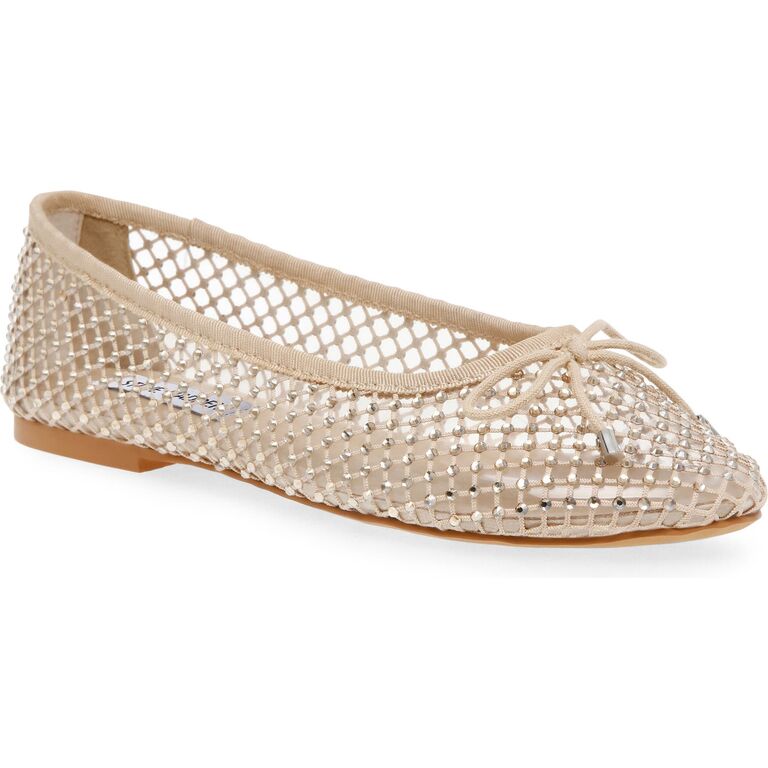 If you're in the market for some totally sparkly bridesmaid shoes, these glitter wedding flats from Steve Madden are a cute, re-wearable option. Since they are made of breathable mesh fabric, they should be super easy to pack away for a destination wedding.
Colors: 2 | Size range: 5.5-10 | Heel height: Flat
What to Look for In Shoes for Bridesmaids
When it comes to buying heels bridesmaids will love, remember to choose a pair that not only complements your dress but also matches your personal style. Whether you opt for classic pumps, trendy sandals or cute flats, the key is finding shoes that you can wear and enjoy long after the wedding is over.
Your Bridesmaid Shoes Do Not Have to Match
"Shoes are a fun way to let your girls show off their own personal style!" says Pavone. "This is made even easier with Pashion's swappable heels — bridesmaids can have all the same shoe, but can customize them to match their personality by swapping on different heels."
Comfortable Bridesmaid Shoes Are a Must
"Bridesmaids should opt for shoes that are stylish enough to look put together for the ceremony and pictures, but comfortable enough to last the whole reception and absolutely own the dance floor," Pavone tells us.
Pay Attention to the Terrain
"Also, it's helpful if the shoe is ready for any terrain — especially at an outdoor wedding, no one likes crossing grass or walking down hills in tall heels," she says. "Convertibles provide an easy, no-worries solution to all the above."