The 34 Best Ways to Personalize Your Wedding, From Ceremony to Reception
These ideas are anything but cookie-cutter.
Photos From Left to Right: Logan Cole Photography, Jes Workman Photography & Videography, Samm Blake Photographer
Planning even the simplest of weddings can feel like a lot of work at first. And once you start thinking about how to personalize your wedding, it might seem like there are ideas coming from every direction, from color palettes to trendy cakes and things you didn't even know existed until now. How do you decide what's worth including and what's overdone? Take it from a wedding editor who's seen millions of ideas in the last 10 years—here's what will actually help to make your day feel truly one-of-a-kind. Keep reading for standout ways to personalize your wedding decor, ceremony, reception and more.
In this article:
Personalized Wedding Decor Ideas
If you're looking for ways to make your wedding feel expensive, special, super-personal or all of the above, look no further. These standout decor ideas are instant saves for your wedding inspo board.
1. Custom Bar
It's easy to rent a wedding bar from your event planner or an event rental company, but adding some kind of personal touch is what will take it to the next level—and make it stand out from the other weddings where it's been featured. We love the custom addition of latitude and longitude coordinates to represent a special location, like your home or the place where you got engaged.
2. Unexpected Seating
If you really want to shake things up with your wedding decor, ditch the standard tables and chairs in favor of something more unexpected instead. A picnic-style wedding with rugs and throw pillows will set the mood for a backyard reception, or you can opt for a cocktail-style reception with high top tables and barstools for a little more formality.
3. Trivia Cocktail Napkins
Chances are, some of your extended relatives and acquaintances don't know every major detail about your love story, like how you met or your proposal moment. Personalize paper cocktail napkins with little tidbits about you, your partner and your relationship for sweet conversation starters.
4. Bouquet Ribbons
Your wedding bouquet is already going to be a custom creation, but you can make it extra-special by adding ribbons decorated with one-of-a-kind embellishments, like a monogram, charms or embroidery. These ribbons were personalized with advice and messages from loved ones.
5. Wedding Entrance Sign
It will be impossible for your guests to miss the entrance to the party when you decorate with a custom welcome arch. Design it to showcase your names, your wedding date or a fun phrase—it's like your very own Coachella sign, but better.
6. Seating Chart Display
If your goal is to achieve an ultra-personalized wedding, even the simplest moments shouldn't be overlooked, and that includes the seating chart. Create an interactive display to wow guests as they're searching for their name and table assignment.
7. Reception Tent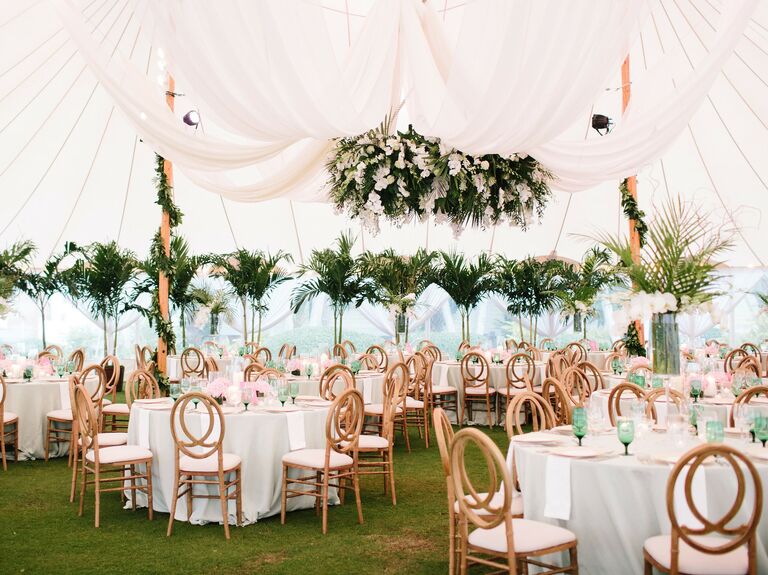 You might think of a reception tent as being primarily functional, but you don't have to settle for the basic design. Transform the tent into something almost unrecognizable by adding drapery to the ceiling, wrapping the tent poles with garlands and bringing in tall potted trees or plants to create an indoor-outdoor look that feels totally customized.
8. Monogrammed Pillows
Monograms are a staple detail when it comes to personalized wedding decor. Adding a crest or monogram to an otherwise ordinary item shows your guests that you've put extra thought into the design. It's a win-win if you can reuse the pieces after the wedding day, like this throw pillow that goes from the wedding lounge to the living room.
9. Wedding Lounge
A wedding lounge area isn't a necessity, but that's exactly what makes it stand out. Set up a dedicated area by the bar or to the side of the dance floor where guests can gather and mingle. It helps to encourage a welcoming vibe and prevents guests from sitting at their tables all night long.
10. Mood Lighting
If you're part of the 'no overhead lighting' camp, we see (and support) you. Whether you go the sultry and romantic route with hundreds of candles or you want to evoke nightclub-level energy with disco balls and spotlights, adding custom lighting is a great way to set the mood and transform your venue.
11. Patterned Dance Floor
From the first dance to the last call, your dance floor will be in a lot of wedding photos. Decorate yours with a custom vinyl wrap, monogram decal or bold print that sets the scene for a night of partying.
Personalized Wedding Ceremony Ideas
The ceremony is like the crescendo of your wedding day, so you want to make it count. These unique ceremony ideas will add a personal touch to your special moment.
12. Unique Ceremony Location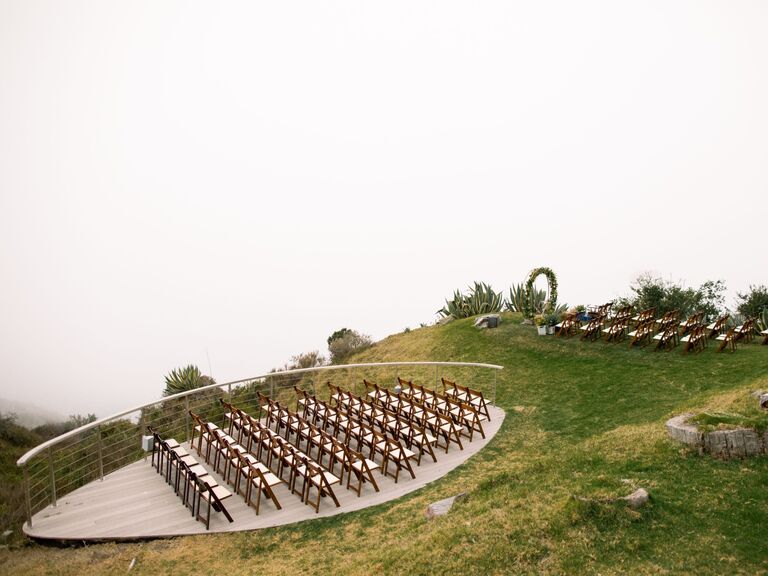 Your guests will always talk about that one time they went to a wedding in a breathtaking location. From seaside cliffs to towering mountains, be intentional about choosing a venue that really speaks to your style as a couple—especially if it adds a cinematic element to your ceremony.
13. Unplugged Ceremony
Thinking of ways to keep your guests present in the moment is one thing to think about when deciding how to personalize your wedding. Our advice? Consider an unplugged ceremony, complete with a cute phone check station that adds a bit of novelty (and hopefully convinces any less-than-thrilled guests).
14. Embroidered Handkerchief
We know that handkerchiefs aren't a groundbreaking concept, but when you personalize yours with hand-embroidered details and monograms, it becomes an irreplaceable heirloom. Keep it on hand for happy tears during the ceremony.
15. Live Music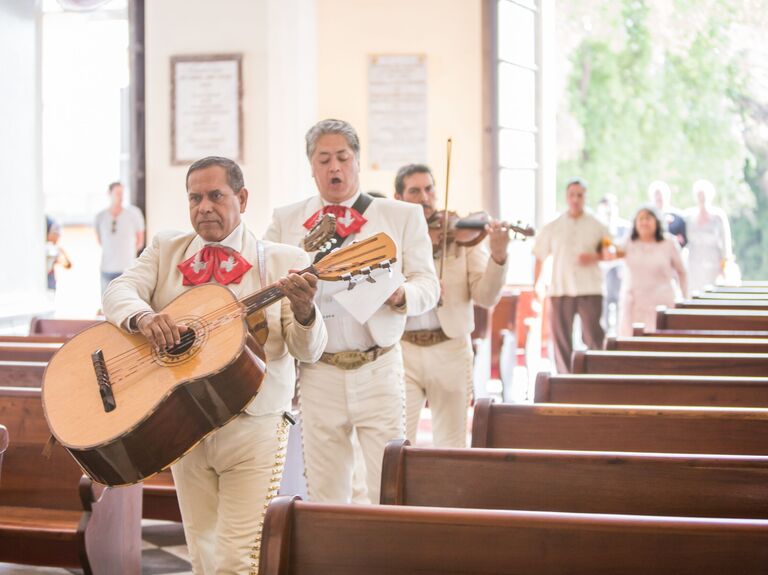 Your wedding ceremony music is another chance to really showcase your true selves. If you don't have any specific songs in mind, try to incorporate musicians, instruments or genres that reflect your unique backgrounds, like a mariachi band, New Orleans jazz or the Chinese erhu.
16. Handwritten Vows
It doesn't get more personal than writing unique wedding vows that reflect your relationship. We've got templates and examples to help you get started. but even if you choose to exchange traditional vows, you can still include a special reading or two during the ceremony.
17. Love Lock Ceremony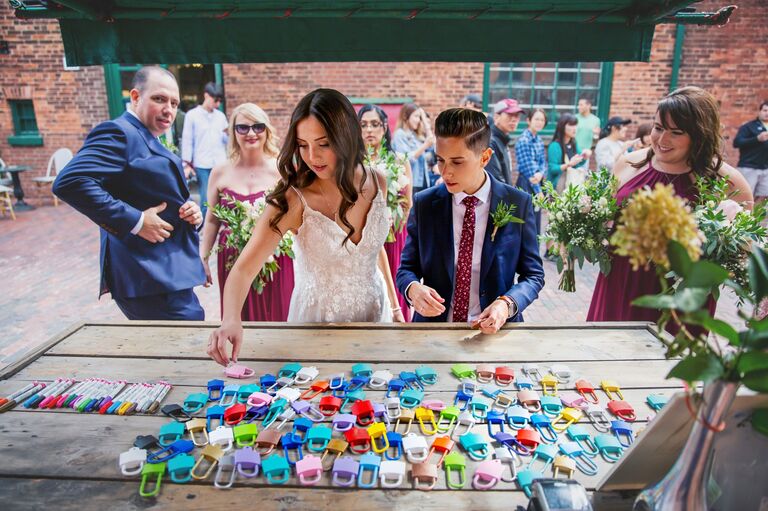 Cap off your ceremony with a symbolic unity ritual that reflects your love for each other. The love lock is just one example, but you can also do a tree planting ceremony, knot-tying ceremony or time capsule sealing.
Personalized Wedding Reception Ideas
Check out these unique place settings, guest books and entertainment ideas that will help you personalize your wedding reception.
18. Vintage Film Cameras
If you're into candid photos and film photography, this personalized wedding idea is for you. Instead of disposable cameras, collect a few vintage point-and-shoot cameras from thrift stores and old camera supply shops. On top of your photographer's professional photos, you'll love seeing all of the in-between moments that your guests captured during the reception.
19. Family Photos
Give your old family portraits new life by supersizing them to create a custom wedding backdrop. Turn it into an interactive station, like this retro diner booth vignette, where guests can pose for photos.
20. Monogrammed Ice Cubes
We didn't know that we needed our very monogrammed ice cubes until now. If you're serving cocktails in rocks glasses, these oversized square cubes are worth the splurge.
21. Telephone Guest Book
Audio guest books are a memorable way to capture your loved ones' well-wishes in real time (and the messages are bound to get more entertaining as the night progresses).
22. Choreographed Dance
It doesn't matter if you have two left feet, because your guests will be your biggest cheerleaders when you step onto the dance floor for your choreographed first dance. Plus, you can turn the dance lessons into a fun excuse for date nights.
23. Printed Wedding Menu
Keep in mind that the presentation is just as important as the actual food if you're looking for ways to personalize your wedding and impress your guests. For a French-infused menu, serve baguettes in classic paper bags with each course of the meal listed on the front.
24. Signature Cocktail Sign
Take your signature drink one step further by accompanying it with a custom hand-illustrated sign. If the open bar tab is being picked up by a specific loved one, give a little acknowledgement to them too.
25. Cookie Place Cards
You've heard of cookie wedding favors, but what about cookie place cards? Any guest who thinks dessert should come before dinner will love this idea—customize each cookie with their name for a super-personal touch.
26. Individual Guest Sketches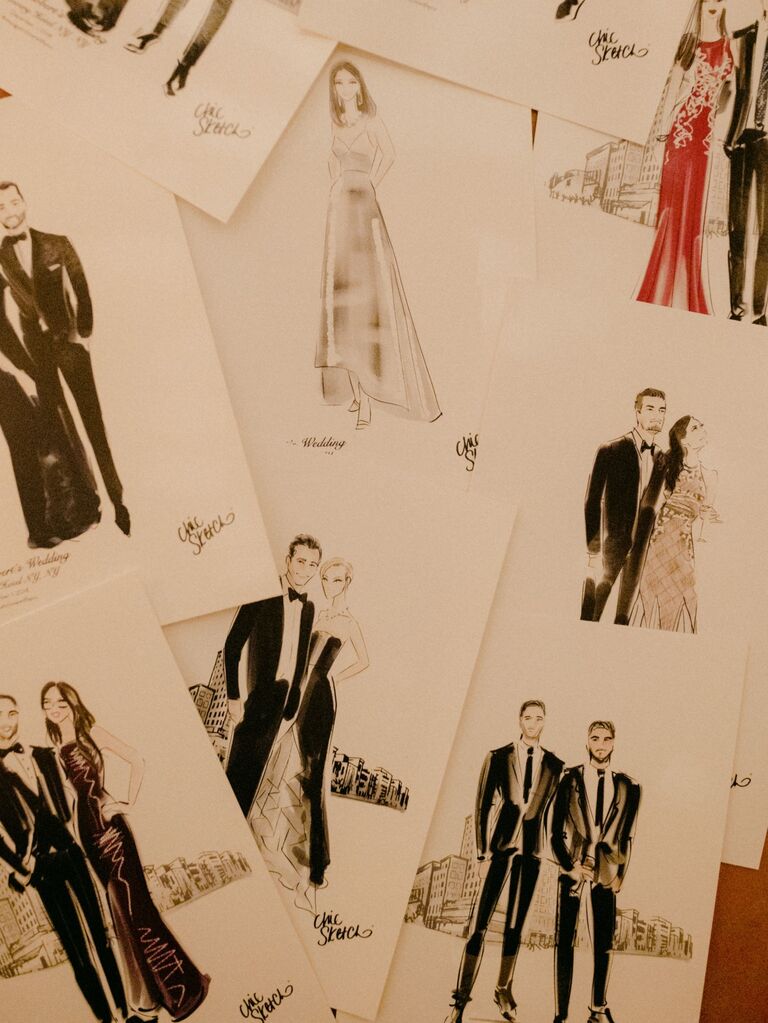 We can confirm that this personalized wedding reception idea is a hit with guests. Hire a live painter or artist to do quick five-minute sketches of guests á la fashion lookbooks and illustrations.
27. Food Stations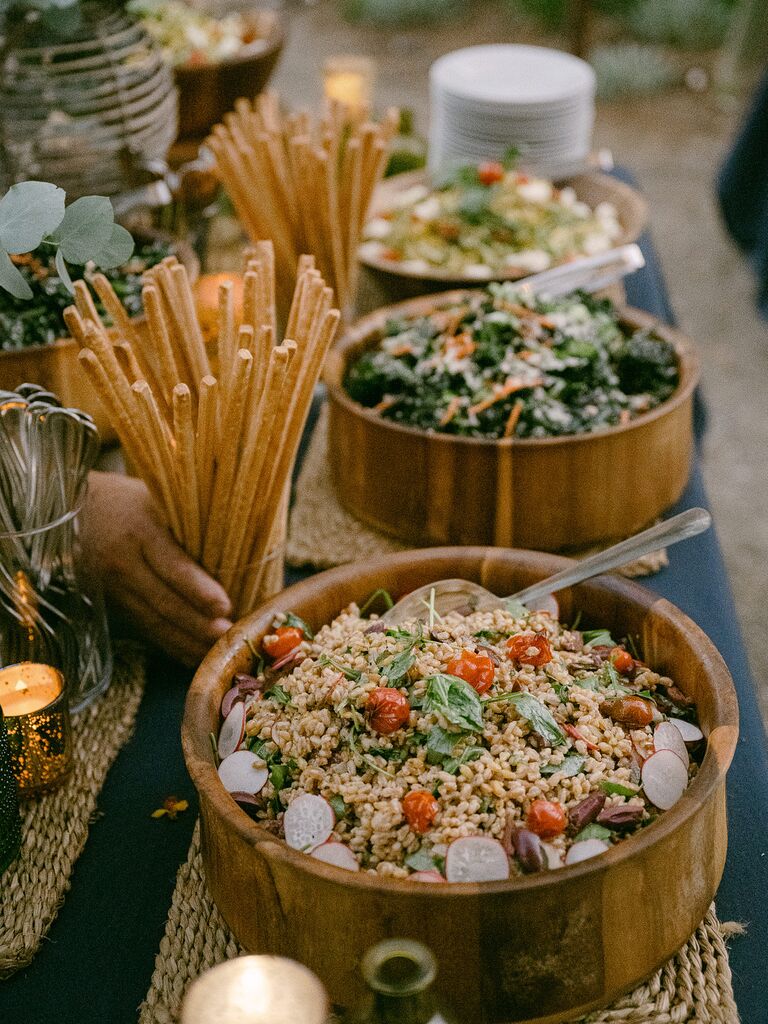 Customizing your menu is one of the best ways to personalize your wedding. If you and your partner are total foodies, consider a gourmet dinner inspired by a Michelin meal. Or if you're both proud of your family heritage, celebrate your different backgrounds with a fusion menu. Feeling sentimental? Pay homage to your first dinner date by serving a similar dish.
28. Drink Toppers
Special drink toppers will make an ordinary glass of bubbly seem like a carefully crafted cocktail. If you don't want to stock up on hundreds of drink toppers for the entire night (facts), hand a glass to each guest and kick off the festivities with a celebratory toast during cocktail hour.
29. Proposal Slideshow
No one will stop you from being too sappy on your wedding day, so it's the perfect time to relive your proposal moment with a slideshow or short video. You might even share some footage that guests haven't seen before.
Other Ways to Personalize Your Wedding
From welcome bags to attire, here are even more custom wedding ideas that we couldn't resist including.
30. Stationery
Rather than viewing stationery as just another item on your to-do list, think of it as an opportunity to put your own spin on things from the very start of wedding planning. Opt for unique wedding invitations that include details like venue illustrations, caricatures and statement color palettes.
31. Welcome Bags
Fill your welcome bags with things that you and your partner personally love, plus some wedding swag, like custom T-shirts. You can also include treats that give a nod to your wedding location, whether you're tying the knot in your hometown or jet-setting to a faraway destination.
32. Wedding Registry
Your wedding registry is another way to showcase your individual interests and personalities. These days, your options are so much more than the standard lineup of products (throw pillows, towels and tableware)—although we're fans of those too. But feel free to get creative with your registry and include a few out-of-the-box picks, like cash funds, gift cards and experiences or charities.
33. Dress Code
Asking your guests to wear a specific color or style of clothing is more popular than ever, and we personally love this idea. A hyper-specific dress code will help you channel a specific mood and fine-tune the wedding aesthetic in your photos.
34. Morning-Of Routine
Gone are the days of it being taboo to see your partner before the ceremony begins. If you're not sold on the idea of getting ready on the morning of the wedding with your respective friends, buck tradition and get ready with each other instead. We guarantee that the photos will be priceless.