Will His White Tuxedo Shirt Match My Ivory Dress?
by Heather Hall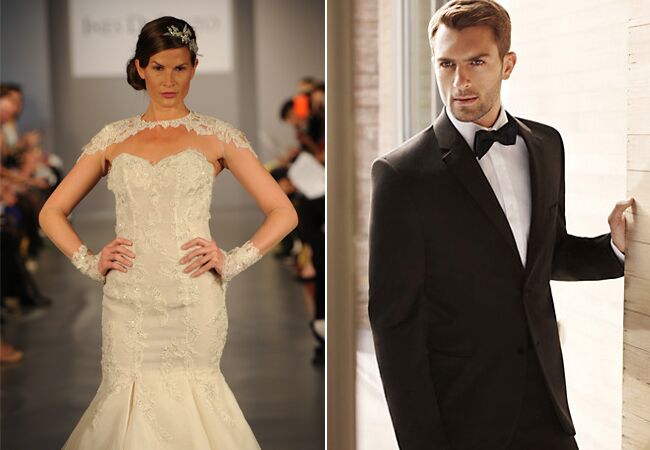 "My dress is ivory. I'm told that the men should wear ivory shirts too, but I'm afraid they look yellow and dirty. We want a really classic tux look with black bow ties. I feel like the ivory takes away from that look. Will white shirts match my dress?" -laurenberdan
You can't go wrong with a white shirt and black tuxedo for a formal affair. Plus, the odds of finding the perfect ivory shade to match your dress is slim and your guests won't even know the difference–trust us, they'll be looking at how amazing you both look without thinking twice about your ivory vs. white predicament!
From left: Photo by Kurt Wilberding, gown by Ines Di Santo; Photo courtesy of Men's Wearhouse, tuxedo by BLACK by Vera Wang
Find us on Twitter @theknot and tweet me @heatherhallm if you're in need of more fashion advice!
Want to look your best for the wedding day? We've got you covered.

> Groom's Fashion: Tuxedo Gallery
> How To Look 10 Pounds Thinner On Your Wedding Day
> Would You Wear A Non-White Wedding Dress?