The Cofounder of The Everygirl Had the Most Gorgeous Wine Country Wedding
The Everygirl cofounder Alaina Kaczmarski tells us about her intimate, personalized wine country nuptials.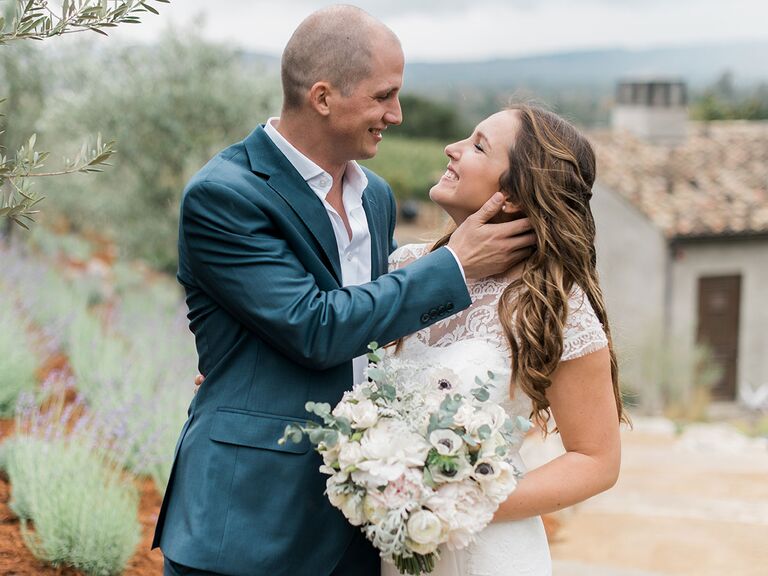 Jenna Kutcher
Alaina Kaczmarski, cofounder of The Everygirl, and her now-husband, Dan Schmieder, met through mutual friends at a dive bar in Chicago. They grew up 15 minutes apart, but didn't meet until they were 28 years old. "We went on four dates the first week—I think we both knew right away," Kaczmarski tells The Knot. During their eight-month engagement, she did all the planning herself for their Sonoma, California–based nuptials, but did end up having a day-of coordinator who started working with the couple a month out before their wedding date of October 15, 2016.
"I have quite a few friends in the business, so there were a couple of vendors—the florist, photographer and letterer—who I knew I wanted to work with right away," Kaczmarski says. "The rest my husband and I sourced by using Instagram and the internet. I'd search hashtags like #winecountrywedding, #sonomawedding and #napawedding to find local vendors and inspiration since it was a destination wedding."

As Kaczmarski is used to seeing tons of inspiration and ideas for her job on a daily basis, knowing what she wanted wasn't the hard part. The hard part ended up being having to adjust to Mother Nature's plans for the wedding weekend that were quite different than the couple's. 
"Our wedding story is real. Basically nothing went according to plan and we all had to improvise and replan the wedding five days in advance due to a rare California rainstorm that lasted most of our wedding weekend," Kaczmarski says. "It was a three-day trip to wine country for our guests that included a Thursday welcome party and Friday wine tasting tour in lieu of a formal rehearsal dinner. The entire wedding and dinner was supposed to be in the gorgeous backyard of our estate venue with twinkle lights, next to the pool and overlooking an incredible view. But our outdoor ceremony got moved inside and the backyard dinner under the stars got tented (we had to get a tent reserved four days before the wedding, which took us eight hours on the phone since all of the tents in northern California were booked due to the weather), but it all worked out. Guests stayed dry, the tent smelled like rosemary, which was on the place settings, and the ceremony was in a romantic, candlelit wine cave. And after the ceremony, we walked around to the backyard and saw what was one of the most incredible sunsets—and rainbows!—ever. I absolutely loved our wedding."
See more photos from Alaina and Dan's stunning nuptials below: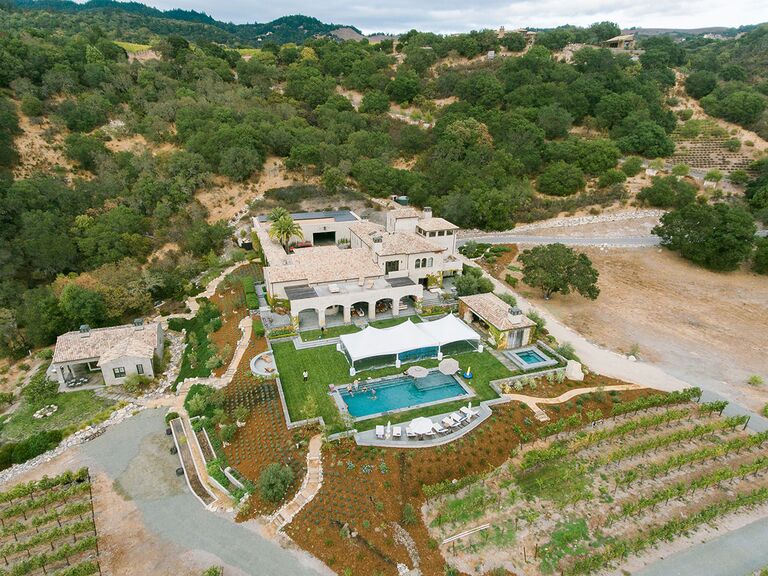 "Once we settled on California's beautiful Sonoma wine country as the destination, Dan found a fabulous estate on Airbnb. I wanted our wedding to feel like a casual dinner party, so we had only 50 guests. Our color scheme was neutrals and dark greens (reflective of the vineyards), and the style was natural and elegant."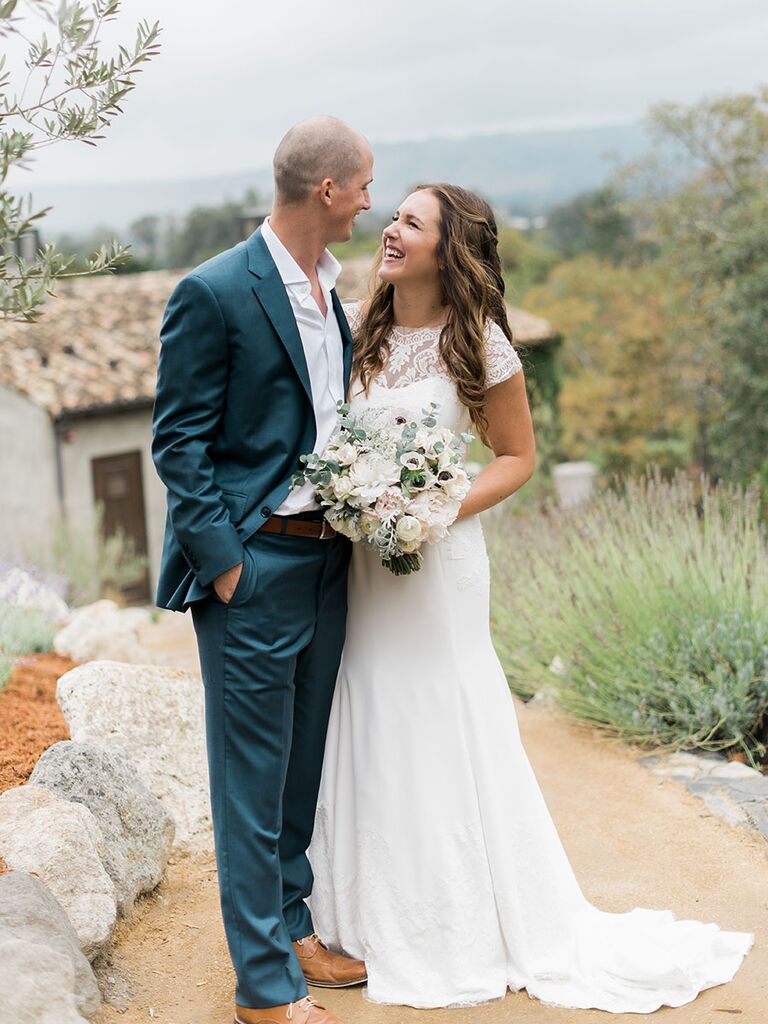 "My wedding gown was by Lela Rose. It was bright white, formfitting through the bodice with lace detailing on top. I like to think of it as understated, elegant and timeless. I definitely didn't want anything trendy—and it's true what they say, my face lit up when I tried it on! I opted not to wear a veil since it was a casual wedding. As for jewelry, I wore family heirlooms—my mother's pearl earrings and bracelet—and a delicate diamond necklace that my now-husband had given me for my birthday two years ago. I tried to keep everything fairly simple and meaningful. I opted for a mid-heel for the shoes and picked up blush pink Loeffler Randall shoes during a Shopbop sale. Like all women, I wanted my hair exactly the opposite of what it is naturally. I have super-straight, flat hair that doesn't want to curl, and I wanted voluminous, romantic beachy waves. I purchased inexpensive hair extensions to add the volume and guarantee at least some of the hair on my head would hold a curl. The hair and makeup stylist I worked with in Sonoma did an amazing job of getting everything just right. We did a trial three days before the wedding, which allowed us to make any necessary tweaks from my vision to what I needed in reality. We ended up pinning some back in the front so it wouldn't fall flat against my face. As for makeup, we wanted to keep it romantic and natural, but with a slightly more dramatic eye.

"I love the super-light gray suit look on men and was convinced that's what Dan needed to be in. But then he and I went to Nordstrom and he tried on a light gray suit. Neither of us were loving it on him. Then I remembered pinning a photo of a California wedding where the groom was in a very unique blue color, so I pulled it up and we showed the woman helping us, who proceeded to pull a few blue suits (different from traditional navy). He looked like a million bucks! I've always loved how he looks when his top button is open with no tie and no undershirt, so that's what we did. We got a white pocket square from The Tie Bar for him, but the wedding day was quite hectic and he forgot to put it on—no big deal!"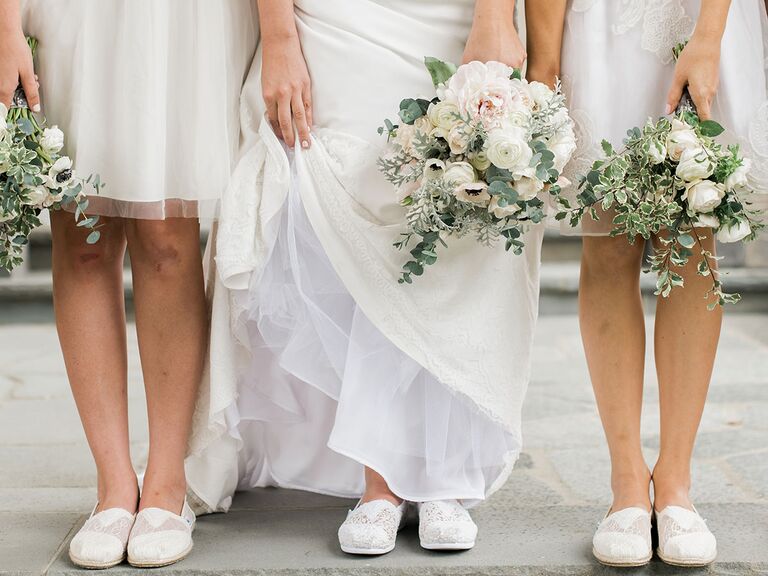 "My bridal party and I changed into white lace TOMS for the reception, since the lawn was wet and they were even more comfortable than the low heel."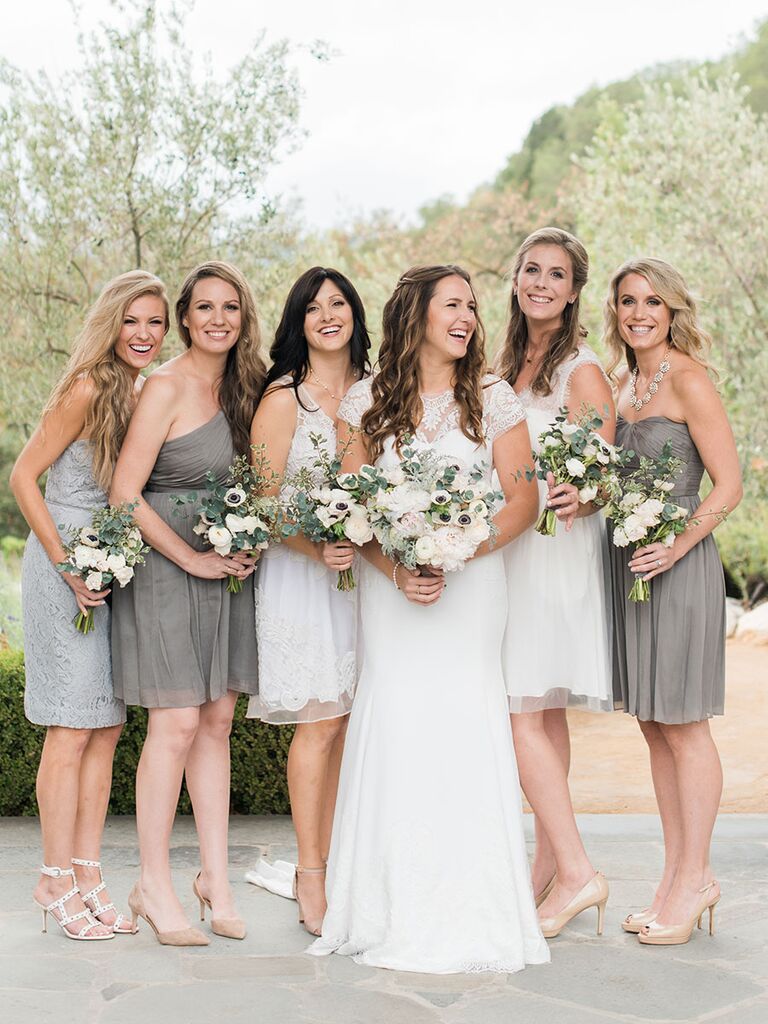 "I had two maids of honor—my sister and my best friend—and my three childhood friends as bridesmaids. The maids of honor wore short white dresses from BHLDN that are technically sold as reception dresses for the bride, and my three other bridesmaids wore short gray dresses in the style of their choice from J.Crew. They all chose how they wanted their hair—I just gave the direction that it shouldn't be a formal updo since the wedding had a more relaxed vibe.

"Since Danny didn't end up wearing light gray, we decided to put the groomsmen in it. There was a lot of back and forth on whether they should be in full suits, but I really wanted the wedding to have a casual, backyard vibe. So they all got the same gray suit pants from J.Crew, wore crisp white shirts sans ties, and we told them they were welcome to wear their own navy sport coats, but for photos and the ceremony we did no jacket."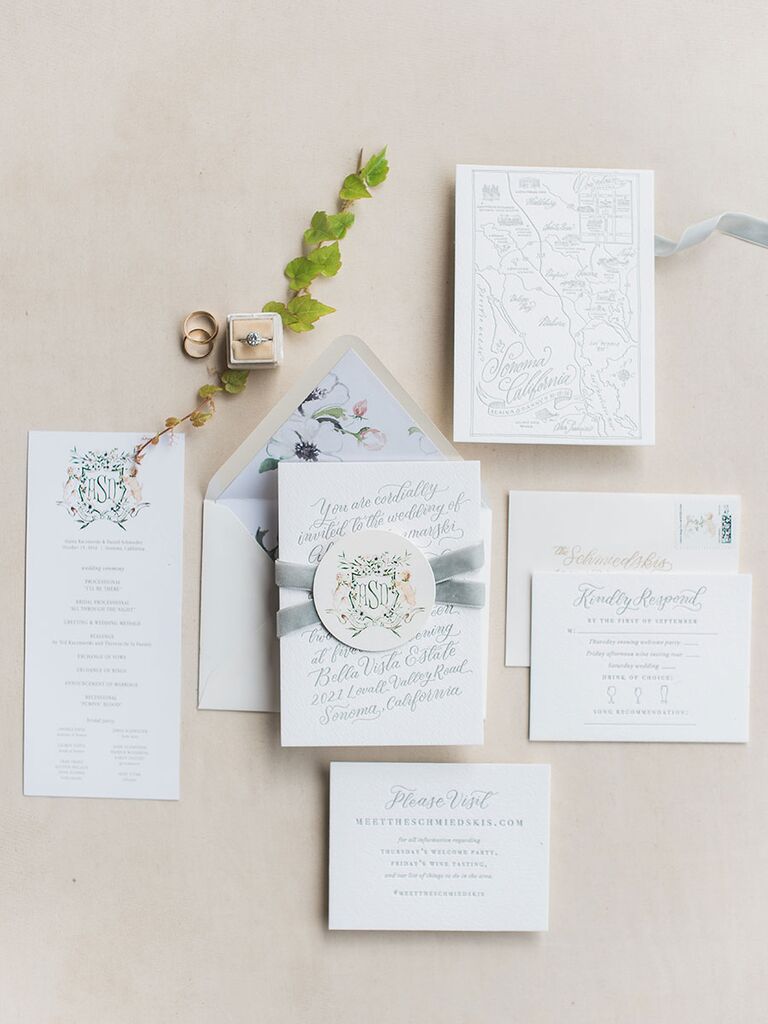 "Truth be told, I probably spent more time on our invitation suite than anything else. It was truly a labor of love to create because I brought together three very talented female artists from around the world and teamed up with one of my favorite companies—Minted—to have them printed on gorgeous letterpress paper. First, Jenna Blazevich, a friend and very talented letterer in Chicago, did the invite design and the custom hand-lettering for the envelope addresses. Then I worked with Arabella June, an artist from South Africa, to create a custom crest that had our monogram, two dogs and flowers from my bouquet. We repeated the crest and floral motif by using it on the front of the invite, on the stamps, envelope liners, the welcome bag pamphlets, and to create custom wrapping paper for bridesmaid gifts. Lastly, I absolutely love maps and found the work of Alabama artist Holly Hollon on Pinterest. I fell in love with her work and knew I wanted her to create a gorgeous map of Sonoma detailing the sites of wedding events and our recommended spots around the area. We included a single color version of it in the invitation but printed out a large color version that went in the welcome bags for guests to reference once they arrived in town. I also took a cue from something I saw on Instagram and ordered gray velvet ribbon from M&J Trimming to tie around the invitation suite."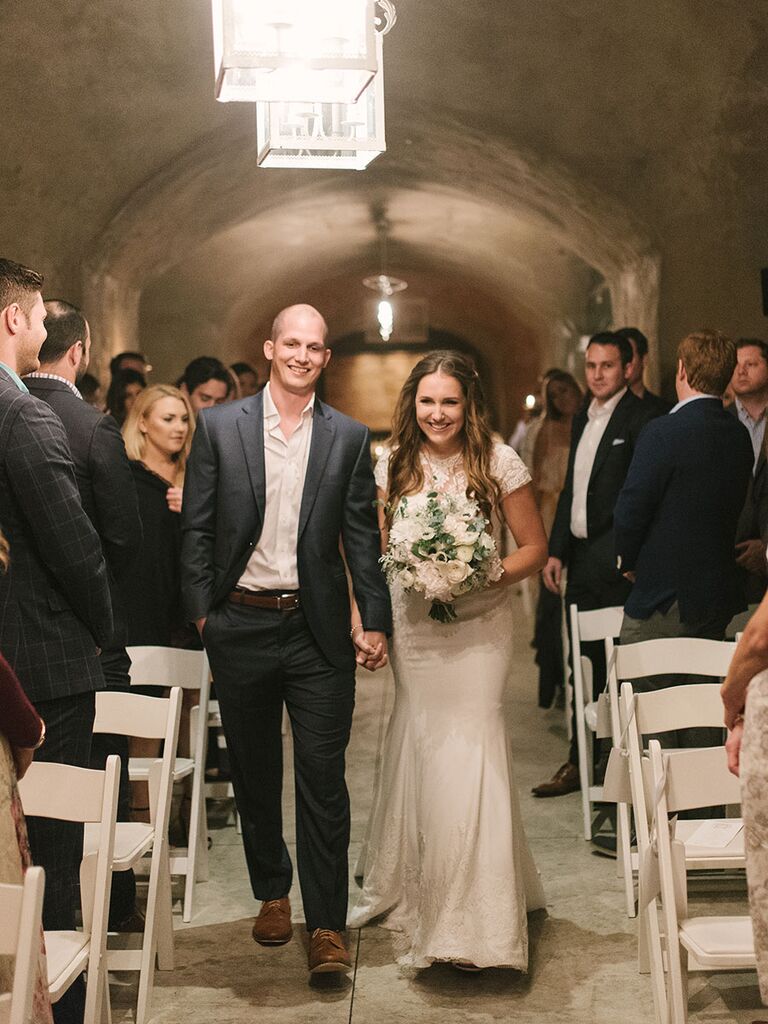 "I really wanted to walk with my fiancé down the aisle, but we both also liked the idea of him waiting for me, so I walked the first half alone, then met him and we finished the walk together. I valued the idea of us making this decision together and walking toward the altar hand in hand to exchange vows."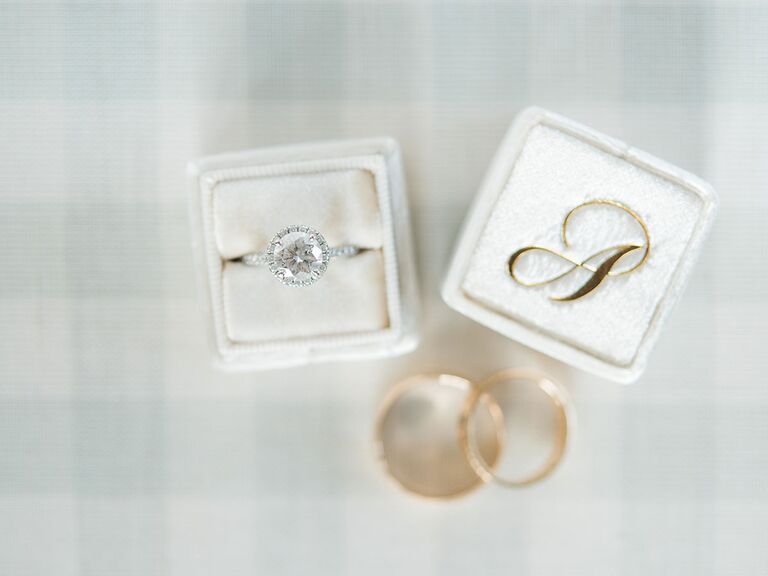 "When we went engagement ring shopping, I fell in love with the delicate diamond band and sparkle of the round halo. During a trip to Vienna, we got my Cartier LOVE wedding band—a sweet memory."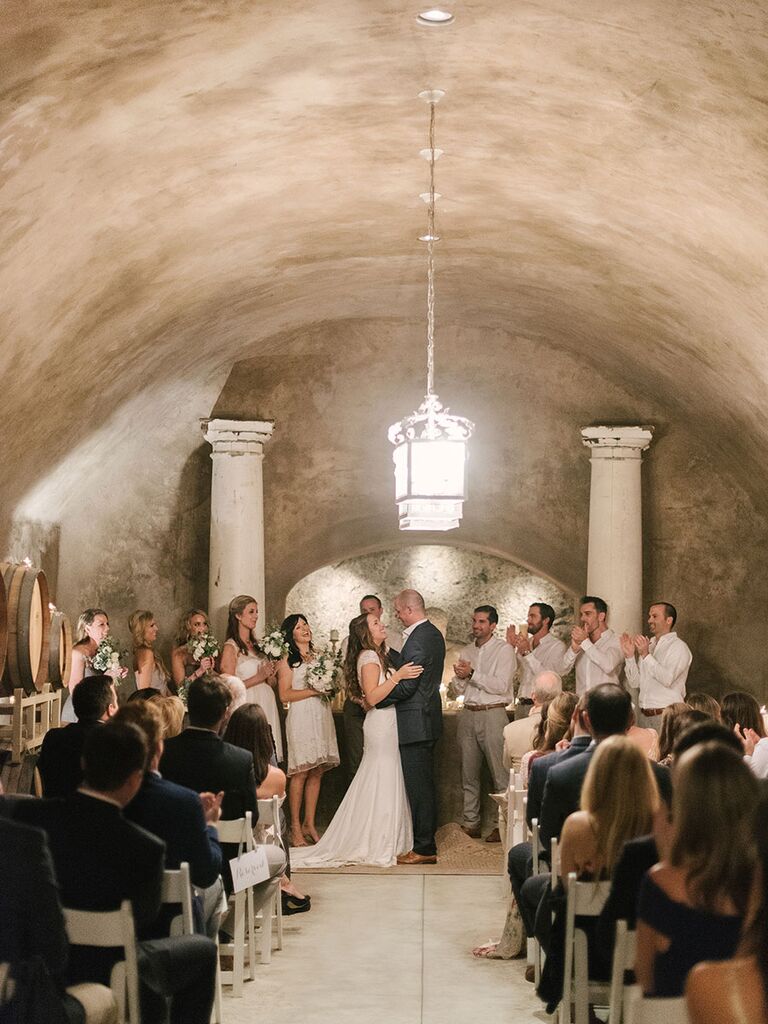 "Believe it or not, our ceremony site was changed one hour before the wedding. The plan was always to have the ceremony outside, rain or shine, on the lawn with the rolling hills and vineyards as the backdrop—which meant no additional décor was needed. We even ordered 30 white umbrellas for guests to share. But the 'rain' forecast became a 'torrential downpour' and was headed our way right at our start time. Fortunately, the property had a 2000-square-foot wine cave (totally normal, right?), so our day-of coordinator and her assistant had to move the white folding chairs into that space for what became our candelit wine cave wedding ceremony. The cave was very romantic and had a ton of candles and wine barrels surrounding the guests. It wasn't at all the original vision for where I wanted to marry Dan, but it ended up perfect anyway."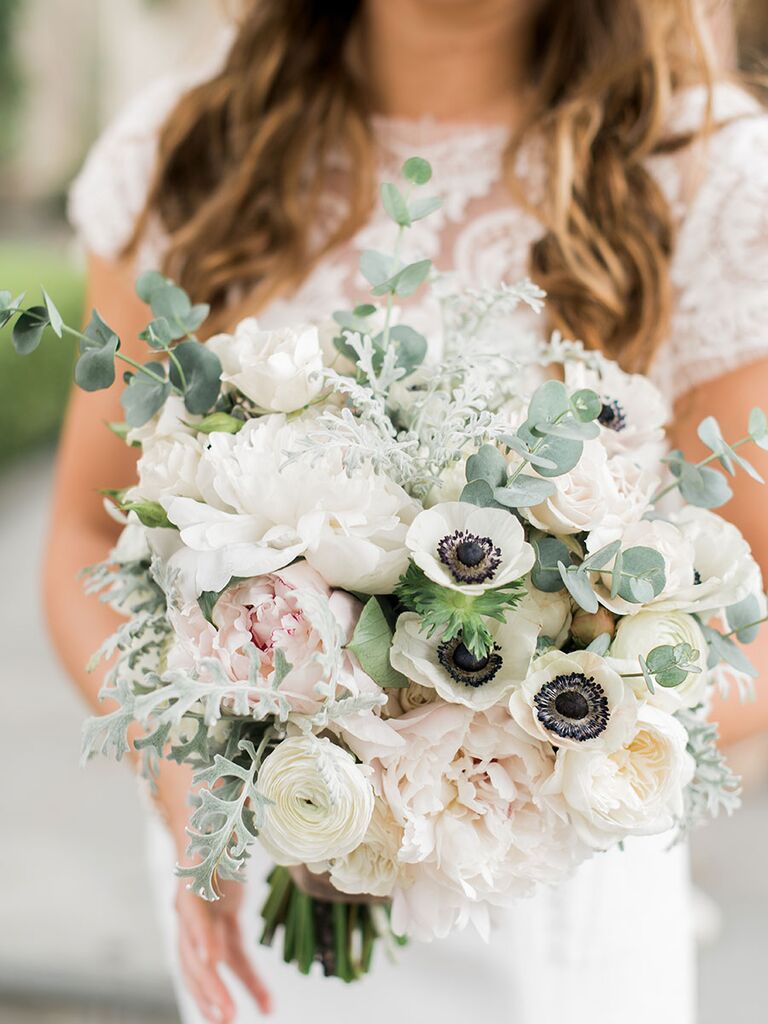 "Natalie Bowen Designs was our florist—she's a friend I met a few years ago and I fell in love with her work. As soon as we settled on a Sonoma wedding, I emailed her since she's based in San Francisco. We had a fairly small floral order: bouquets for the bridesmaids and myself, wrist corsages for our moms, three small arrangements for cocktail tables and olive branch garlands down the long dinner tables. The venue was so beautiful it didn't need much added to it. I found a few photos on Pinterest that I loved for bouquet inspiration and requested a mix of my favorite flowers: ranunculus, peonies, garden roses, dusty miller and white anemones. Natalie is so talented—she got it just right. My bouquet turned out even more beautiful than I imagined and was easily one of my favorite design elements of the wedding. She even wrapped it in gray velvet ribbon like we had on the invites."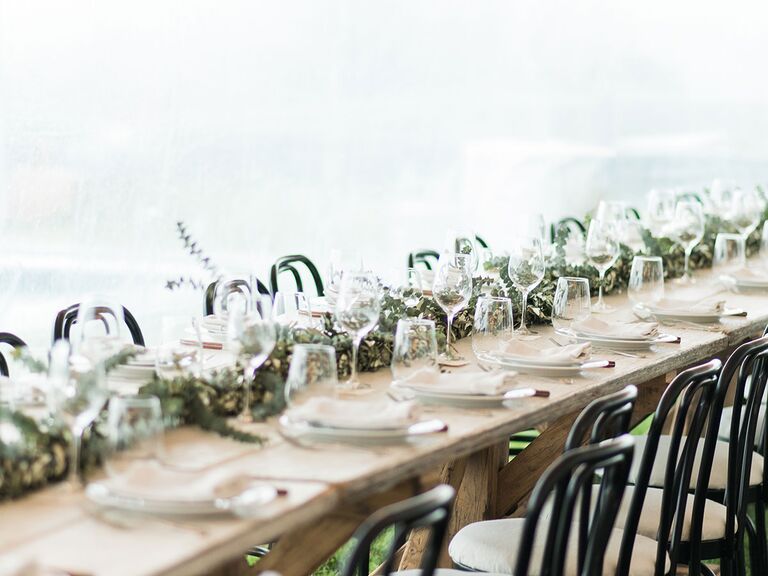 "Due to the storm forecast, our dinner under the stars had to be tented at the last minute. But with twinkle lights, gorgeous rentals and sprigs of rosemary at each place setting, the space looked and smelled amazing. Olive branch garlands, votive candles and wine bottles adorned the tables. The food was very representative of California culture: farm-to-table and served family style by candlelight (including wine bottles on the table so you could help yourself). We had two amazing salads to start: a caprese and mixed greens with walnuts, goat cheese and avocado. Then the main course was skirt steak and roasted chicken with delicious roasted garlic potatoes and roasted vegetables. As I said, I wanted more of a dinner party vibe than formal event, so I loved the idea of people passing food to one another and helping themselves to more wine if they wanted it."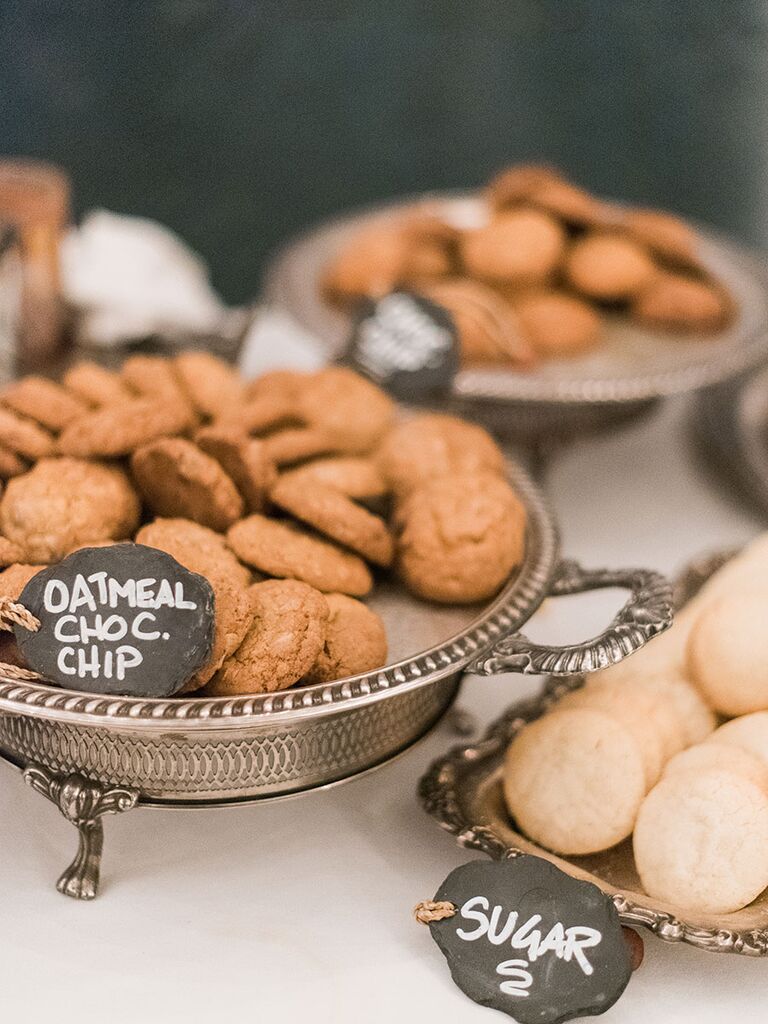 "Neither of us are cake people, and we didn't want a formal cake cutting or anything, so we served our favorite desserts. Mine is chocolate chip cookies and Dan's is homemade gelato. They were both a big hit!"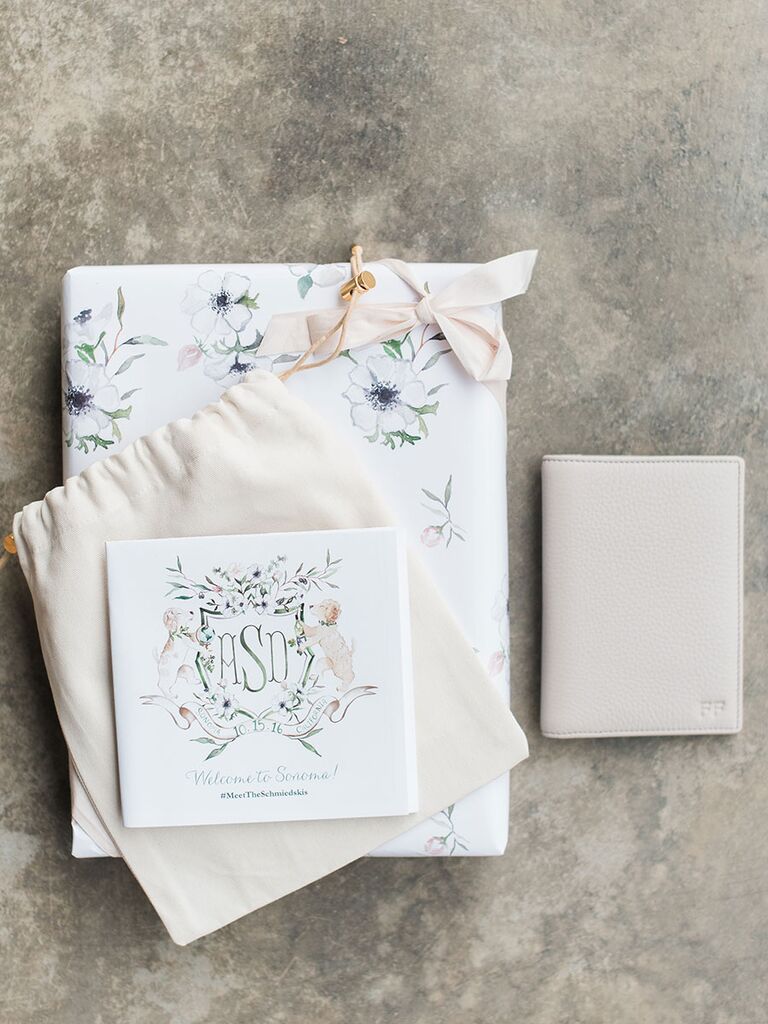 "Because it was a destination wedding, we coordinated events on the Thursday and Friday before the wedding on Saturday, and gave guests welcome bags with favors at the Thursday welcome party. We wanted to provide them with some essential goodies during their stay. The bags were canvas and leather tote bags from Mark and Graham, and inside we gifted Zwilling wine openers and Zwilling wine aerators/stoppers. We also included Dan's and my favorite snacks—Sour Patch Kids and cheese popcorn—as well as little hangover kits since we knew a lot of wine was going to be consumed that weekend."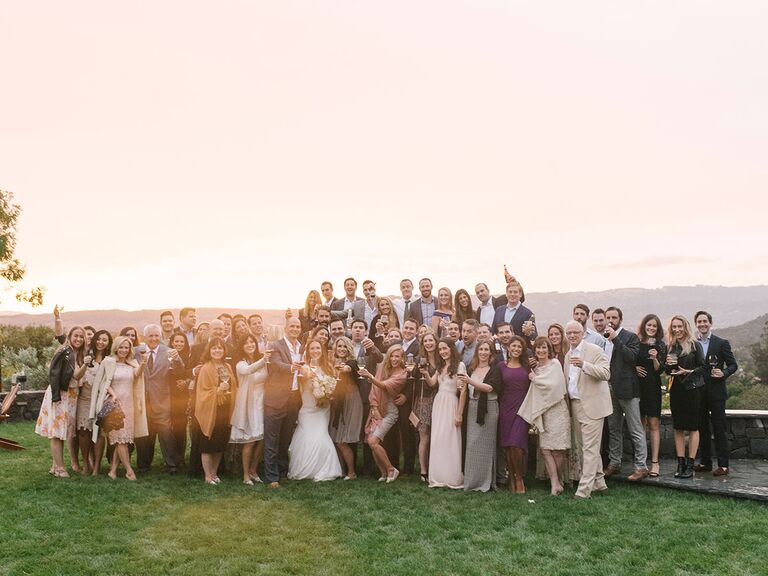 "Our wedding was so fun, and we got our wish of going on a vacation with our closest friends and family. If I had any advice, it's to not get too attached to the vision you have for your wedding day because it could all go awry. It's the spirit and people who are there supporting you and your significant other that make it special. "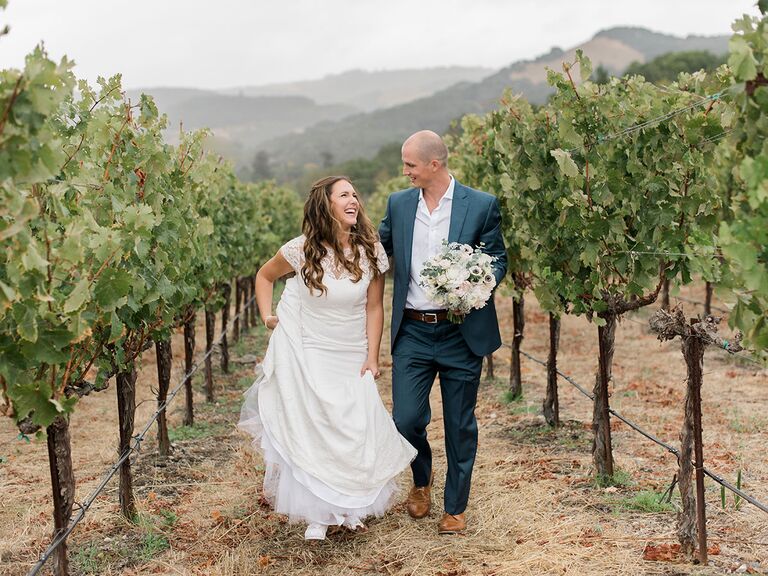 Ceremony & Reception Site: Private estate via Airbnb | Photography: Jenna Kutcher | Day-of Coordinator: Sandra Green of Private Reserve Events | Flowers: Natalie Bowen Designs | Wedding Dress: Lela Rose, Belle Vie Bridal Couture, Chicago | Shoes: Loeffler Randall | Engagement Ring: Fey & Co. Jewelers | Wedding Rings: Cartier,  James Allen | Earrings & Bracelet: Tiffany & Co. | Hair & Makeup: It's a Date at the Powder Room | Maids of Honor Dresses: BHLDN | Bridesmaid Dresses & Shoes: J.Crew, TOMS | Formalwear: Groom: Peter Millar, Nordstrom; groomsmen: J.Crew | Stationery: Letterpress printing: Minted; lettering and escort cards: Jenna Blazevich; map: Holly Hollon; crest: Arabella June; ribbon: M&J Trimming | Rentals: Found Vintage Rentals | Catering: Cuvee Wine Country Events | Favors: Tote bags: Mark and Graham; wine openers and aerators: Zwilling; | Bridesmaid Gifts: Tote bags: Mariella Vilar; passport cases: Leatherology; pajamas: Eberjey; travel pouch: Parker Thatch; travel case: Cuyana | Groomsmen Gifts: Passport cases: Leatherology | Registries: Crate & Barrel, Williams Sonoma | Honeymoon: London and Paris