The Knot Dream Wedding Is Today! Follow Along With Live Coverage Here
You'll want to know exactly how to see coverage of The Knot Dream Wedding as it unfolds today—trust us, this is going to be one insanely gorgeous wedding.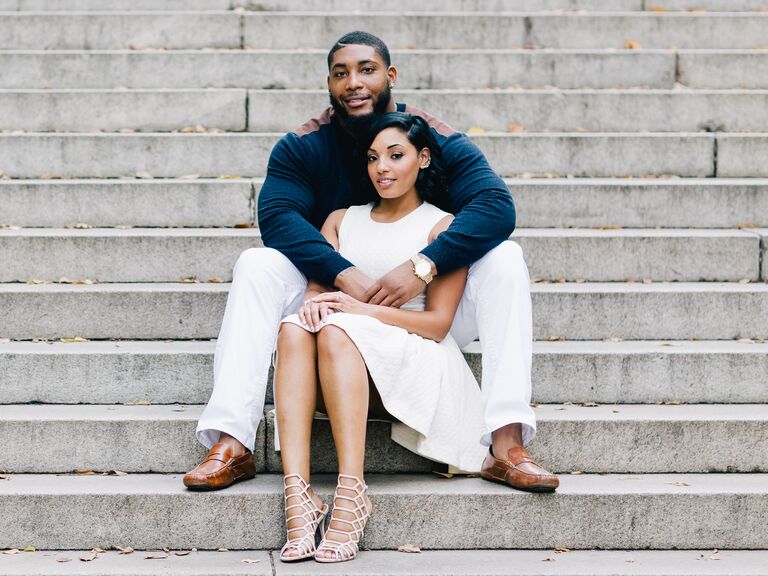 Joseph Lin Photography
Today's the day! The Knot Dream Wedding couple Asha Joyce and Devon Still's wedding is going to be a celebration you don't want to miss. First of all, you helped choose eight of their wedding details (see the winning ones here), from the invitations to the honeymoon. And it's all taking place today at the famous New York Public Library in New York City, with planner extraordinaire David Beahm as the wedding planner and photographer Joseph Lin to capture the magic.
Also, the couple couldn't be any cooler. Still, who you know as an NFL defensive lineman for the Houston Texans, and his fiancée, Asha Joyce, stuck together through thick and thin when Still's 5-year-old daughter, Leah, was battling neuroblastoma, a rare nerve cell cancer. And now that Leah's in remission (she even designed her own pretty flower girl dress for the wedding), the couple is continuing to raise awareness for pediatric research with their charity, the Still Strong Foundation, which is one of four charities that can be donated to in lieu of a traditional wedding registry.
So when does the fun start? At 11 a.m. today, Friday, May 13, start checking out The Knot Facebook page (for Facebook Live videos), Instagram, Snapchat and Twitter for up-to-the-minute social coverage and lots of surprises. You can also follow along with the hashtags #TheKnotDreamWedding and #StillInLove2016. We can't wait to have you join us!