The Knot Gala Had A Scent Bar, Paper Flower Backdrop and A Temporary Tattoo Bar!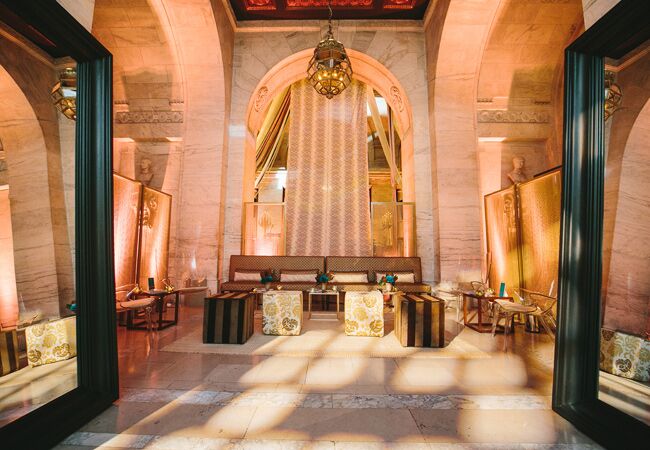 While we spend every day looking at weddings sometimes we take the time to party too! To wrap up bridal fashion week and celebrate all things wedding we throw a party at the New York Public Library every year. This year's party was designed by Jes Gordon founder of properFUN and inspired all five senses which means lots of texture paper flowers, a scent bar and even an amazing hanging food forest. See photos (by Readyluck!) from the gala and find out how to steal ideas from our party below!
A Colorful Paper Flower Backdrop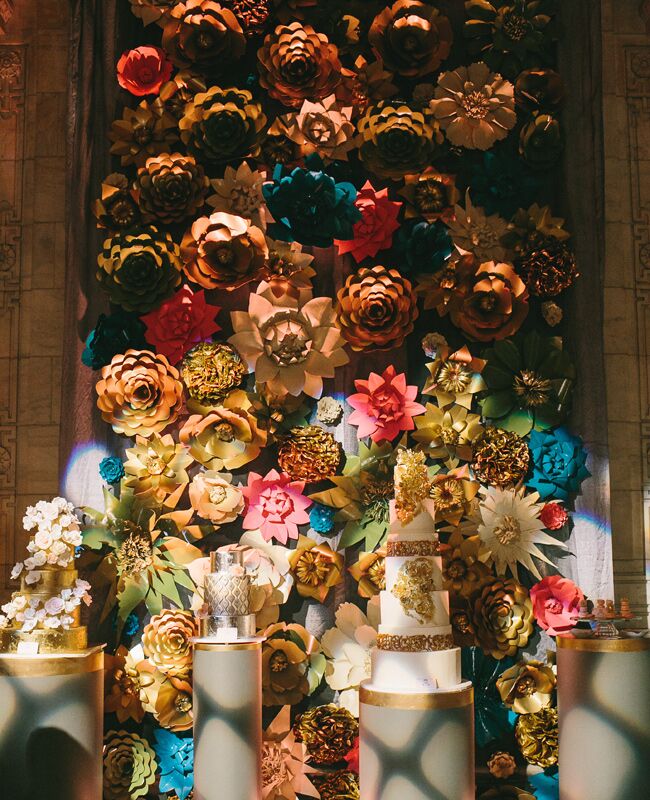 Bold and colorful in all shapes and blooms create a pretty focal point in a large open space drawing attention and can also double as a ceremony backdrop!
Leaf and Paper Flower Centerpieces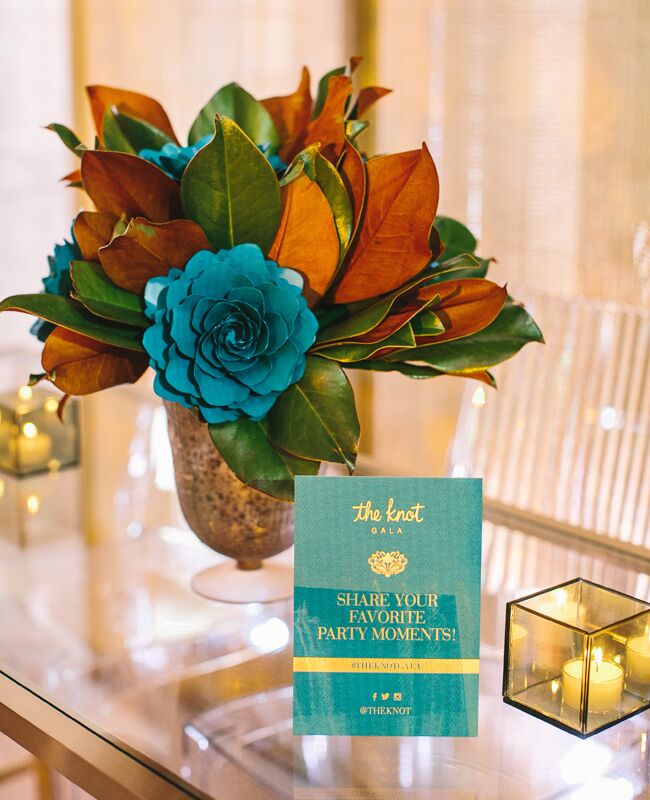 The bright paper flowers carried over into the centerpieces mixed in with magnolia leaves for a structured floral look. The combination of teal paper flowers and the copper colored backs of the leaves created a unique glam color palette.
A Gold Lounge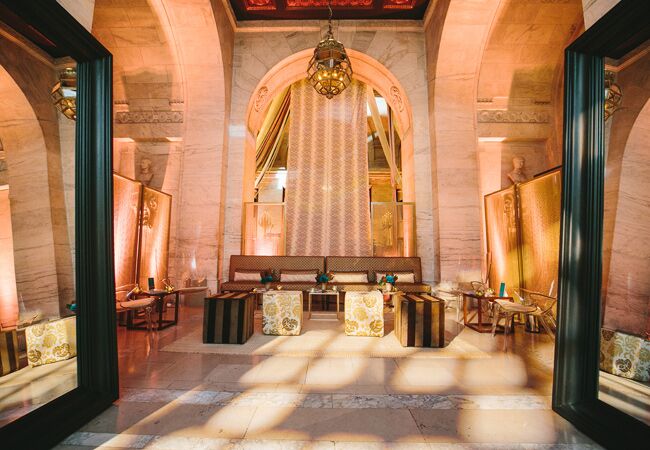 Gold panels, oversized black framed mirrors and metallic patterned couches and cushions create a dramatic look for a VIP lounge vibe.
Silhouette Lamps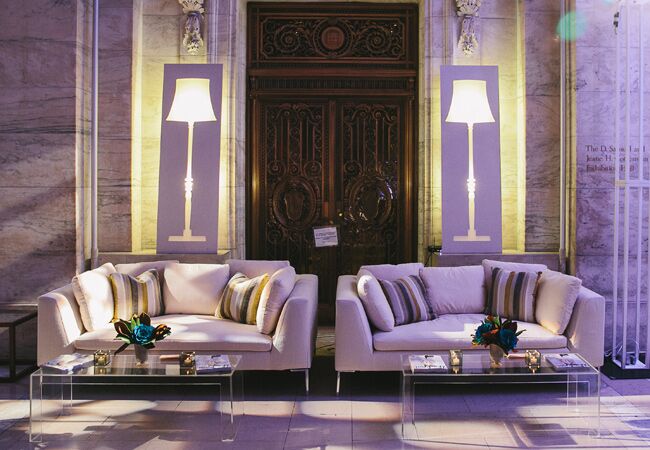 Lighting is key to setting the right vibe and this modern, playful take on traditional lamps are a fun way to brighten up a reception space.
A Tall Ornate Metallic Cake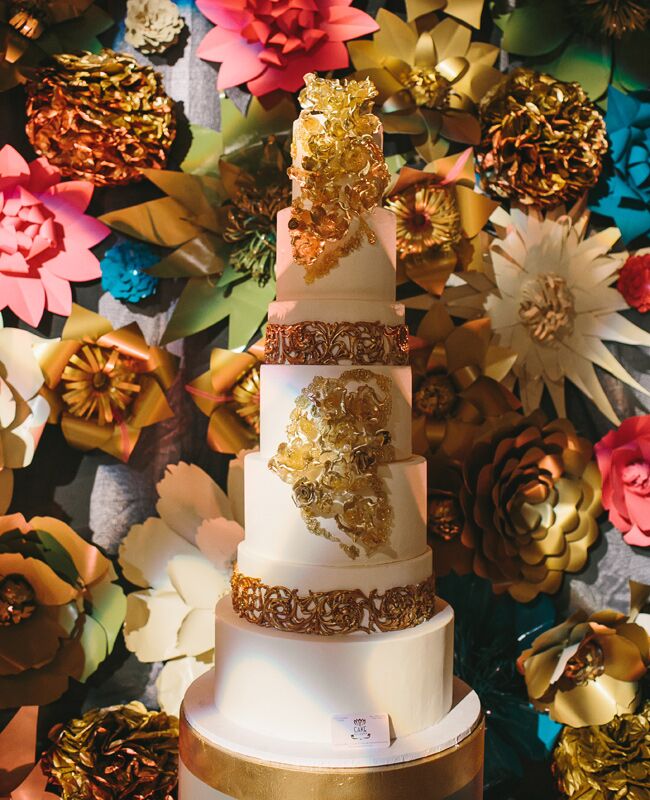 Delicately crafted flowers in gold combine romantic and glamorous into one while also coordinating with the paper flower backdrop. And the extra height ensures that the cake really stands out.
A Monogrammed Paper Flower Photo Booth Backdrop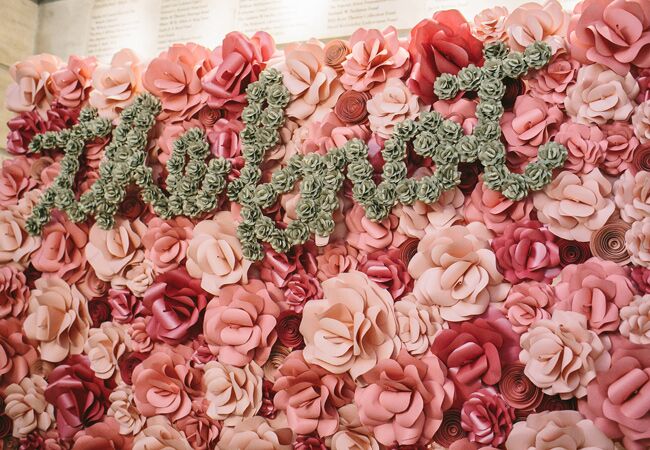 A paper flower wall with your names or initials in a contrasting color really make photo booth photos pop.
A Hanging Food Forest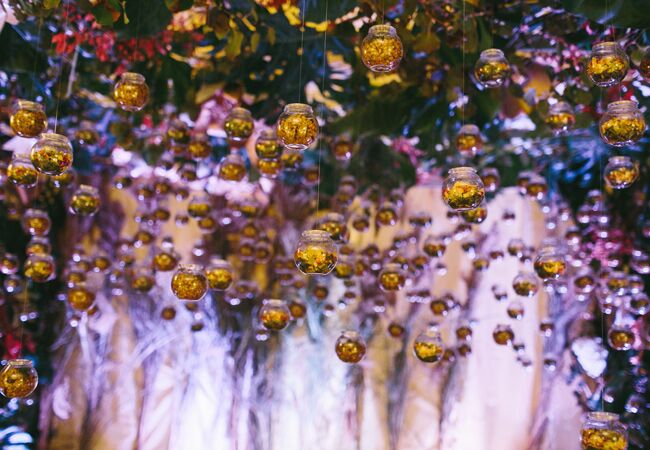 Yes, this is actually a food station! Take interactive food stations to the next level with a hanging food. Those tiny globes are filled with delicious fresh tuna ceviche (yum!). A chef stands on hand to help guests "forage" this hors d'ouevre by picking one and packaging it with a mini fork!
A Chemistry Inspired Scent Bar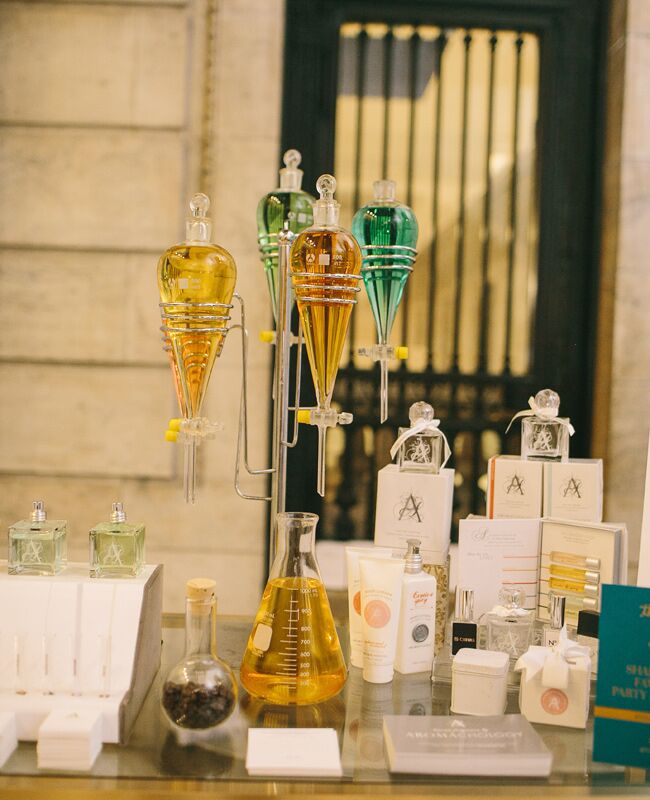 The five senses theme also featured a scent station (which also doubles as the perfect personalized favor!). Guests create their own signature perfume or cologne and get to smell all the different scents. Vintage chemistry equipment is the perfect way to display all the colorful scent oils too!
A Chic Framed Bar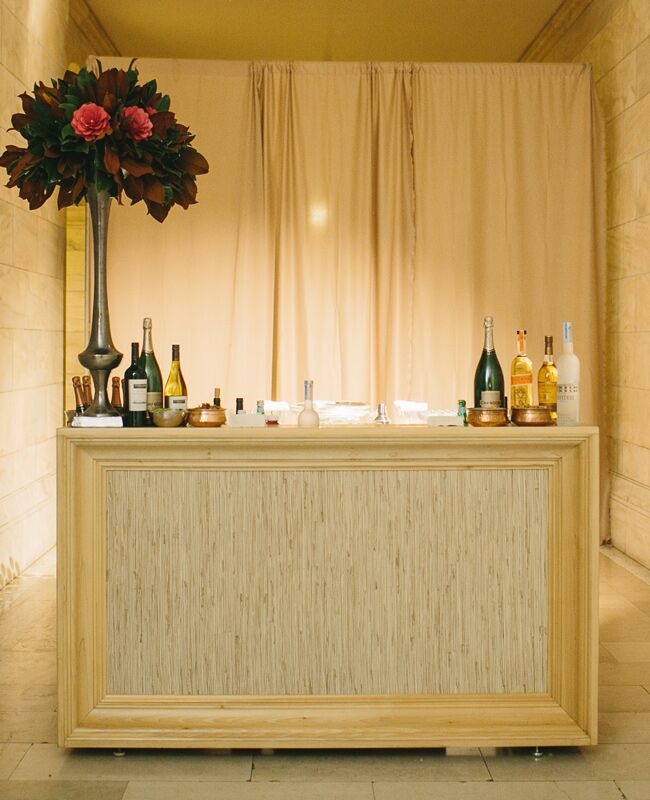 There's more to the bar than just booze you know. Serve up refreshing signature drinks at a framed bar with a textured fabric.
Draped Ribbon and Bistro Lights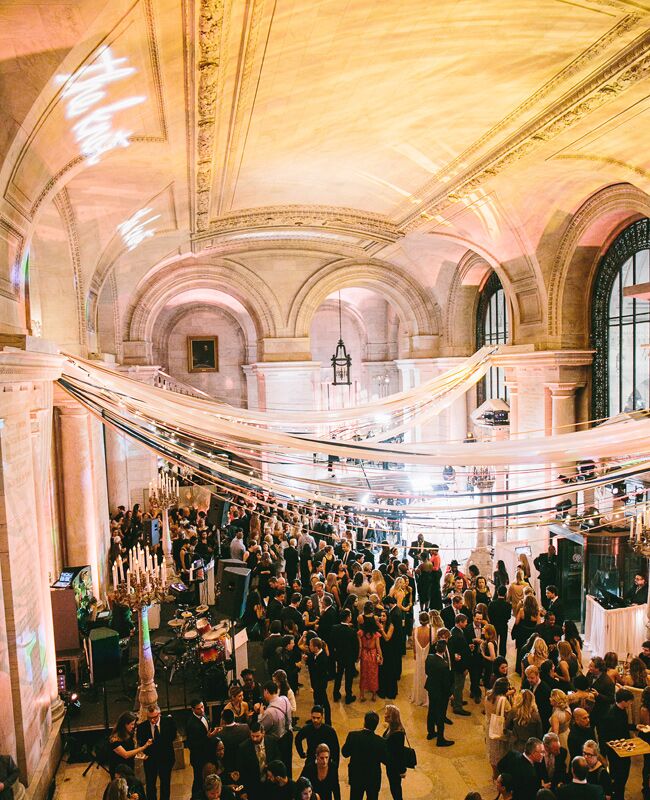 If you're working with a high ceilinged space (like the New York Public Library!) then a ceiling treatment can make it feel more intimate and filled up. Ribbons and bistro lights hung from the second floor balcony to the ceiling height windows also helped define the dance floor.
A Tattoo Bar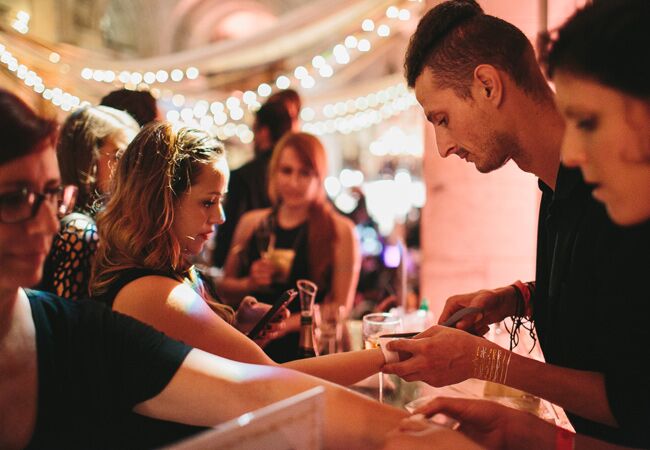 Temporary tattoos have recently made a huge comeback and come in lots of jewelry inspired designs (no needles or ink needed!).
A Bread Stick Bar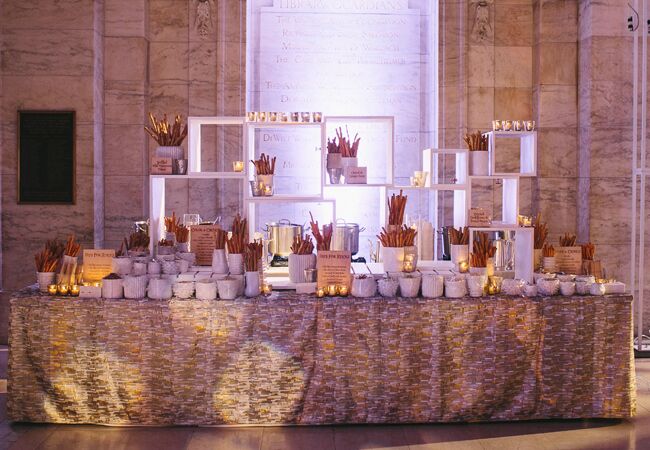 This is way tastier than your typical restaurant breadbasket. Dips like curried cream, spiced butternut squash and artichoke spinach and soup shooters take it to the next level.
Planning and Design: Jes Gordon/properFUN | Photography: Readyluck | Videography: I Do Films | Venue: New York Public Library | Lighting: Frost Productions | Catering: Marcia Selden Catering | Catering Rentals: Smith Party Rentals | Cakes: Cake Alchemy | Stationery: A Fine Press | Cocktails: Chandon/Moet Hennessey | Music: Hank Lane Music | Scent Bar: Aromachology | Transportation: Camelot Specialty Limos | Furniture: Taylor Creative | Jewelry Tattoos: Love and Madness | Photo Booth: Total Entertainment | Photo Booth Back Drop: Blushka Paper Floral Artistry | Hair and Makeup: MG Hair and Makeup, Nu Image 95, Face by Sofia, Christina Amador Beauty, Randi Ross Hair Design, Stacie Ford, Evy Drew, JK Flashy, Gianna Giacona Hair, Federico Salon, Pinne and Proper, Erica Does Makeup
Want more? Of course you do!
> 9 brides who skipped the fresh flower bouquet
> 5 DIY backdrops for your photo booth, ceremony and reception