The Knot LIVE Season 1/Episode 1 -- Marcy Blum, Spring Wedding Colors, and New Wedding Cake Trends
If you missed a few minutes of Wednesday's live show, you can watch it right here. Plus, saw something you loved? If you're looking for something featured in this episode of The Knot LIVE, we've got a rundown of the first episode's ingredients below. Tune in next Wednesday at 12 p.m. ET to catch the next episode of The Knot LIVE!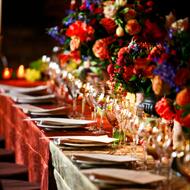 Special Guest: Marcy Blum
Visit Marcy Blum's website at MarcyBlum.com.
Photo by Mel Barlow Photography
Designer Spotlight: Reem Acra
Check out Reem Acra's latest collection and find a store near you at ReemAcra.com.
Knottie of the Week
Photo by JM Photography
Spring Color Combos
What's Hot in Wedding Cakes?
The amazing wedding cakes featured in this segment were made by Gail Watson Custom Cakes; Made in Heaven Cakes; and Cheryl Kleinman Cakes, (718) 237-2271.
Trend Alert!
Boutonnieres, photo booths, and birdcage veils are some of the latest trends we love.
Unique Boutonnieres
The boutonnieres featured on today's show were provided by Rosenow Floral Design.
From the wedding of Jen & Gabe in Stockton Springs, ME
Photo by Stacey Kane Photography
From the wedding of Joni & Chip in Ellaville, GA
Photo by Almasy Photo
From the wedding of Courtney & Matt in Monkton, MD
Photo by Kathy Blanchard Photography
Photo by Margaret Singer Photography
The Birdcage Veil
The veils featured on today's show were provided by Kleinfeld Bridal.
Photo by Grey Zisser Photography
Photo by Jennifer S Rau Photography
The New Photo Booth
From the wedding of Kelly & Frank in Cape May, NJ
Photo by Lauren Rutten Photography
Photo by Aruna B. Photography
Photo by Real Photography
From the wedding of Erin & Phillip in San Francisco, CA
Photo by Julie Mikos Photography
From the wedding of Jenna & John in Spartanburg, SC
Photo by Christine Gallagher Photography
Photo by Philip Gabriel Photography