The Knot LIVE Season 1/Episode 15 -- Jes Gordon, New DIY Ideas, and a Kid Attendant Fashion Show!
This week on The Knot LIVE, event planner Jes Gordon shares some of her most creative high-impact wedding ideas; our DIY pro, Krissy, gives the step-by-step on a few of her favorite DIY wedding projects; and our fashion guru, Heather, decks our a few of our staffers' kids in our first-ever child-attendant fashion show (prepare for cuteness!).
Saw something you loved? We've got a rundown of this episode's ingredients below. Tune in next Wednesday at 12 p.m. ET to catch the next episode of The Knot LIVE!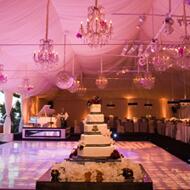 Special Guest: Jes Gordon
Event design pro Jes Gordon has planned parties for A-list celebs (like Sarah Jessica Parker and Madonna, to name just a few), and has some of the most innovative wedding ideas around. Start the slideshow to see of some of her favorite wedding details, and check out her new book Party Like a Rock Star (available at Amazon.com).
New DIY Wedding Ideas
Sometimes it's an unexpected item that makes for the most impressive DIY wedding details -- and our DIY expert Krissy proves just that on today's show. Here's where you can pick up some of her crafty DIY ingredients:
Get more DIY wedding ideas >>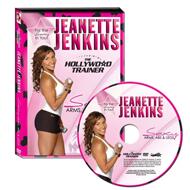 Shape-up Challenge
Hollywood trainer Jeanette Jenkins showed one lucky Knottie a workout routine guaranteed to get any bride in amazing shape for her wedding day. Over the next few weeks, The Knot TV will be posting more of her fitness tips. In the meantime check out her series of DVDs, available at Amazon.com.
Get more wedding day workout ideas >>
Fashion Alert: Outfits for the Kids!
If you think figuring out how to dress your flower girl and ring bearer is tough, try corralling six staffers' kids to model child-attendant attire on a live show! Fortunately, our fashion guru, Heather, has great advice for the former -- here's where she found the outfits:
Junior bridesmaid Havana wore Joan Calabrese, while ring bearer Noah wore a velvet Crew Cuts jacket.
Sabrina wore a taffeta Crew Cuts dress with a sequined bolero and satin shoes, and Cairo wore a gray, wool Crew Cuts suit and sweater vest.
Genesis wore a silk shantung Johanna Grace dress and Wilkie wore a corduroy Crew Cuts suit.
Ella wore a dress with a pink tulle skirt by Us Angels and Kyle wore a pinstripe vest and pants suit from JCPenney.
See more flower girl dresses >>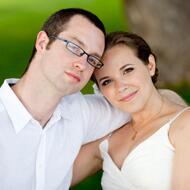 Knottie of the Week
Check out Alyson's bio!
Wedding Ingredients
Photography: Joanna Tano
Reception Site: Olowalu Plantation House
Catering: Celebrations Caterers
Flowers: Bella Grace Flowers
Hair: Dan Sanchez
Makeup: Jessica Waite