The Knot LIVE Season 2/Episode 11: Lisa Gorjestani, Adele Wechsler, and Chic Chalkboards
This week on The Knot LIVE, event planner Lisa Gorjestani shares her best wedding style secrets, fashion designer Adele Wechsler reveals new eco-friendly wedding dresses, and we take a look at one of the fun new trends emerging in wedding receptions: chalkboard decor!
Saw something you loved? We've got a rundown of this episode's ingredients below.
Special Guest: Lisa Gorjestani
With her company Details Event Planning, Lisa Gorjestani has put together parties for some of Hollywood's biggest names (like Halle Berry and Dustin Hoffman). On today's show, Lisa dishes her best insider secrets to a dramatic wedding reception. Get more info and ideas at DetailsEventPlanning.com.
Plus: Get more wedding style ideas
Photo: Callaway Gable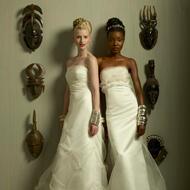 Stylish Eco-Wedding Fashion
Wedding dress designer Adele Wechsler is one of the pioneers in the eco-friendly weddings industry, and on today's show she reveals how she makes environmentally conscious dresses without sacrificing style. Check out her new line from Bridal Fashion Week, and get more info at AdeleWechsler.com.
Plus: See our 50 favorite new wedding dresses
Macy's Eco-Registry Ideas
Love the green wedding registry products featured on today's show? You can find them all (and add them to your registry!) at Macys.com/registry
What's New in The Knot Shop
Our wedding day style guru Anja picked out a few of her favorite new items from The Knot Shop -- here's where to find the items featured on today's show:
Special thanks to Blossom and Branch (BlossomandBranch.com) for arranging the flowers featured on today's show.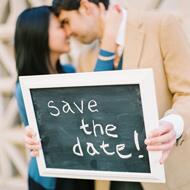 Trend Alert: Chalkboard Decor
Each week we highlight an up-and-coming trend in weddings, and today we're all about new ways to use chalkboards in your reception decor.
See 7 creative ways to use chalkboards in your wedding
Photo: Leo Patrone Photography
Knottie of the Week
Check out Allison's bio!
And here are some of the pros who helped plan her wedding: