Win It! Enter to Win A Gold Necklace from The Romantics
Think you have the best bridal party story? Share it and win!
Enter to win here
Tell us your worst or funniest bridal party story for a chance to win a gold necklace from Thistle & Clover -- worn by Katie Holmes in The Romantics. The contest ends September 22nd, so click here to dish your bridal party dirt!
Watch the trailer!
About The Romantics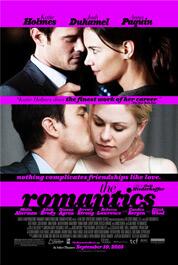 After you enter, make a date with your bridesmaids and head to select theaters Friday, September 10th to see the film! Based on the novel by Galt Neiderhoffer, The Romantics follows bride-to-be Lila (Anna Paquin) finds herself trapped in a love triangle between her fiance Tom (Josh Duhamel) and her maid of honor, Lauren (Katie Holmes). The trio -- and four of their oldest pals -- struggle to navigate the situation when they're all brought back together for the wedding.
In select theaters September 10th.