My Hollywood Engagement Story (The W{h}iney Bride)
by Tea Time with Tess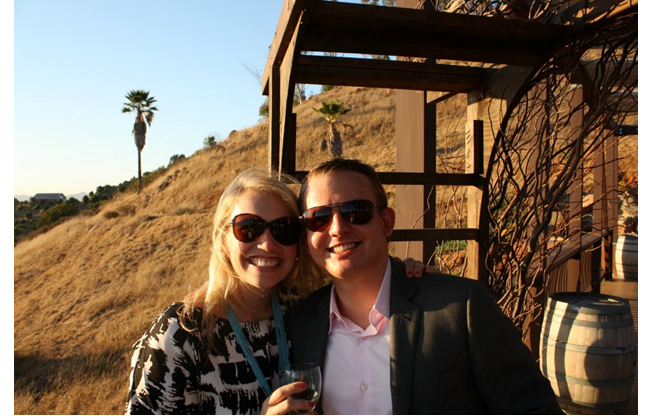 I figured there is no better way to start my blogging journey than by telling my favorite story in the world: How I got engaged.
On Saturday, June sixth my fiance Joel left our Los Angeles apartment to run errands. Not thinking much of it, I yelled for him to remember his dry cleaning ticket and said goodbye. No more than ten minutes later I had a knock on our front door from our friend Juli. She told me she was instructed to take me to The W Hotel for an overnight "staycation".
When she dropped me off in front of the hotel, I had a feeling this was it. It had to be it. My heart started to beat out of my chest and as I made the elevator ride to room 1518. I expierenced ever feeling in that elevator ride possible, but mainly, I just thought I was going to throw up.
I walked slowly into the room, expecting to be over taken with a scene of candles and rose petals, maybe a harpist and lots of cold champagne…but what I found was Joel lounging on the couch watching soccer – in sweats no less.
It took me a full two minutes to come to terms with the reality of the situation. An engagement clearly was not going down here so I gave him a look and started buzzing with questions.
a. ) What are we doing here?
b.) Why did you reserve such a gigantic suite
c.) What are we doing here?
d.) What are we doing here?
e.) What are we doing here
He told me his company had upgraded us at the hotel and that we were going to have a special date night of just the two of us. He wanted to treat me.
He's a keeper, right?
It was the sweetest gesture, and I was excited, so I fully of gave up on the idea that this was going to be the day that I was getting engaged. And there was no way I was going to let him think, that I was thinking that this was "the" day.
He had booked a manicure for me at the spa and then told me to meet him by the pool and before a fun dinner in West Hollywood.
Again, I can deal with this.
I marched my happy self down to the spa, put my headphones in and zoned out to Keeping Up With The Kardashians.
When I headed back up to room 1518 to change into my swimsuit things started to fall into place.
Joel had changed into a suit coat, grabbed my hand, and led me into a room where he had flowers, two flutes of champagne, and a ring box.
He grabbed my hand, got down on one knee, and proposed.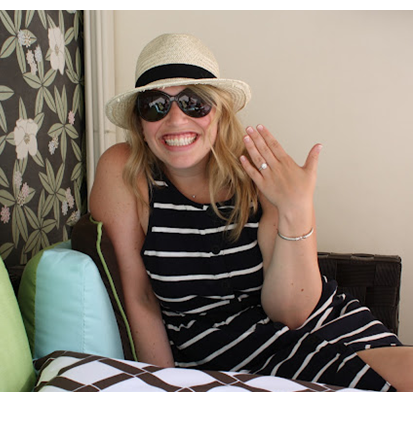 photo by
Such a happy day
We spent the rest of the day sipping champagne in a cabana at the pool and then finished the day off with a gluttonous meal at The Everleigh in West Hollywood followed by drinks at the hotel bar.
I loved that I had some sense of surprise in my engagement, and even after 6 years of dating him, nothing could have prepared me for how special that day was. A day I will never forgot. The day I became a bride to be.