The 5 Important Things the Happiest Couples Do
Do you and your partner practice these things? You should be, according to the pros.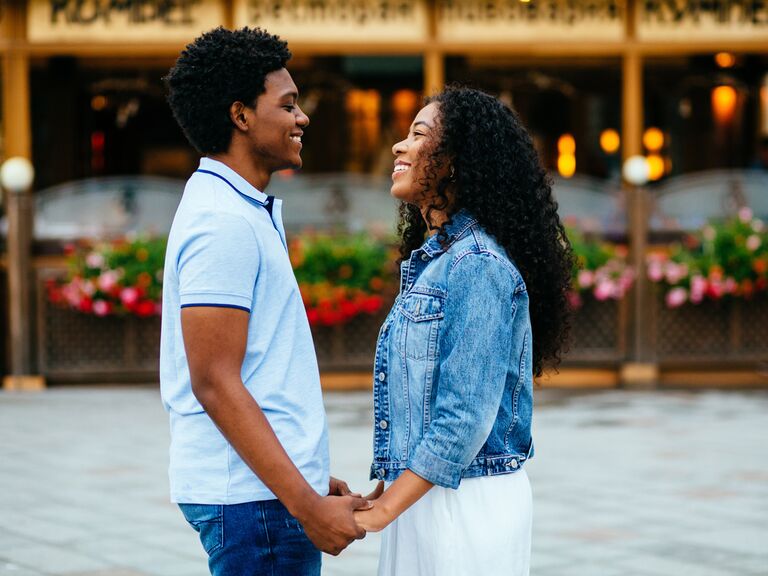 Iryna Inshyna/Shutterstock.com
Everyone knows a "perfect" couple—who not only make their lives look beautiful on social media, but seem to actually be extremely in love and happy together in real life too. Of course, everyone knows no relationship is truly perfect, and even the healthiest marriage takes a lot of hard work (especially after the "honeymoon phase," or, you know, the actual honeymoon).
And no one knows that more than relationship counselor and life coach Jennifer Longmore, who's offering up exactly what "perfect couples" do to perpetuate a happy, successful and lasting relationship, below.
1. They appreciate each other every day.
According to Longmore, "love and happiness can only grow when each partner feels appreciated." Seems easy enough, but the key is making sure you actually express your appreciation at least once a day to your partner in whatever way you want. Maybe it's physically saying the words "I appreciate you" or fixing them a cup of hot tea at bedtime—whatever it is, the message will be clear.
2. They cultivate friendships outside their marriage.
Yes, your partner could be your best friend too, but you can't rely on them for everything. "One person cannot fulfill all of our needs," Longmore says. "Becoming enmeshed in just one relationship is unhealthy and can lead to resentment." Having a life and interests outside of your relationship will make things more exciting anyway—you'll have more fruitful conversations and get excited to see each other after a night out with friends.
3. They make an effort.
Your partner loves you just the way you are, but it's important to make an effort to "dress up" for a date night—even if you're just staying in—at least once a week. And before you roll your eyes at this antiquated idea, think of it this way: "If the only time you make an effort with your appearance is to impress strangers at a public event or go to work, you should be asking yourself, 'Why am I making an effort for these people instead of my partner?' " Longmore says.
4. They ask one important question every day.
"How can I make your day easier?" is something you should ask your partner every single day. Life is stressful—and you both likely have long to-do lists day in and day out like everyone else—so try to take one thing off your partner's plate whenever you can, like taking out the trash or giving the kids a bath.
5. They prioritize intimacy.
No, intimacy isn't synonymous with sex in this context—it can be anything from a deep conversation to cuddling while watching a movie. The important thing is to make sure to pencil in important one-on-one time when life gets busy. "It's easy to put intimacy aside when your relationship is established," Longmore says. "But intimacy is an essential key to happiness in relationships and it needs to be nurtured."
Download Lasting, a science-based app dedicated to improving the health of your relationship.