This Bookstore Proposal Is the Sweetest Thing You'll See Today
by Ivy Jacobson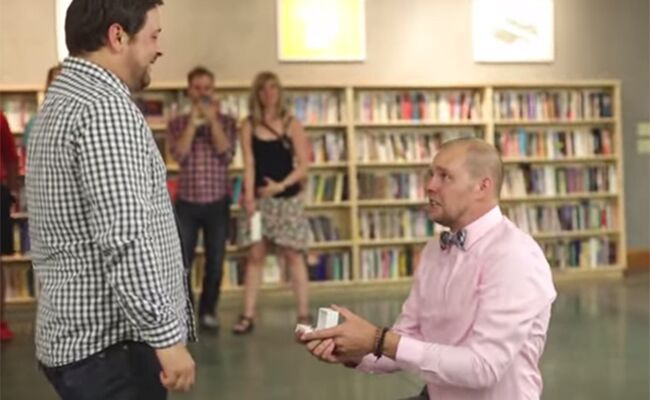 Powell's Books in Portland, Oregon, is the world's largest independent bookstore, making it a pretty novel (sorry, I had to) place to propose to someone.
Ryan Craig did just that, proposing to his boyfriend, Clayton, when he dropped to one knee (after some cute and nervous fumbling with the engagement ring) and told Clayton how much he means to him. The bookstore full of people clapping is the icing on the cake — but just make sure you have tissues to watch this!
Ryan and Clayton's engagement comes almost one month after Oregon's constitutional amendment banning same-sex couples from marrying was struck down.
Clayton told Out.com, "My roommate and dear friend Rachelle Hacmac made us a video. The song is Bryan John Appleby's 'Glory.' "
Watch the proposal here:
Want more? Right here!
> 'Cake Boss' proposal involves — what else? — an adorable cupcake
> A modern, romantic wedding in Minneapolis, MN