This Bride Knitted Her Own Dress (and it's Beautiful!)
by Sheryl Davis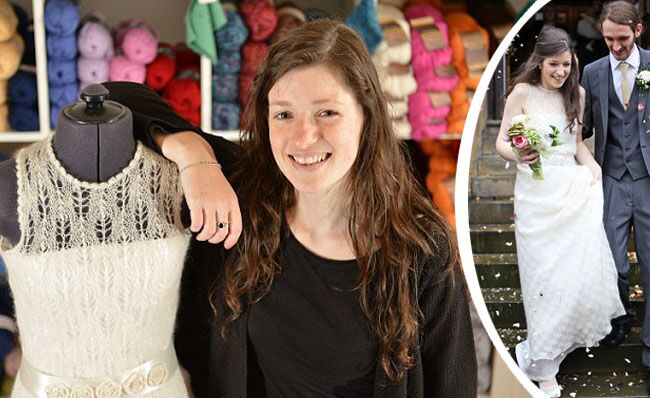 photo by
Photo: Jonathan Pow
Like a lot of brides, Lydia Tayler of West Yorkshire, U.K., wanted to save money on her wedding. But instead of just the usual DIY favors, she took on a much bigger project — knitting her own wedding gown! The dress took four months to make plus half a pound of yarn and 100,000 stitches. The final cost of the dress? Less than $250.
A totally on-trend illusion neckline gave the gown a subtly sexy look while the long length kept it traditional. "The dress is the hardest, and most important, garment I have ever made but I'm so glad I did it," Tayler said. "There's nothing better than walking down the aisle knowing you've got a totally unique dress on and one that you've made yourself." Tayler also had a word of advice for brides wanting to follow in her footsteps: "Just make sure you leave yourself plenty of time."
In addition to the dress, Tayler also knitted a bouquet and bunting banners for the reception. "My dad even joked in his speech that I'd knitted myself a husband," she said. The couple spent $6,000 total on their wedding and put the money they saved toward an 18-day honeymoon in Bali. What do you think? Is all that time spent stitching worth the low price tag?
> Love this dress, but don't want to knit your own? Henry and Michelle Roth showed a crocheted wedding dress last season — check it out
> See thousands of DIY wedding ideas (that won't take months to make)