This Bride's Modern Wedding Dress Style Surprised Even Her — See It Here!
by Libby MacCarthy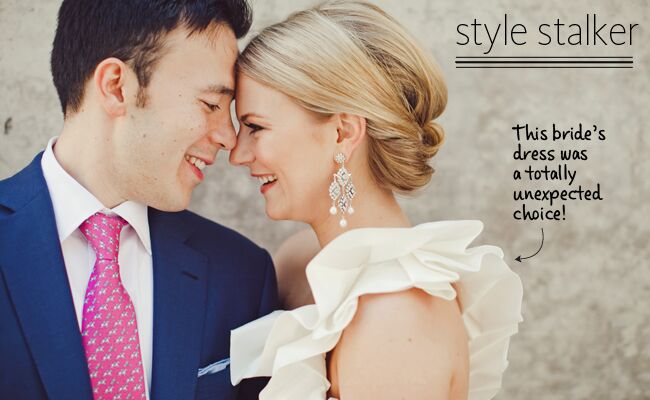 Sarah's stunning one-shoulder gown is proof that your bridal consultant knows what he/she is talking about. She originally had her heart set on a classic bridal style, but after countless dresses and no luck, her consultant brought out a modern Romona Keveza number, Sarah's style did a total 180. From her hot pink heels to cheerful textured bouquet, this bride seriously rocked her chic modern look. See the details below!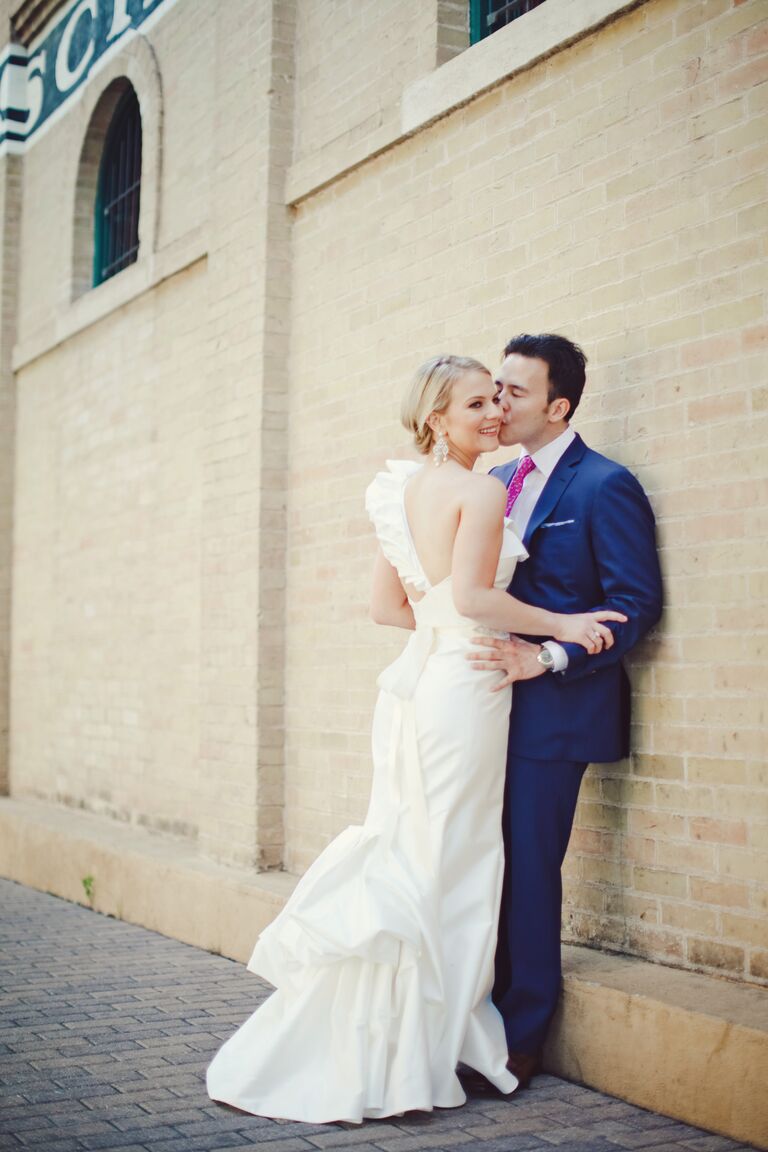 Her modern one-shoulder Romona Keveza dress:
"I thought I knew what I wanted: something with lace, a mermaid styleand definitely not strapless. I tried on dress after dress, but didn't fall in love with anything. I started to think that I wouldn't have that "aha" moment," says Sarah. "Finally, the lovely dress consultant who was helping me brought a dress in and said, 'I just really think you should try this one on.' It was a single-strap dress with a large ruffle and made of only one fabric – I knew I was going to hate it. I decided to humor the consultant because she was so nice. As soon as I put it on, I knew it was the one."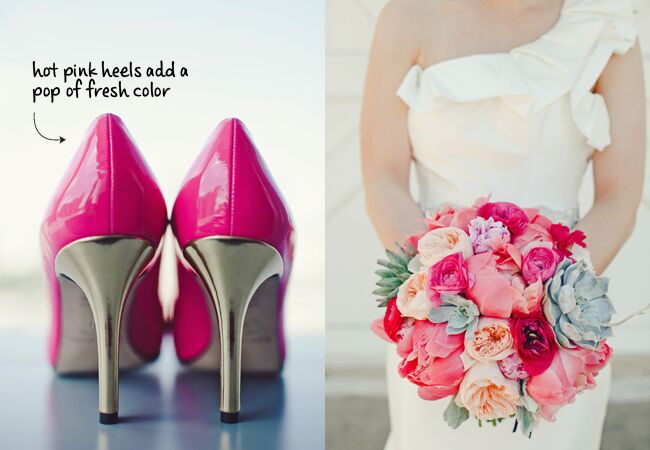 Her hot pink heels:
To go along with the fresh modern feel of her dress, Sarah found a pair Kate Spade pumps in a bold shade of hot pink. Gold metallic heels gave the shoes a hint of glam factor.
Her bright textured bouquet:
"My bouquet was my favorite accessory of the whole weekend! Bonni (of Posey Events) pulled out all of the stops with this one," Sarah says. "It was chock-full of gorgeous peonies, succulents, ranunculuses, garden roses and a crown of dusty miller. It was wrapped in a wide, navy-striped ribbon and the whole thing was about the size of my head! I was obsessed with that bouquet. People kept trying to hold it for me, but I would refuse. I finally put it down on Sunday night when we had to head to the airport for our honeymoon. No joke."
Want more? Right here!
> See Romona Keveza dresses you can buy right now!
> Bridal Shoes For Every Wedding Style — Shop It Here!