This Couple Found Their Lost Wedding Ring Because of a 'Friends' Inscription
by Ivy Jacobson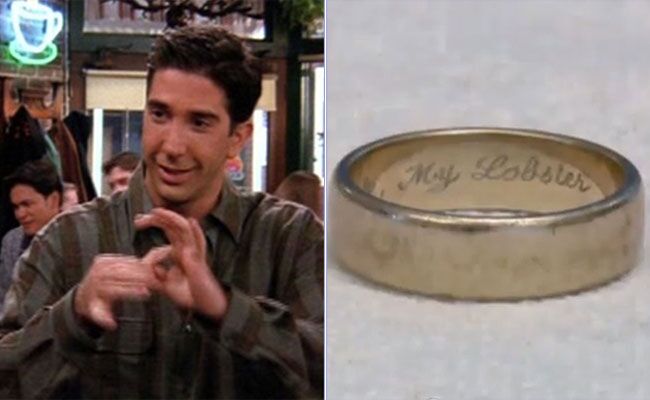 photo by
Pinterest; YouTube
For all the Friends fanatics out there, you already know what I'm talking about, and you're probably already awwww-ing. For everyone else, here's a quick recap straight from 1996: In an episode of Friends where Ross is realizing his romantic feelings for Rachel, Phoebe tells Ross that Rachel is his lobster.
When Ross is obvs confused, Phoebe says, "Come on, you guys. It's a known fact that lobsters fall in love and mate for life. You know what? You can actually see old lobster couples walking around their tank, you know, holding claws like…" and then expertly demonstrates to Ross how to link fingers like lobster claws.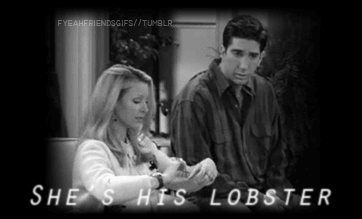 Now that you have a proper backstory on sweet lobster love, you'll appreciate this story even more. An Ojai, California, couple (and serious Friends fans) lost their wedding ring two years ago at the beach that had a very special and unique inscription inside. Greg Lindsay's wedding band read: "My love, my life, my lobster."
Greg and his wife, Sarah, were devastated about the loss. "I thought it was somewhere in the Pacific," Greg told a local news station. "There's no way, I thought…it would come back on shore."
But in a stroke of crazy lobster luck, Jenn Birchim was walking along Ellwood Beach in Santa Barbara, California, and spotted what she thought was a bottle cap in the sand. Instead, it was Greg's ring. She posted a picture of the ring on Facebook that got shared more than 26,000 times until Sarah saw it. Four days later, the couple got their ring back.
"One of the [Friends] episodes is where they talk about Ross and Rachel being each other's lobsters. I looked at [Sarah] and said, 'Hey you're going to be my lobster,' and that's why she had it inscribed there," Greg says.
Knotties, does your wedding ring have a special message engraved inside of it?
Want more? Right here!
> We can't get over how stunning Amal Alamuddin's engagement ring is!
> 500+ gorgeous engagement ring photos