This Couple Really Loves Football — and Their Wedding Proves It
by Jamie Miles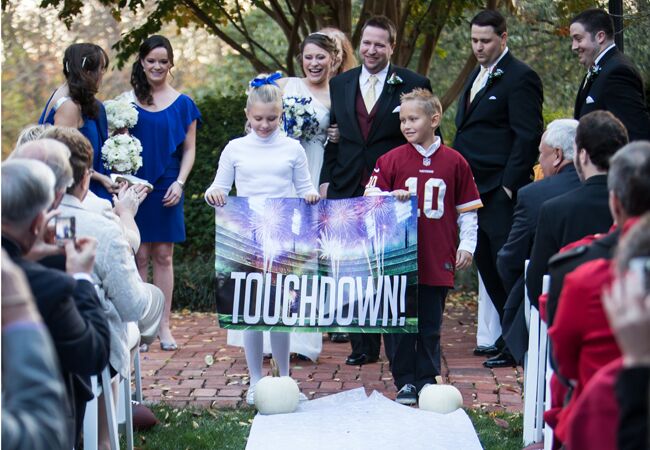 This couple really knows how to stick to a theme! I guess it's easy when you're both die-hard football fans (she's a Giants fan; he's a Red Skins supporter). Everything from the boutonnieres to the cake toppers and even the wedding sign announcing the bride's walk down the aisle were inspired by this couple's shared love of the game. But they even went a step further. Rather than exchanging traditional vows, the couple wrote their own:
"From preseason through the play-offs and Super Bowl; in good health and injury, despite tackles and fumbles; whether the New York Giants win or lose, I promise to support and always love you in our game of marriage. And take you as my wife."
This couple's game-day-inspired wedding by Look Wedding Photography is a touchdown. Here's why:
The Bride Wore New York Giants Blue Shoes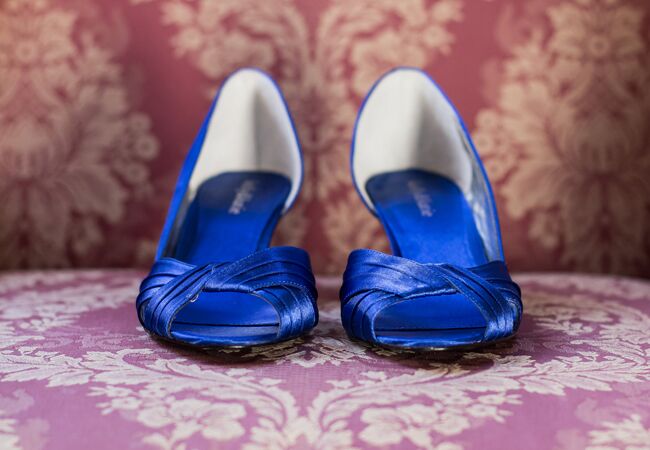 Even Her Flowers Fit With the Giants's Team Colors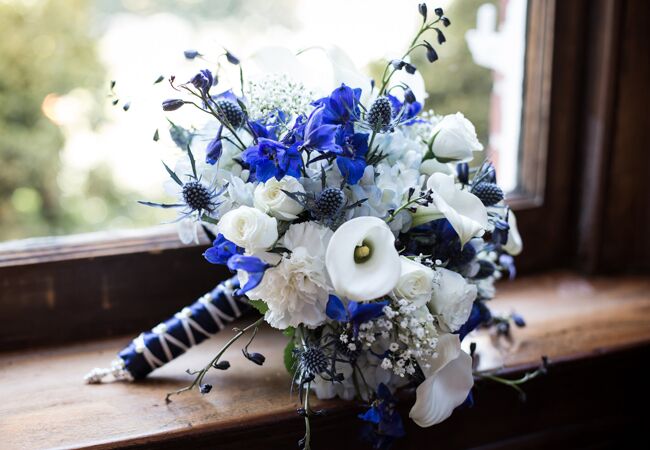 The Groomsmen Wore Mini-Football Boutonnieres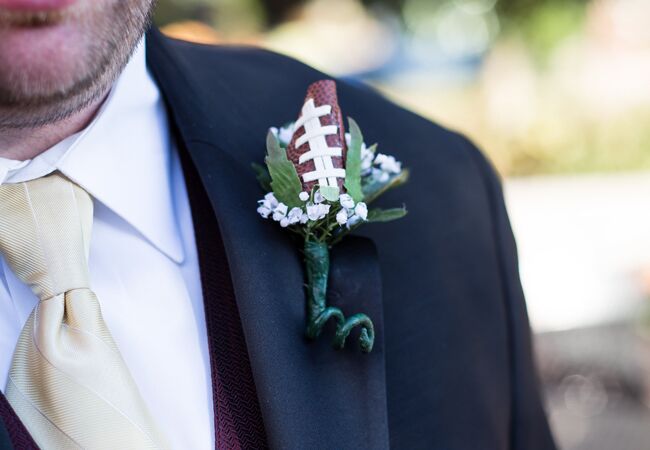 And Their Formalwear Matched the Red Skins's Maroon-and-Gold Team Colors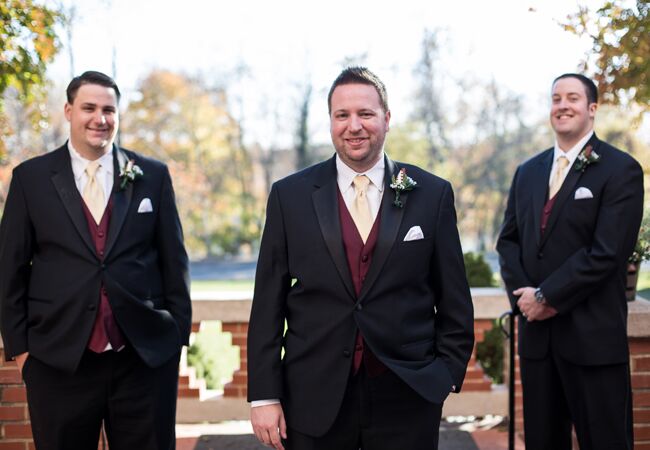 The Bride Wore a Casual One-Shoulder Sheath Dress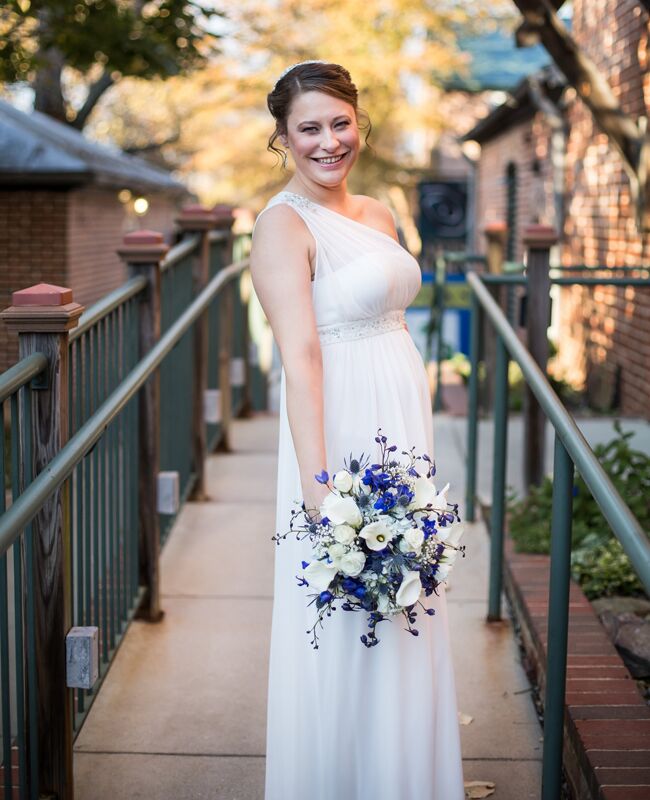 And Proudly Sported Her Fiance's Rival Team Colors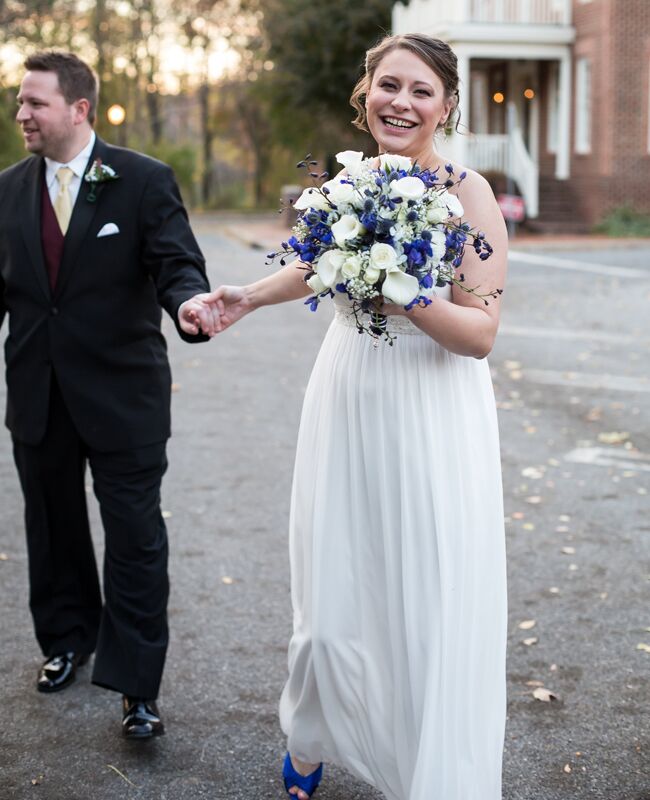 The Wedding Events Were Outlined in a "Game Day" Schedule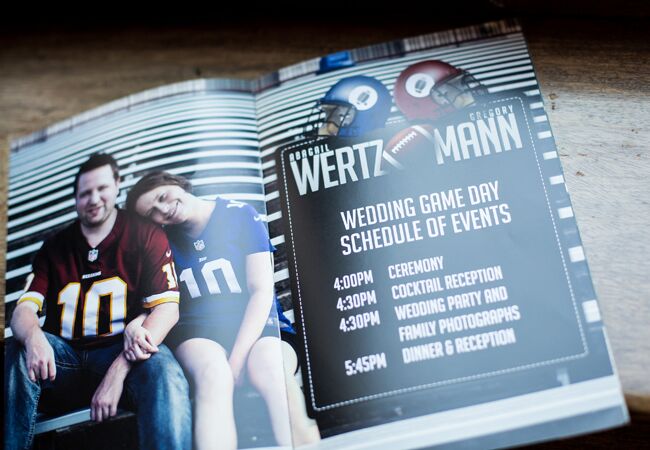 And Footballs Served As Aisle Markers at the Outdoor Ceremony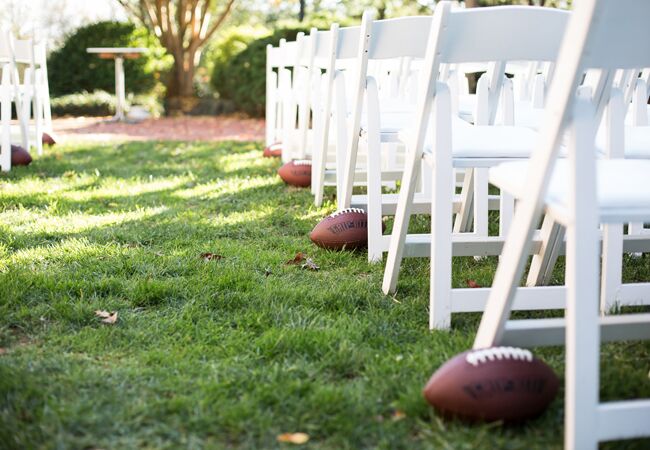 Even the Bridesmaids Wore the Giants's Colors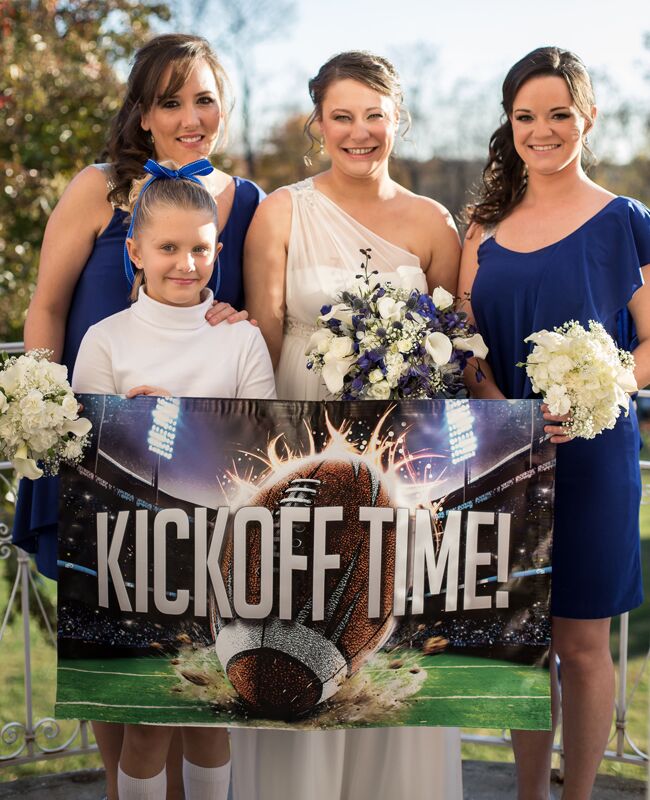 The Flower Girl Was a Cheerleader and the Ring Bearer Was a Football Player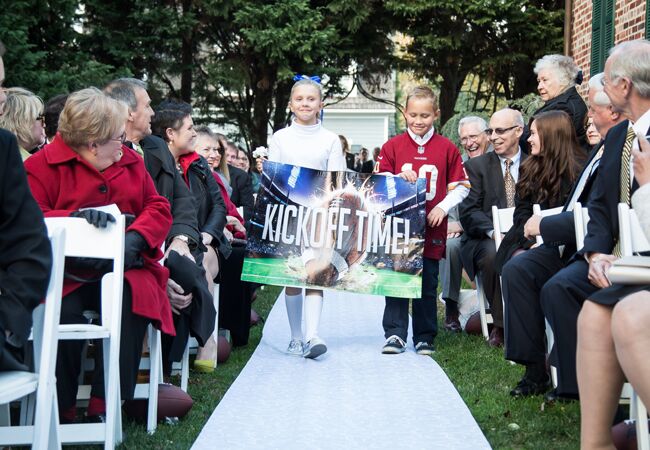 When the Couple Was Announced As Husband and Wife, It Was a "Touchdown!"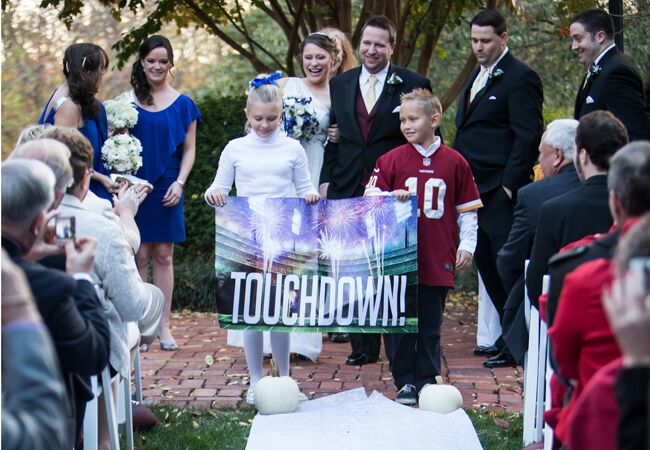 The Bridal Party Had Their Game Faces on for a Candid Wedding Photo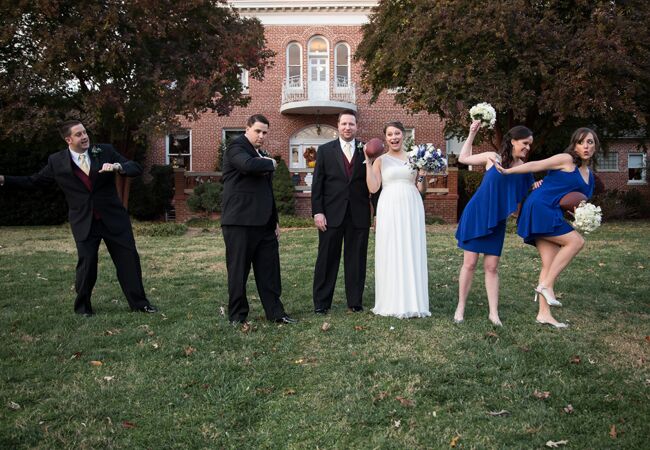 And the Bridesmaid With the Most Spirit Is…

The Couple Drafted Their Guests to Tables Organized by Sports Teams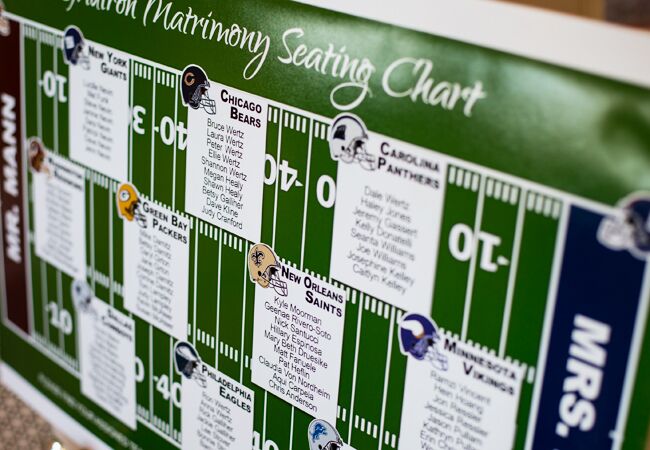 The Reception Decor Matched the Couple's Sports-Centric Theme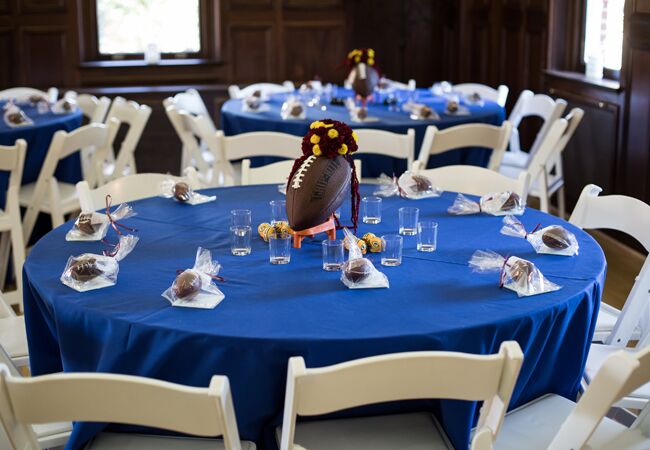 Football Centerpieces With Maroon Mums and Gold Button Mums Decorated the Reception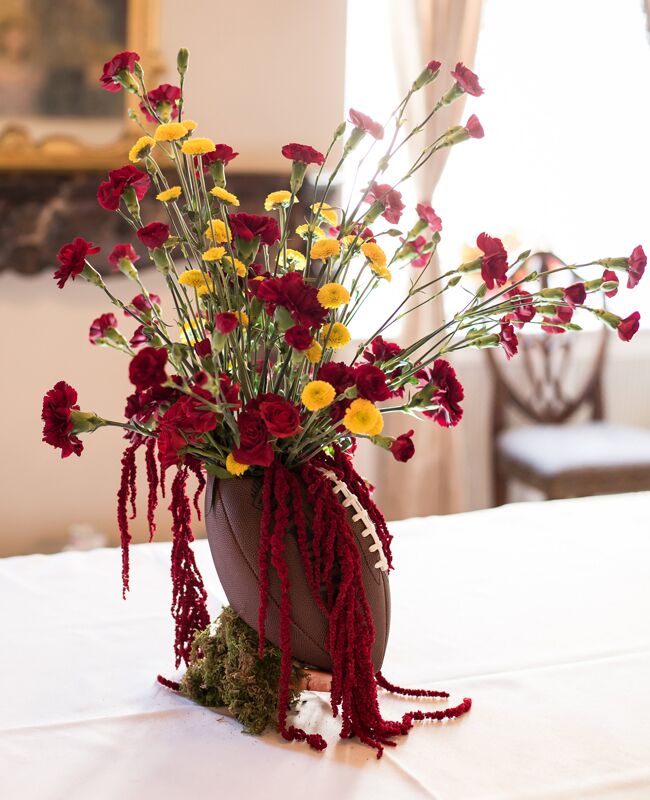 The Couple Had a Giants and Red Skins Cake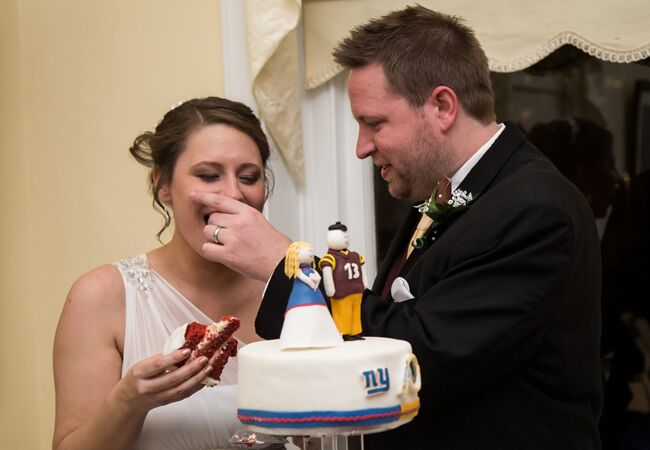 And Even the Cake Toppers Were Custom Made to Represent the Couple's Favorite Teams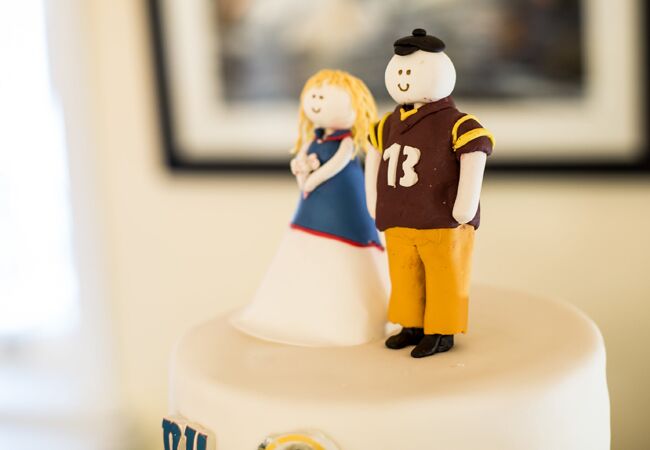 From the album: A Football-Inspired Wedding in Gaithersburg, MD
Want More? Of Course You Do!
> Registry must-haves for football fans (and foodies!)
> A vintage stadium wedding perfect for the sports-enthusiasts
> 14 Super Bowl-inspired groom's cakes