This DC-Themed Save-the-Date Is Perfect For Political Couples
by Ivy Jacobson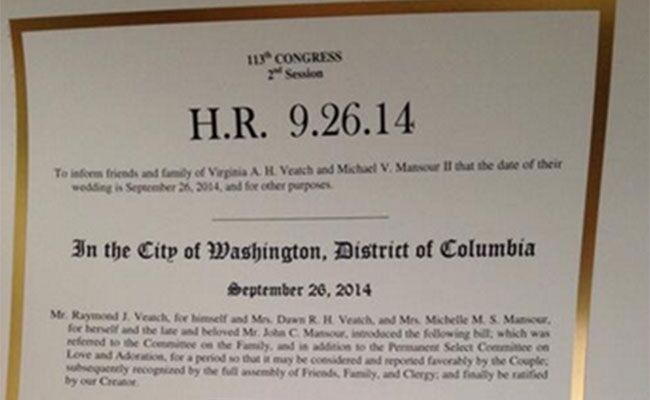 Nothing's more official than a save-the-date — unless it comes in the form of a government bill. Virginia Veatch and Michael Mansour of Washington, DC, put their wedding guests' skills to the test by sending out save-the-dates titled "H.R.9.26.14," which a bridesmaid tweeted and immediately went viral.
Unsurprisingly, Michael is a legislative assistant in Congress and Virginia works in corporate relations at the US Chamber of Commerce.
The beginning of the "bill" reads:
"H.R. 9.26.14
To inform friends and family of Virginia A. H. Veatch and Michael V. Mansour II that the date of their wedding is September 26, 2014, and for other purposes.
In the City of Washington, District of Columbia, September 26, 2014
Mr. Raymond J. Veatch, for himself and Mrs. Dawn R. H. Veatch, and Mrs. Michelle M. S. Mansour, for herself and the late and beloved Mr. John C. Mansour, introduced the following bill; which was referred to the Committee on the Family, and in addition to the Permanent Select Committee on Love and Adoration, for a period so that it may be considered and reporter favorably by the Couple; subsequently recognized by the full assembly of Friends, Family, and Clergy; and finally be ratified by our creator."
We love this unique idea for all politics-loving couples! Do you?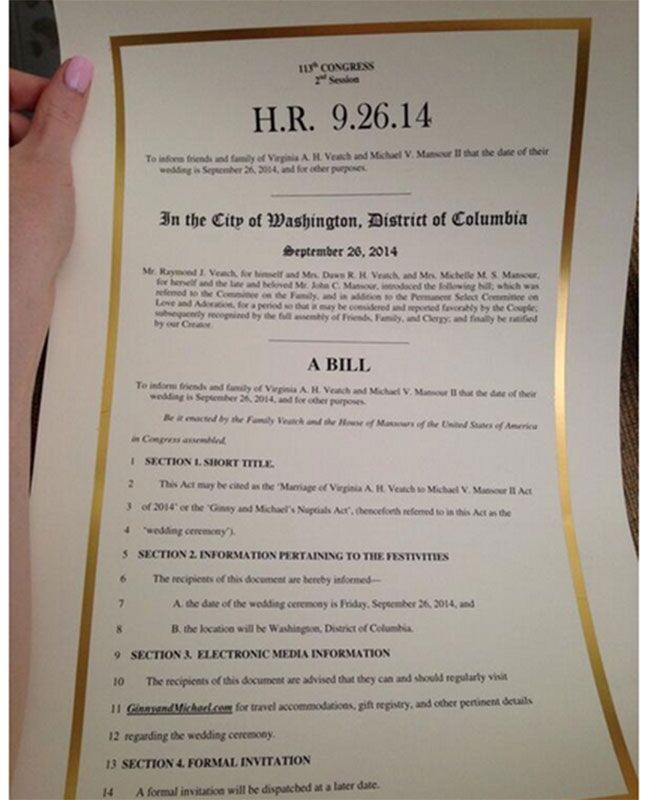 Want more? Of course you do!
> 25 fun save-the-date ideas you'll love!
> 75+ pretty reception ideas you'll love
> A villa at Sunstone Vineyards wedding in Santa Ynez, California