This Flower Girl's Adorable Story Will Definitely Melt Your Heart
by Ivy Jacobson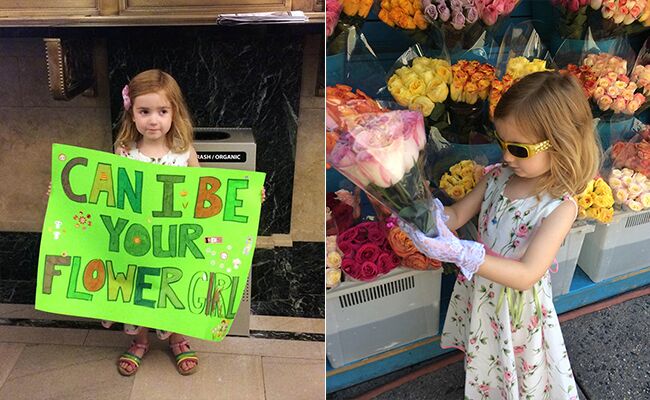 photo by
Kim Earl via NBC News
Not only can you have a professional bridesmaid at your wedding, but it looks like you can hire flower girls too! When four-year-old Annabelle Earl heard how much fun being a flower girl was from her babysitter's daughter, she also wanted to be able to wear a pretty dress and carry flowers at a wedding. The problem was, she didn't know anyone getting married.
Being a flower girl was really burning on the Brooklyn, New York, resident's brain, since she wished to be a flower girl at Yoko Ono's "Wishing Tree" at a Smithsonian garden in Washington, DC (after wishing for a pet unicorn, of course). That's when her mom, Kim Earl, decided to make Annabelle's dream come true in the most creative of ways.
Last week, she took her daughter to Manhattan's City Clerk's office (where 20,000 people get married per year) and see if anyone would like her to be their flower girl. Wearing a cute flower-print dress and white lace gloves, she carried a bouquet of roses bought at a neighborhood bodega and held a sign that said, "Can I be your flower girl?"
"We stood there and she held up her sign and people walked past and would smile, but no one came up to her," Kim told NBC News. "I said, 'I think we're going to have to ask people.'"
Annabelle went to ask a couple who turned her down (how could anyone say no?) but the next bride she asked happily included her in her ceremony.
"She was too adorable to say no to, and we thought it would be fun to make her day as well as ours," the bride (who wished to remain anonymous) said.
Annabelle got to stand next to the couple and dutifully held the bride's bouquet — and asked the most important question after the ceremony: "Is there cake?"
Kim took her to a bakery afterward for a little treat, where she texted the couple a photo of Annabelle and wished them a "sweet future." Having happily had her flower girl dream fulfilled, she said she'd definitely do it again.
"I want to go back to City Hall," Annabelle said. "It made me happy."
Want more? Right here!
> 10 Creative Ways To Make Your Flower Girl Stand Out
> A Lowndes Grove Plantation wedding in Charleston, South Carolina